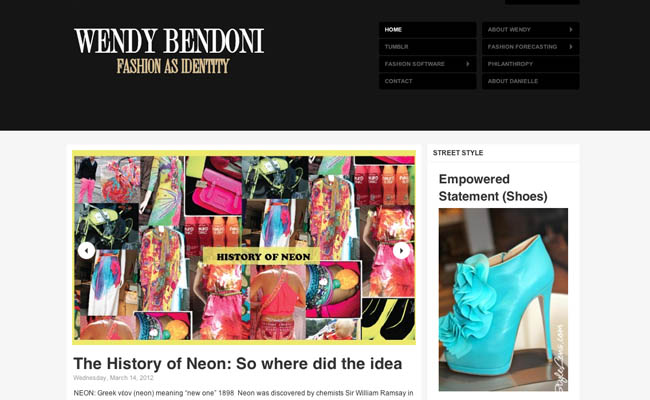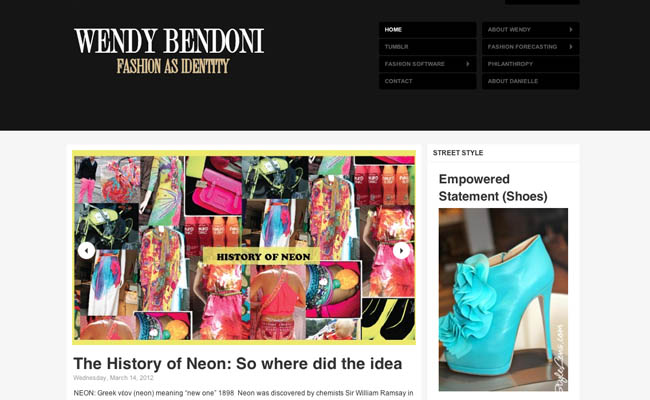 Every designer has their own unique combination of tools for designing, creating, and marketing their fashion line.  But one common thread that all designers should find necessary is trend forecasting.  For those who don't know what fashion forecasting consists of,  it is a resource that can help designers predict what colors, fabrics, trends, and styles will be 'popular' in the upcoming seasons.
Now, we understand that some of you feel that you don't "follow trends".  OK, that's fine.  If you're not interested in following trends to better understand what consumers will be buying next season, then you surely better be setting the trends, else you really won't have a successful business.  To set trends, you need an understanding of what was popular, what is popular, and what could be popular. Therefore, you need to understand trend forecasting.
I spent some time interviewing trend and lifestyle forecasting expert, Wendy Bendoni of StyleLens and Design-Options, on behalf of the StartUp FASHION team.  Beginning her fashion career as an international fashion director for a forecasting firm, Wendy has gained 21 years of hands on experience. However, this fashion guru does much more than forecasting, she is a professor at Woodbury University teaching and advising Fashion Marketing students and she travels around the world assisting retailers, designers and manufactures in developing the perfect concept.
Wendy has worked at StyleLens as the International Trends Director for 21 years and over 13 years with Design-Options as the lead curator for the LifeStyle report. So with all her fashion experience and more than 45 trips to Europe under her belt, she has truly become an expert in finding the global trends in both lifestyle and fashion.
StUF: Can you explain what trend forecasting entails?
WB: In today's world, trend forecasting can be divided into 2 categories, one is the consumer trend forecasting, which allows shoppers to do all of the forecasting research themselves through trend forecasting blogs, other fashion bloggers and all the cultural inspiration around.
The second category would be the retailers and designers who hire trend forecasters to do in-depth research for their new upcoming fashion lines. A good fashion forecaster can predict what will be in demand 6 months out and can edit all of the thousands of photographs and trends down to around 25 must have trends (not items). For example, when I go out and look for trends and photos I think, "What are the best 4 bodies that will sell or what are the 2 best textiles that everyone will want."
StUF: Why is trend forecasting important and how can it help build a successful fashion business?
WB: Basically, if a designer wants to know if their garments or designs are going to sell they have to use trend forecasting to assist them in deciding what is going to provide them with the best profit and what will commercially sell. And with fast fashion (microwave fashion) being more popular, designers need to learn how to work fast and make pieces that will sell tomorrow and further into the future.
StUF: What is a good way for designers who are just starting out to get a handle on trend forecasting as a means of growing their business?
WB: Because using a trend forecasting company is not cheap, I think the easiest way for emerging designers to get a handle on trend forecasting is by looking at style blogs, going to tradeshows or lectures, visiting the Cal Mart and using visual apps like Pinterest and Instagram. It is definitely possible for a designer to do the research for themselves, they just need to pay attention to the huge fashion world around them.
StUF: How do you feel that technology has changed the industry of trend forecasting? Has it been beneficial?
WB: Yes, it was beneficial however it made everyone a forecaster because everything was available digitally on the internet. A specific advancement in technology that completely changed fashion forecasting was when runway shows were made available to consumers 24 hours after the show and now can be viewed instantly by live streaming. These advancements did make us learn to be quicker with our work, but nothing will replace a well-rounded and educated forecaster because retailers and designers need to know what trends and styles will keep them in business 10 years from now.
StUF: Any great resources you can recommend?
WB: The fashion industry offers so many resources for starting designers, and I would recommend that they take advantage of any opportunities that come their way. Specifically, I would recommend tradeshows including MAGIC, textile shows, and any lectures at places like the New York Javits Center or again the Cal Mart. As far as books, my two favorite go-to books are Fashion Zietgeist by Barbara Vinken and Fashion Desire & Anxiety by Rebecca Arnold.