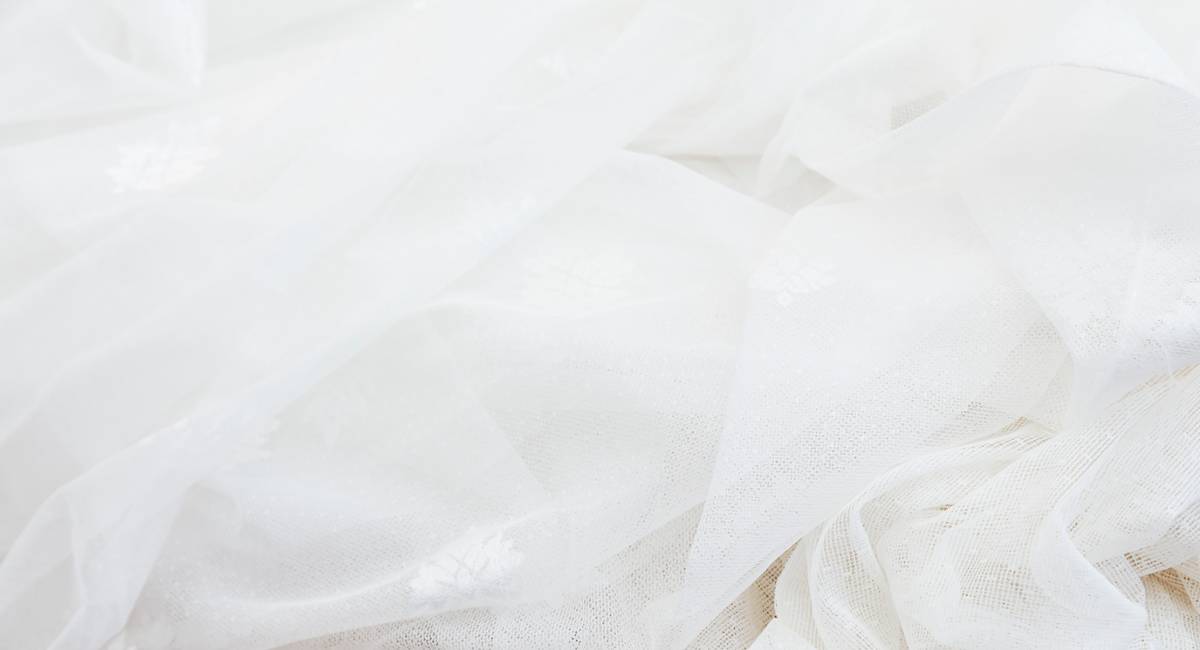 In our newest edition of the fabric dictionary, let's take a look at organza. Organza is a popular fabric in many fashion designs. It is thin, lightweight, and sheer, which offers several advantages.
However, it is very delicately constructed, whether it is constructed from silk (as was done historically) or constructed from polyester or nylon. As a result, organza cannot be washed in a washing machine, and, instead, must usually either be hand washed or dry cleaned.
The Properties of Organza
Organza is very lightweight and sheer. Because it tends to be translucent, organza is usually layered over other types of fabric or as an overlay for thicker items of clothing.
Organza is measured in holes per inch, or HPI, rather than thread count because of its lightweight nature. The higher the HPI rating, the better the overall quality of the organza you're looking at. You may also want to consider what organza is woven with in order to give it the drape and feel you're looking for, since silk may have a different texture from either rayon or polyester.
The Pros and Cons of Organza
Organza offers a sheer, lightweight look that is fantastic for a number of uses. However, it's important to consider both its advantages and disadvantages before utilizing it as part of your designs.
Organza's Advantages
Pros of using organza include:
It's light, which means that even long dresses made from layers of organza are still relatively lightweight.
It can be washed, though you may need to wash it by hand or dry-clean it.
Organza is relatively easy to sew, making it ideal to add to many types of outfits.
Organza is a reasonably strong fabric, which means it can easily be added to outfits that need to be worn more than once.
It has a spectacular, unique appearance that makes it ideal for many types of designs, including formal wear, bridal wear, and costumes.
The material breathes well, which makes it comfortable in a variety of designs.
The Disadvantages of Using Organza
While organza does offer several advantages, it's important to consider its disadvantages before using it as part of your designs.
Organza needs to be dry-cleaned or washed by hand, and cannot simply go through the washer.
Perspiration may stain and ruin organza.
Organza does not drape well, so it often appears in long folds.
It is very transparent, which means that you may need to use it over another fabric or use a lining in order to get the right look.
A Short History of Organza
Organza fabric, which is primarily produced in China, Pakistan, India, and Indonesia, was, like many silk-based fabrics, born in East Asia. During the Middle Ages and Renaissance periods, the only silk fabric in Europe was brought down the Silk Road from Asia.
While silk production has increased in nations around the world in modern days, Asia remains the primary producer of organza. Many of the major organza producers are located along the Yangtze River.
How Organza is Made
Organza is made through a complex weaving process. In many cases, in fact, organza is still woven by hand in order to create the high-quality material that many users–and designers–want in their clothing designs.
In the first step, filament fibers are twisted tightly together to form the yarn traditionally used for weaving organza. Next, the yarns are combed and treated with acid to create a stiffer final material. Finally, the strands of yarn are woven together in a plain weave method to create the familiar structure of organza.
When to Use Organza Fabric in Your Brand
Organza fabric is used for a variety of purposes. Whether you want to use it in your brand may depend on the type of clothing you are creating and the look you're after for your fabric–as well as how durable you want your designs to be.
Bridal Wear
In many cases, a bride's garments are only intended to be worn once. Brides want to look and feel as though they are floating on air. Because of its transparent, airy nature, organza is often used in the construction of veils and bridal gowns. Bridesmaids, flower girls, and other members of the wedding party may also find themselves wearing organza.
Formal Wear
The look of light, airy organza lends itself well to formal wear. Prom dresses, evening gowns, and other formal wear often contain layers of organza.
Costumes
Dance costumes, in particular, often contain organza. Because organza is more washable than tulle, it's often found in dance costumes that are intended to be worn from one year to the next. Organza flows beautifully on stage and captures stage lighting effectively to shimmer and shine, creating a look that many dancers and theater professionals are eager to embrace.
Choosing the right fabric for your designs is critical to ensuring that your fans get the look they want as well as the durability, washability, and convenience they expect from your designs. Do you need to learn more about available fabrics and how they can impact your designs? Check out our other fabric dictionary posts, including linen and flannel.