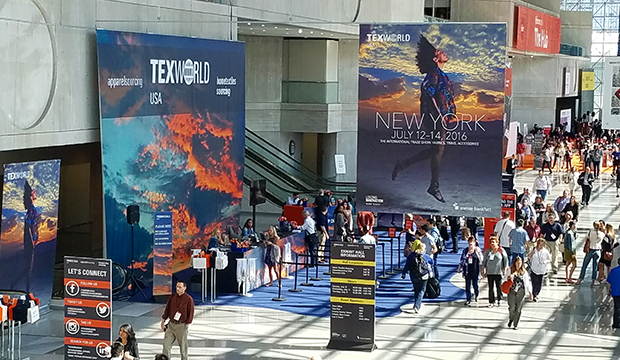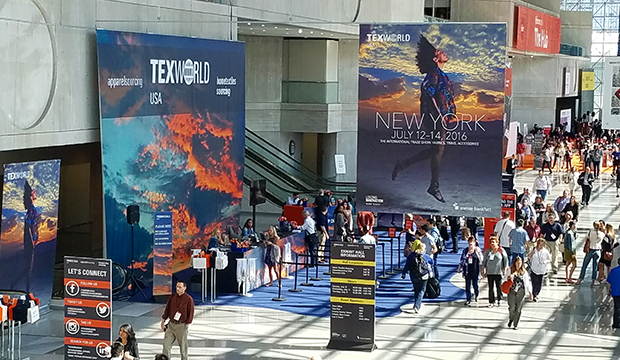 In January we attended a seminar at Texworld USA called Designed with Sustainability in Mind. It was presented by Kate Black, founder of Magnifeco and there was so much great info shared that we made sure to write about it here.  This season, Texworld offered the same discussion as part of their Industry Bootcamp series, only this time it was with a panel of individuals who do a variety if things in the fashion and textiles space.  I sat it on it again and really enjoyed the way it compared to Kate's take on the topic.
The goal of this discussion was to help designers and brand owners figure out ways to integrate sustainability into every aspect of your lines.
There was a lot of advice given about what brands can do but I want to specifically zero in on that which was relevant to independent, emerging, and smaller scale brands because not only do you have smaller budgets and limited pull with suppliers, you're also contending with small teams. All this put together means that you have to think creatively about how you're going to design with sustainability in mind.
With that said, you do have one major advantage over larger brands with hierarchy, systems, and processes in place — you're nimble. You can make changes and adjustments way more easily than  the big brands and that's awesome. Not to mention that you are the next generation of brands; you're shaping the direction in which this industry heads, in sustainability and otherwise, so the more you know, the better decisions you can make as you grow your business.
What Can Brands Do?
Really, it all boils down to educating yourself. Start with looking at what you're doing before  you're designing a collection. So this is areas like:
Fibers- What are you using? Where are they coming from? What impact do they have on the environment?
Factories- Can you build long term relationships with them? How can you better understand their capabilities?
Seasonality- Can you move away from the traditional 4 times per year collections? Can you create pieces that transcend seasons?
Recyclable- Can you create pieces that are easily deconstructed? Meaning, minimal zippers and extras that need to be removed before the fabrics can be recycled?
End of Use Plan- Can you think about what can be done with the garments after your customer is done with them? Can you implement that into your business model?
What Should Brands Think About?
The speakers presented the idea of creating a sustainability toolbox for your business. This is something you reference as you're working on a new collection to help guide your decisions to be more sustainable. Here's what one might look like:
List of Fibers- what fibers are acceptable to use in your collections?
List of Sources- what suppliers have you researched and are confident you can trust?
List of "No Way!"- what fibers or fabrics will you never allow in your collections?
List of Alternatives- what fibers and fabrics can you use instead?
List of Finish + Performance Criteria- what do you fabrics need to do or look like or feel like?
List of Suppliers- which finishers, dyers, etc are you OK to work with?
The goal is to stick to this toolbox, not matter what. It makes decisions in your business easier to make and way more focused.
The Role of Economics
The biggest argument against moving more towards sustainability is the cost of doing so. But honestly by focusing on the pre-competive areas of your business (things/changes you can implement before competition comes into play), you can make big impact. Think about shared value investments and ask yourself, "What don't I make money on within my business?" and those are the areas to start.
Maybe that means shared textile production on basic fabrics? Or perhaps it's about implementing a Recycle + Reuse Plan. This idea is a strong one for implementing sustainability into your collections but it's also one that you don't see addressed as often as others. You're not making money after your customer makes the purchase but you are responsible for the impact that garment is having in terms of sustainability. So why not find ways to help them recycle or reuse the garment? There are not a lot of hurdles to make this happen and it has a big impact.
Commodity Sourcing is Community Sourcing
There was a lot discussed about environmental sustainability with the panel, but they also made the point (though at the very end and prompted by an audience question) that all of these practice have just as much impact on the social side of things that they do on the environmental. Environmental sustainability is all about the social side because you are always working with people.
When you make a long term commitment to using certain fabrics or working with certain suppliers, you are making a long term commitment to the farmers who are making your fibers and fabrics.
The whole discussion was informative and hopeful; stressing how much positive change they're seeing in the industry and all the exciting possibilities they see for the future.
If you missed this season's show, you can definitely check it out in January. Follow Texworld USA on social to stay in the loop >> Instagram or Facebook; pick your fave.
[divider]
You've heard us talk about Texworld USA many time before, they are one of our sponsors because we really believe in the importance of attending shows like this as a means of learning, connecting, and building a stronger business. That's why we sat in on this seminar and are super excited to share with you what we learned.