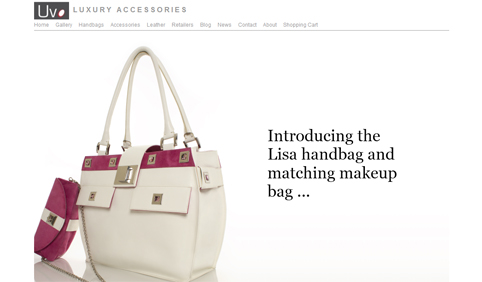 In the world of design– anything is possible. With that in mind research scientist with a Masters in Electrical Engineering and about to get her PhD., Gigi Karmous-Edwards, created a high-end, well-crafted collection of handbags called Uvo Luxury that not only shows innovation but also style.
This savvy designer got to collaborate with one of the most elegant women from the 90210 zip code and she admits that "design always get elevated when it is done through collaboration." Find out more about this world-traveler and collaboration lover.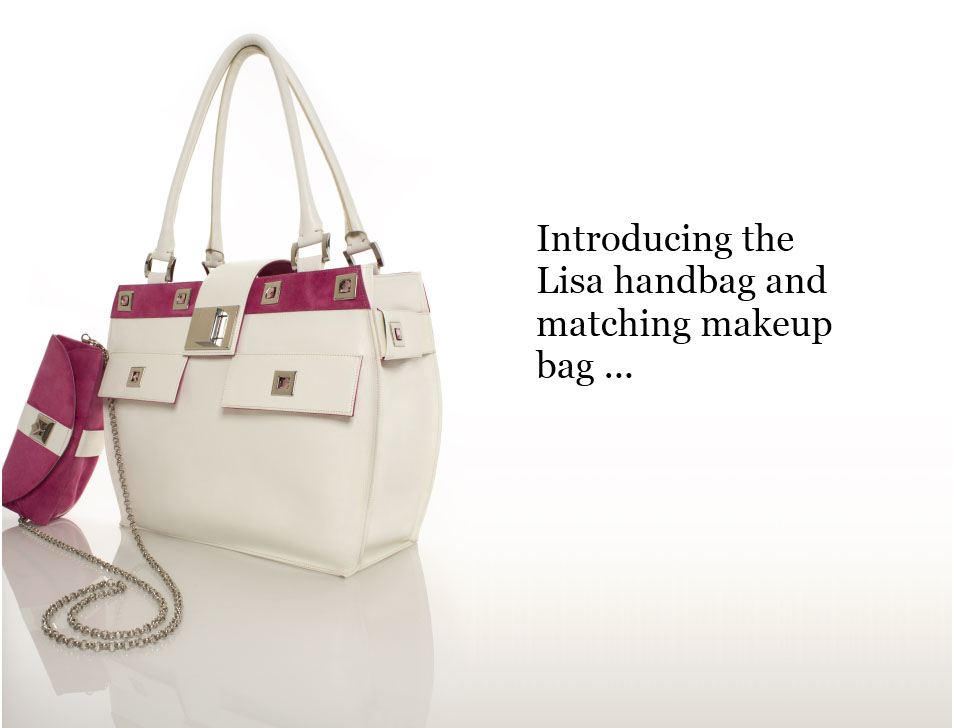 StUF: What inspired you to launch Uvo Luxury?
GKE: As a research scientist on global optical communications, I was invited to give talks all over the world. I had to take my computer with me as I traveled to some of the most wonderful cities, like London, Dubai, Tokyo. I searched for over three years to find a handbag that I could use for work (to carry my laptop and documents) during the day, and that was stylish enough to wear in the evening for a nice dinner. It seems my two choices were basically a large fashionable tote bag or a non-stylish computer bag. So, about two years ago, I decided to start Uvo Luxury and use my engineering design and research background to design stylish and functional handbags for professional women.
StUF: What's your design background?
GKE: I currently have a Masters in Electrical Engineering and am completing my PhD. I have over 27 years as a Design Engineer/Research Scientist, which may not seem to be applicable to handbag design but I have found that I use my engineering design skills to create unique functionality into the handbags. I also discovered that I use my research background extensively as I search out high quality materials, innovative design, and manufacturing. Many people come up to me to tell me that my designs are very architectural and/or structured which I believe came from my technical background.
StUF: Describe your personal style.
GKE: I like clean elegant lines. The minimalist modern look really appeals to me. My family and I live in a modern home that we helped design with architect Frank Harmon, therefore modern design is all around me. I also see the beauty in functional design. Color is also very important to me; I have to feel an emotional connection to a color before I can use it. I often drive my vendors crazy when looking for a particular leather color or thread color, if it is slightly off what I want, I will not consider it. My favorite color is pure crisp white.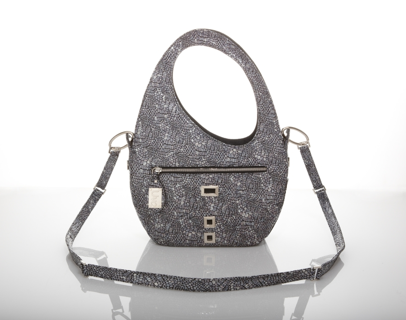 StUF: Your designs have a lot of geometric and futuristic references, what customer do you have in mind when you design?
GKE: Uvo handbags are really targeted to successful professional women who are very stylish, modern as well as practical. These women are on the go between their professional and personal lives and have unique demands for their handbags. They often need a versatile handbag that can be carried during the day to carry work related things, such as documents and an iPad or a tablet but stylish enough to wear out in the evening in social occasions. The Uvo Element handbag is a perfect example of this; When the Element handbag is held upright, there is plenty of room for work documents and folders, and a front padded, suede lined pocket for a small tablet. When the work documents are removed, the Element bag folds over and can be used as a clutch or worn with the strap across the shoulder for an evening look. The geometric shapes come from my love of clean modern lines that aid in providing my targeted functionality.
StUF: What's your favorite bag from the collection?
GKE: My favorite design is the Lisa handbag because we kept the clean elegant lines while providing maximum functionality. I designed this handbag in collaboration with Lisa Vanderpump, a successful entrepreneur, writer, and designer, hence the name "Lisa." She also appears on the Bravo TV show "Real Housewives of Beverly Hills." It is evident from the show that she has a beautiful sense of style. After watching her on the show, I had an opportunity to approach her about collaborating on an ideal handbag that will suite her larger-than-life lifestyle as a fantastic mother, wife, successful businesswoman, and Beverly Hills celebrity. She agreed and I consulted with her on some of the requirements. She requested white leather and "bling" which we provided in the form of beautiful Swarovski crystals, and we had to have pink as she sometimes is referred to as "Pinky" due to her love of the color.
This is my favorite handbag from our collection due to the wonderful collaboration with Lisa Vanderpump and the extremely rich feature set we added. Again, I see a great deal of beauty in functional design and we loaded this handbag with niceties to help women throughout their day. We have a matching makeup bag with metallic feet not only to protect the leather but also to provide a way to secure the bag inside the side contour of the Lisa handbag. The makeup bag is made with the matching calf suede and doubles as a beautiful evening clutch with or without a chain strap. We have convenient specific pockets in the front for cell phones and business card cases. Like our Element handbag, it has a fully padded and suede-lined pocket for the iPad/tablet. We also created suede-lined protective pockets for sunglasses and/or reading glasses. We have had an enormous positive response to this handbag and already have several pre-orders prior starting production. These handbags will be available in November. We will also make this style without the grommets and crystals in chocolate brown, and black. These handbags come with a premium price, but like all of our handbags, they are made with the highest quality European leathers and excellent USA-made craftsmanship.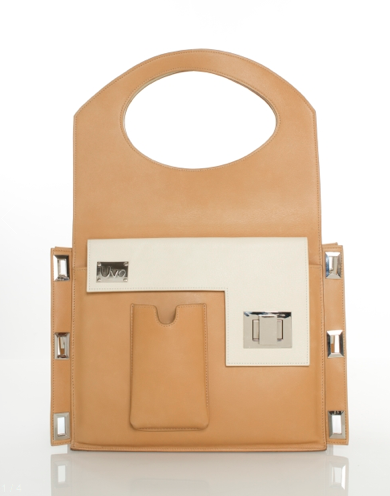 StUF: What's the best seller style?
GKE: To date it is the Loci handbag with the Uvo handbag not far behind. Both have unique styles that women seem to gravitate towards. However, I think that the Element and Lisa handbag will surpass all of them once they go in production in November. We already have preorders. All our handbags and accessories are sold in high-end boutiques and on line at http://uvoluxury.com.
StUF: If you could collaborate with another designer who would it be and why?
GKE: I think "collaboration " could be my middle name. In my opinion, I think design always get elevated when it is done through collaboration between people with different perspectives. As with my collaboration with Lisa Vanderpump, I will always look to collaborate with designers that can bring different perspectives to the design process. I find that designers of different subject maters, such as architecture, furniture, cars, or even restaurants (such as Lisa). I believe that having different backgrounds and perspectives lead to innovation. I truly admire the designs of Calvin Klein, Akris, and Jill Sander. It would be an amazing honor to collaborate with them.
StUF: What's your favorite place that you have traveled to?
GKE: I have been extremely lucky with my career as a research scientist to travel to so many incredible places such as my recent trip to Rio De Janeiro, or Hong Kong, London, Rome, etc. However, I would have to say Italy. I just love it there because of the way of life and the keen interest in beautiful design.
StUF: What's the best aspect about being a designer?
GKE: I love being a designer because it gives me a platform to express creativity with team members, to build strong teams, and create unique and beautiful products. I am extremely grateful to be able to do what I love and make a career out of it!
StUF: What's the aesthetic of your Spring 2012 collection?
GKE: When I think of spring and summer, I think of travel and fun! So, look out for handbags that will work with the traveling lifestyle.
For more about Uvo Luxury visit http://UvoLuxury.com.