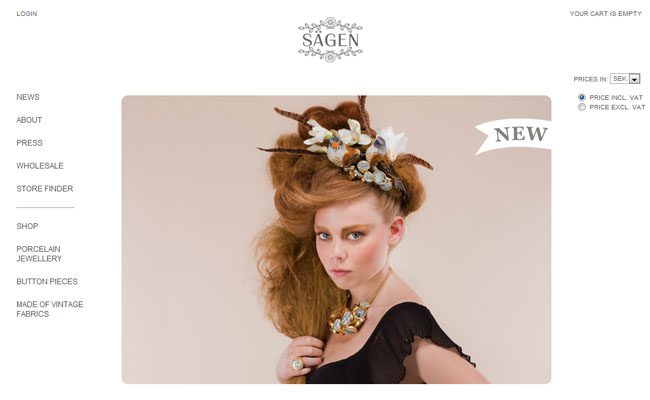 Wonder what a "world of crockery, laughter, romance and nostalgia" would be like? Elin, the designer behind jewelry label Sägen tells us that it is the world in which she designs and crafts her masterpieces.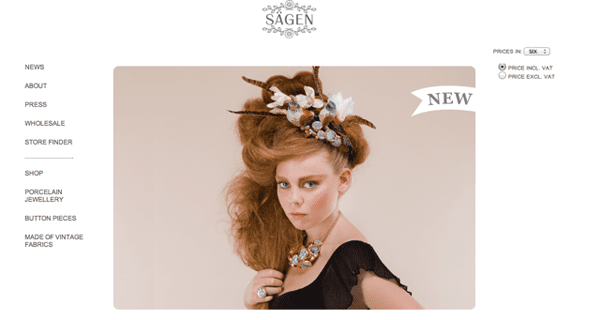 With an intriguing spirit and creative mind, Elin started Sägen, her personal jewelry collection, in the year 2007. Her use of re-cycled plates made of porcelain or china has helped to make a lasting impression on the fashion industry. The idea of using retro porcelain plates came from Elin's many recollected and sentimental memories gathered around the family dinner table; she tells us, "They remind me of Sunday dinners, at my grandmother's house."
After attending London's Fashion Week's Esthetica exhibition in September 2010, Elin's client list started developing substantially, helping to ultimately give Sägen the push to hit the fashion industry full force. As Sägen grows to global recognition, new ideas and accessories continue to develop. The brand is now incorporating vintage fabrics and buttons; helping Elin offer the consumer a larger variety of options. With increasing success, the jewelry brand is growing rapidly and is now sold internationally or via website.
Holding her jewelry brand close to her heart, Elin maintains the Sägen philosophy of making handmade, nostalgic and classic jewelry that is crafted and meant to last a lifetime.
All of Sägen's items can be categorized in one of the two distinct looks. The Fresh '50s' and '60s' look which utilizes the graphic patterns and bold bright colors from the classic Swedish and Scandinavian porcelain or the 'Duchess Garden' look which offers alternatives of kitsch with an abundance of charming birds and pink florals.
With the continuous and ongoing collection of 1950s-1970s porcelain, the Sägen brand promises an original piece because just like people, each piece of porcelain is 'one of a kind.'
So whether it's a ring around your finger, a bracelet on your wrist or a necklace on your neck, Sägen guarantees not only a beautifully handcrafted accessory but also the chance for you to smile and reminisce on a sentimental moment spent with the ones you love most.