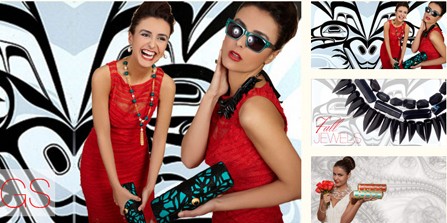 Fashion designer Amanda Brotman is the creative force behind the quirky and refreshing brand Amanda Pearl. Taking special pride in making unique pieces, Brotman uses vintage and antique beads and fabrics to craft each magnificent item.

With Amanda Pearl's Handbags, Jewelry and Bridal collection, she confidently caters to a market of classy, fashionable and sophisticated women.
Finding her inspiration in modern art, 50s and 60s fashion, and culture and antiques, Amanda stays true to what she loves most and ensures that her designs are one of a kind and surely made with love.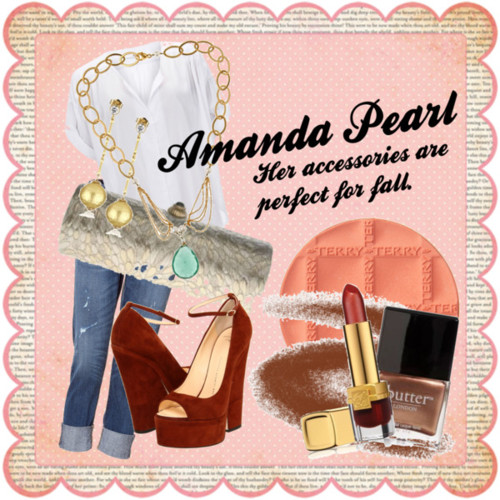 Besides playing around on Polyvore and putting together my Amanda Pearl look, I also had the pleasure of chatting with Ms. Brotman to learn more about her and the Amanda Pearl label. Designers, prepare to be inspired.
StUF: When did you know you wanted to be a designer?
AB: From the time I could hold a drawing instrument, I was always sketching "fashion" and and even made jewelry from the time I was young.  Given that I didn't go to design school, however, I never really figured I could be a designer.  All of that being said, I guess I've always wanted to be a designer but didn't know I was going to be until I actually did it!
StUF: Which Amanda Pearl collection has been the most fun to create?
AB: Gosh, they're all fun to create.  Spring 2010 was especially fun because I did a ridiculous number of hand painted fabrics, which I really enjoy doing, and the inspiration was really exotic and fun to daydream about.
StUF: What is your most cherished collection and why?
AB: My most cherished collection might be my first, because everything was so fresh, new, and exciting.
StUF: What were some of the struggles you faced in starting your own brand?
AB: Everything has been a struggle as a start up brand–from finding vendors and manufacturers who will make the small quantities I need to make, to getting the attention of buyers and editors.  It takes a very long time to prove oneself as a new brand.
StUF: So far, what has been your biggest accomplishment?
AB: My biggest accomplishment has been developing and manufacturing some of the complicated product that I've managed to develop, along with some brand awareness!
StUF: What do you love most about being a designer?
AB: I get to create pretty things.
StUF: How do you go about getting your product out there and making people aware of the beautiful goods you create?
AB: I do my best with all of the social media–Facebook, Twitter, my blog, Tumblr; try to keep my website updated as a flagship portal to the brand; and also work with a great PR firm that helps share the collection with editors, stylists and bloggers.
StUF: Do you have any future plans for your brand? If so what should we look forward to seeing?
AB: I have so many ideas and projects and things I'd like to do, but am trying to maintain some discipline with the business I have established currently.  At some point in the near future I'd love to do scarves and eyewear though!