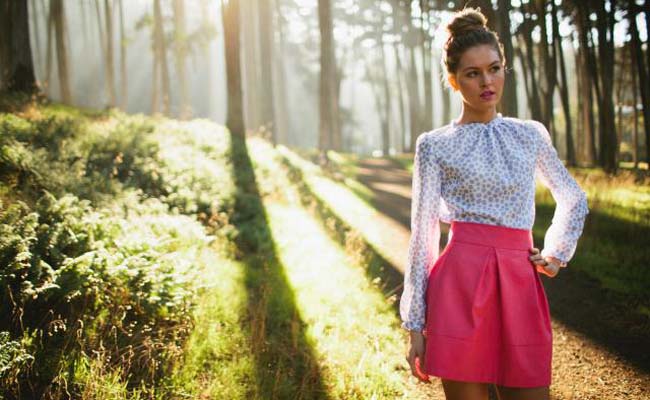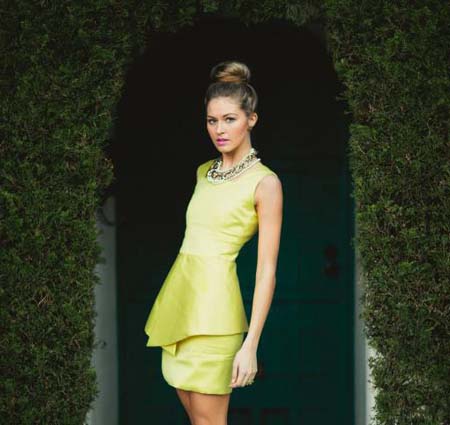 With the perfect combination of fun essentials and timeless pieces, Anna Anthony designer of a.anthony designs gives women all around the globe a chance to look fresh and sophisticated.
Anna tells us that her brand is a true reflection of the playful, classy and sensible woman she is today. The San Francisco, California brand founded in 2011, is fairly new to the industry giving Anna the opportunity to bring a new twist on today's contemporary trends.
Anthony finds that the quality of a garment is what makes or breaks a brand. With her use of clean tailoring and refined taste in fabrics, she is able to promise the customer a lasting garment with class and a polished silhouette.
Utilizing beautiful silks and wools Anthony's garments not only look glamorous but feel it as well. With the entire collection being manufactured in Anna's home turf, San Francisco, she makes sure that each piece is make correctly and to her liking.
As Anna designs she also keeps in mind that women want to feel confident in what they wear, pushing her to make figure flattering garments that embody a stylish and feminine flair.
Staying unique in the rapidly moving fashion industry isn't always easy but Anthony accomplishes this by not conforming to the 'popular' trends. She strives to let women be who they want to be, and drives them to not be afraid to express their own personality in the way they dress. By creating timeless silhouettes, she can ensure that in 5 or 10 years the pieces that women buy will still work in their day-to-day wardrobe.
Using her degree in business to its full potential, Anna has found success in a dream. However, she uses her passionate eye for style and fabrics to help guide her collections in the right direction. So with the combination of these two things, Anna is using her education and design taste to guide a.anthony designs to its full achievement.
I also had the wonderful opportunity to speak the lovely Anna Anthony, in a brief interview! She truly is a fabulous designer with a passion for her brand.
StUF: What inspired you to start a.anthony designs?
AA: What started as a hobby to get me through the long Minnesota winters, (I previously lived in Minneapolis for four and half years but now live and work in San Francisco), quickly led to a vision of a brand and the beginning of a.anthony designs.  I received a sewing machine for Christmas and began designing and making my own clothing strictly as a hobby.  It wasn't until I started wearing a lot of my clothes to work at a commercial mortgage investment-banking firm that I realized I had something more to offer this world.  I started to realize what my true passion really was.  I came to the realization that I had a unique skill set with a business background and creative mind.  I saw a market catering to the young female professional who is influenced by fashion and has professional and social events to attend outside of work.

StUF: In starting your brand, what were some of the steps you took to build your cliental base?
AA: The first and most important step was to start networking in my local fashion scene.  It's really a small world, as it is with any industry.  I attended a lot of local events, shows, seminars, etc to meet people in the industry, I asked a million questions and started spreading the word about a.anthony designs.  I also approached a lot of media outlets, instead of waiting for them to come to me, which resulted in good print and web media coverage.

StUF: Was there anyone in particular that inspired you to go for it or help you get to where you are now?
AA: If I didn't have a supportive family who believed in me it would have been really hard to get to the point that I'm at now.  They have always encouraged me to follow my dreams and leaving my traditional job in order to be my own boss and start my own company was scary at first, but something I knew I had to do. Work isn't just "work" to me now, it really is different when you're doing something you love and are passionate about.

StUF: Which social media platforms do you use to better your brand and which ones have had the best outcome?
AA: I can't even begin to explain how important social media is as part of a new brand's marketing efforts.  I definitely took the time to learn how to use social media efficiently since it's an instant validator in this industry.  Almost everyone I run into that's interested in the brand asks me immediately if I'm on Facebook and Twitter.  I'm exploring other social media platforms including Tumblr, to see how they can help me build my brand.  Currently, I use Facebook and Twitter to keep my followers, partners and customers apprised of what I'm working on and what's coming out soon.  Not only are both good real time communication platforms, they enable me to keep a pulse on current trends, likes and dislikes.

StUF: What have been some of your biggest challenges as an emerging designer and how have you overcome them?
AA: I have a business degree and didn't go to design school.  A lot of people immediately ask where I received my design training, but I can't even begin to stress the importance of understanding the financial part of the business.  Since I am primarily self-taught (I have taken some design/sewing classes), I don't have a prestigious lineage of design houses I've interned for or design schools I've attended.  At the end of the day, you can have the most beautiful and original designs but if you can't turn them into revenue you will never have a successful business.  While I love designing, coming up with new ideas and tapping into my creative side, I honestly spend most of my time focusing on sales and marketing. 

StUF: What has been your favorite part about being a designer and starting your brand a.anthony designs?
AA: It's been truly rewarding to turn my concepts and visions into reality.  With every design I always think about the woman who would wear the garment, her lifestyle, preferences, where she travels and whom she socializes with.  To see those visions become something tangible is truly rewarding.   Through this journey thus far, it's been really fun to explore my creative side and challenge myself in ways that I never had before.

StUF: What advice would you give to other emerging designers?
AA: I think a lot of new designers don't fully comprehend the financial obligations you will have in your first year.  It's pretty normal to be investing in the development of a second season when you still haven't been paid for orders from the first season.  It's really important to understand the season time-lines and when your cash inflow/outflow is taking place in relation to those seasons.  Last but not least, stick to your intuition and vision.  I've learned quickly that everyone around you will have an opinion, some may like what you're designing and some may not.  You learn to have thick skin very quickly and as long as you have a strong vision and the tools/skills to turn that vision into reality you're setting yourself up for success!
Connect with a.anthony on Twitter, Facebook, or Etsy
In February, a.anthony designs will be available on www.ustrendy.com