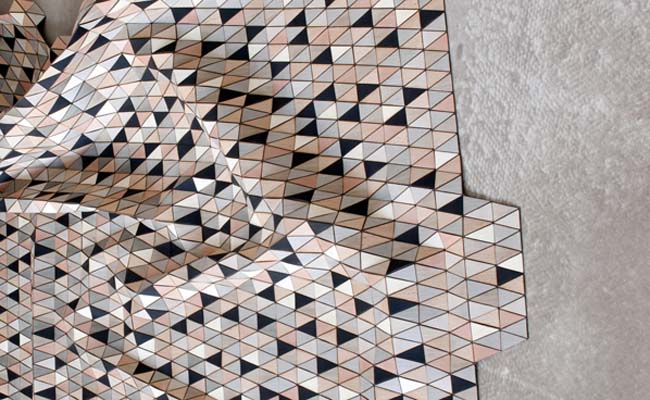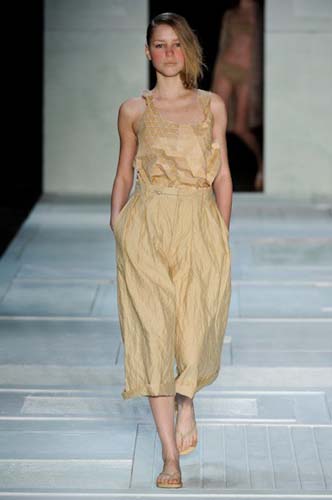 We've all seen the Project Runway episodes where the designers are instructed to use any material other than fabric to create their garments. It's a challenge that stretches creativity to the max, and the results are (usually!) innovative and beautiful. Today we're going to show you an emerging textile designer with an inventive approach to the medium: she creates beautiful "fabrics" using no thread at all!
German-born designer Elisa Strozyk is an MA graduate of the Textile Futures program at Central Saint Martins in London. The curriculum promotes originality, use of alternative materials and sustainable practice. These ideas all contributed to her thesis project that drives her work today – textiles made out of wood! Triangular plates of the wooden fabric are linked together to allow for movement.
The result is a subtle and sophisticated pattern created from cut shapes and natural color variations, topped off by a unique drape that is reminiscent of crinkled paper.
Normally when one thinks of the "future" of fashion and textiles, it conjures up visions of LED lights and electronics.  However, Strozyk takes us in a different direction. Unnerved by the takeover of technology in the physical world, she seeks to bring those who experience the work closer to nature. Because of this, no trees were harmed in the making of the fabrics. All of the wood used is scraps from timber workshops.
Strozyk works mainly uses the home as her medium: carpets, wallpaper and furniture. However, she has recently teamed up with fashion designer Maria Bonita to apply her innovative vision to clothing. The fabrics made a surprisingly seamless transition from rugs to the stylish Spring/Summer line. They were used for several dresses and tops, and seemed especially suited for the bags that accessorized the collection. The garments looked surprisingly comfortable, considering what they were made of!
To check out more of Elisa Strozyk's work, visit elisastrozyk.de.