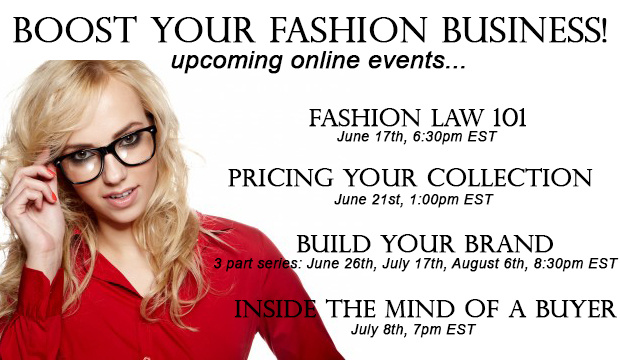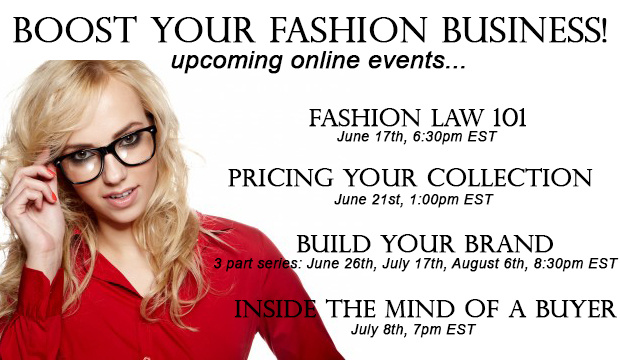 Happy Saturday, friends!
In my work with emerging designers, there are certain topics that always seem to pop up in the discussion about how to start and grow and fashion business. In an attempt to help get you the answers you seek, regardless of your geographical location, we've put together some exciting live 60 minute online events just for you!
4 Upcoming Online Events to Boost Your Fashion Business
Fashion Law 101
Join us for a discussion and Q&A with attorney Jessica Wilde of ND&S Law, as we chat about what you need to think about from a legal perspective when starting your fashion business. We'll discuss business structure, collaborations, protection, common startup mistakes, more!
How to Properly Price your Fashion Collection
Join us for this one hour discussion and Q&A with Jane Hamill, the founder of Fashion Brain Academy. We'll discuss pricing strategy, direct to consumer vs wholesale, cost sheets, and more!
Build Your Brand: A 3 Part Series
We've teamed up with PR Couture, our favorite destination to learn about all things public relations, to offer this 3 part event. Each session will be dedicated to helping you build your brand; we'll be answering your questions and providing live critiques.
Inside the Mind of a Retail Buyer
Join us for an online discussion and Q&A with Syama Meagher, founder of Scaling Retail as we discuss buyer perspective, crafting your pitch, following up, building relationships, and more!