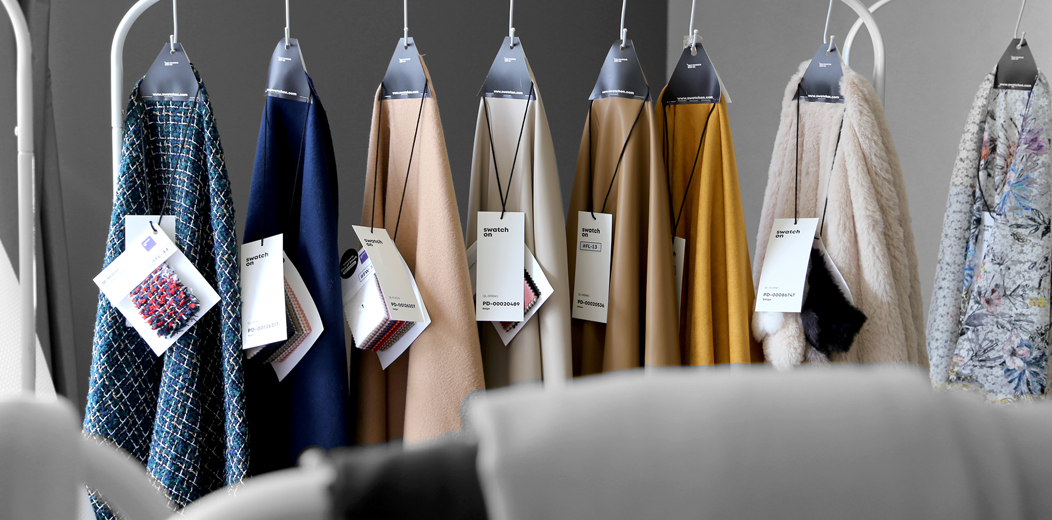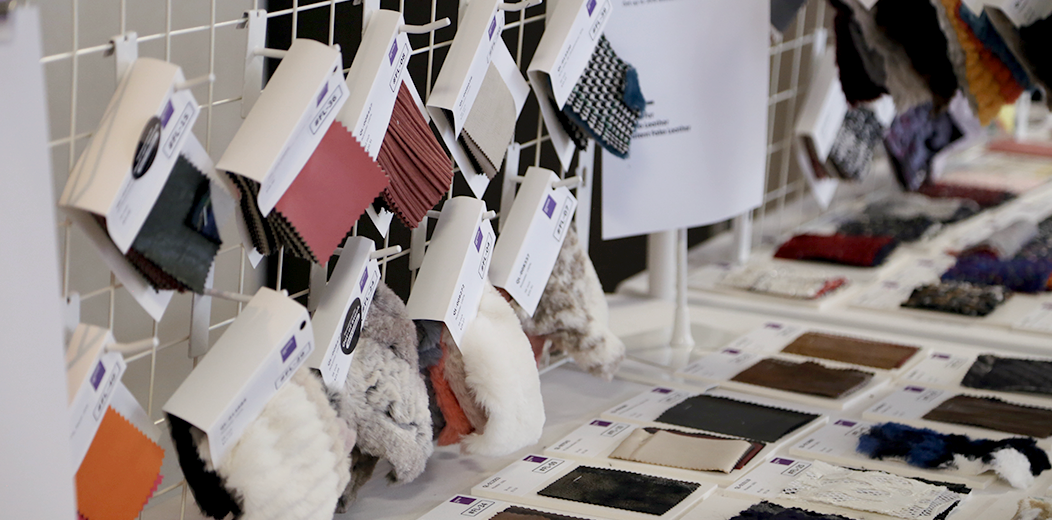 This blog post is sponsored by our partner Swatch On. The content is inspired by the fabric sourcing marketplace they have created for emerging fashion designers. While this is a sponsored post, I would never share anything with you that I don't believe to be a truly helpful resource. Promise. 
Sourcing fabrics is one of those things that at first thought, is something that needs to be done in person. Usually at a trade show or a fabric showroom so that you can feel the textiles, understand the hand and the drape. And it's certainly still true that doing so is a great way to find the fabrics for your next collection.
But the thing is, it's not the only way.
Nowadays, with designers ditching the need to be in NYC, LA, Paris, or London, and instead building their businesses exactly where they are, the need for access to a library of fabric options is strong.
You've probably heard me talk about our partner Swatch On, which is an online fabric supplier based in South Korea, serving a global community of emerging fashion designers. They have a selection of over 100,000 different fabrics from over 2,000 wholesale suppliers based in South Korea, which is an impressive library to source from. They've just updated their website with a lot of new filters to make searching and navigating all those fabric options a lot easier! And they've reduced their wholesale prices by 31-38% on all their fabrics.
The reason they have become our partner is because I think, as a company, they really check a lot of the boxes for the tips I'm going to share below. They've become the go-to digital fabric marketplace that also addresses the needs of independent and emerging fashion designers.
Here are 4 Tips for Sourcing Fabrics Online
Request Swatches Before Ordering Anything
My first tip is to work with online fabric sourcing resources that make it easy to get swatches before ordering. By easy I mean:
it doesn't cost a small fortune
they don't turn their nose up at a request for more than 4 or 5 swatches
they send the swatches quickly (who has time to wait a month?!).
I feel like, in the past when I was designing, requesting swatches from online sources was a headache. It involved emailing them, listing each of the SKU#s, waiting to hear back, getting an invoice, and then eventually seeing the fabrics show up in my mailbox, weeks later.
Textile sourcing can be a bit of an old-school industry, so doing some homework and finding resources that are breaking out of that old-school mentality is not easy, but it is possible.
As long as you can verify that you are a designer, Swatch On offers fabric samples where you can build your own Swatch Box from their website across their 100,000 product options. Verifying is easy (you do it right on their website) and then can enjoy the benefit of creating swatch boxes any time you're sourcing for your next collection.
Work with a Company that has Great Communication
Communication is such an important part of business in general of course, but working with production partners that have great communication is beyond essential. I know, easier said than done, right? Hearing back from fabric suppliers, factories, pattern makers, and all those other folks involved in the creation of you product can sometimes be like pulling teeth.
But they do exist, you just have to find them (and also be a great communicator yourself!).
You can test this out. If you find an online fabric supplier that you think you'd like to work with, email them, ask one or two questions, pay attention to how long it takes for them to get back to you and how helpful their responses are. If they're on social media, comment on a post to see if they interact. While no company is perfect, you can get a real feel for how a company communicates with just a couple little tests. If they make you feel as though you're imposing or that they don't have time for you, move on.
An example of great communication is SwatchOn's newly implemented chatting service. When you go on their website, you can always chat with them about what you are looking for, what you need, the fabrics they offer, or suggestions they have for what might work for you.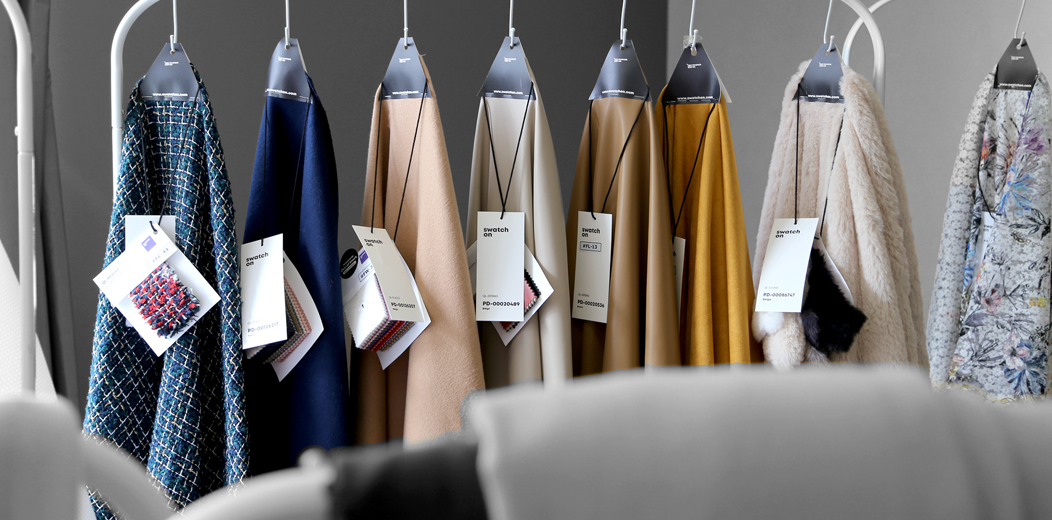 Understand that Convenience Sometimes Means Increased Cost
OK, let's talk convenience. By that I mean:
low minimums
easy ordering process
easy re-ordering process
helpful replacement suggestions if a fabric is out of stock
large selection to source from
and saving time
Using a digital sourcing marketplace can come with some (or perhaps even all! eh-em SwatchOn) of those conveniences I listed above. But you need to understand that if you're going to take advantage of those conveniences, you have to be OK with some unit prices being higher.
So let's look at Swatch On. They have:
Announced significant price drops– knowing that cost is a major factor for emerging brands, they have reduced retail prices by at least 13-22% and the they now offer wholesale pricing! Wholesale prices are reduced by 31-38% on all of their fabrics. Be sure to verify that you're a designer on their website to get an additional 5% savings on orders of $100 or more on top of their new prices.
No Minimum Order Quantity– yep, you can get as little as 1yd to create that sample before committing.
Fabrics are available for re-order– if a product goes out of stock, 99% of the time they will find a replacement (since they have access to more than 2,000 Korean Suppliers). They told me that their clients are satisfied with the replacements 95% of the time. Pretty awesome.
No sales tax or import fees (USA only)– As long as you're sending the shipment to the USA, it's less than $800, and it's imported by one person on one day you are able to take advantage of this. You can check out the specific terms here.  And Swatch On will do all the customs prep and paperwork to avoid delay.
Large selection of fabrics- as we mentioned, 100,000 different fabrics from over 2,000 wholesale suppliers.
Using technology to save you time- easy searching and filtering, online chatting, and the simply swatch ordering process make life easier.
It's up to you weigh the amount of work and progress you can make in your business when you remove the headache of fabric sourcing and decide if you're willing to pay the convenience cost. It's that simple.
Look for Reviews and Testimonials
This one may seem like a no-brainer but I think we're all guilty of working with a company without due diligence. Whether it's because of excitement or desperation, we can sometimes jump on it too quickly and regret it later. So do some digging on whatever online marketplace you're planning to source from.
Yes, you can look on their website for reviews and testimonials, that's where to start. But then Google them and dig around. Look for mentions on other websites, and spend time on Instagram reading through comments. It's worth the time.
So, since Swatch On is our partner, we talk about them on Instagram and in emails. Here are a few comments we received from designers. It's helpful to read things like this when making a decision.
"I love them!! Thank you for introducing them to me a few months ago, I recommend them to everyone I work with."

"I ordered my Swatch Box on Thurs the 25th, from Johannesburg, South Africa. The couriers have called to inform that they will deliver the parcel on my door tomorrow! Thank you!" (3 days later)

"I am obsessed with SwatchOn.  So much so, that I have stopped looking elsewhere for fabric.  THANK YOU!"
I know that sourcing fabrics and other production related services is one of the most difficult parts of getting a fashion business off the ground. It's a very stressful component of business development for a lot of emerging brands. One of our goals is to provide you with information and resources for making that easier. And that's why we partnered with Swatch On. That's why we spent a full blog post detailing how they can help you. Yes, it's sponsored content, but it's also my honest opinion.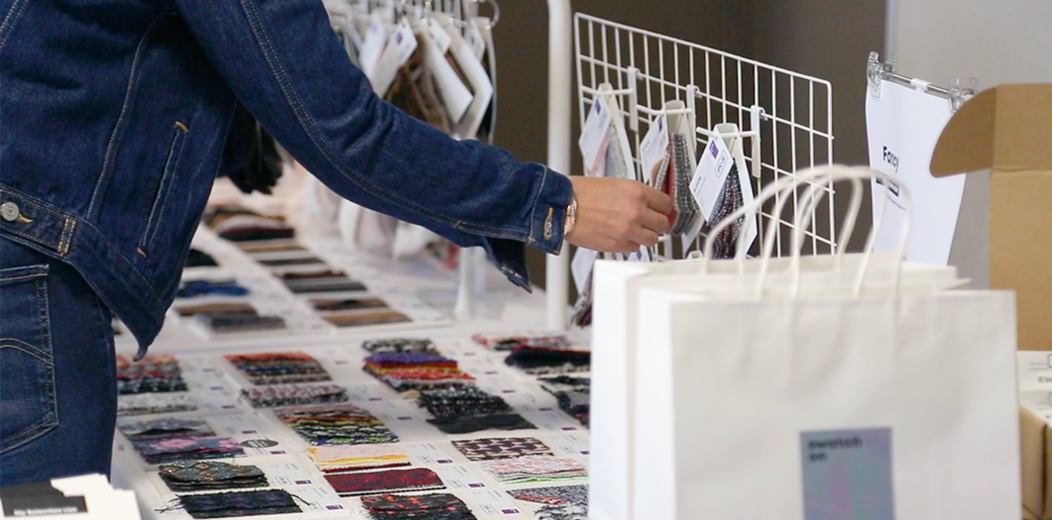 Exclusive Offer for StartUp FASHION Readers
As a reader of StartUp FASHION, you get free shipping for fabric orders over $200 placed by March 31, 2019.
If you already created your Swatch On account through Startup Fashion, this new fabric free shipping coupon has been applied to your account, and you should have received an email from Swatch On. If you are new to Swatch On, you will see the offer applied to your account once you sign up. Since this is an exclusive offer, make sure you sign up by clicking this link.
P.S. If you're coming to NYC for the Texworld USA show (January 21st -23rd), you can meet Swatch On in real life at booth H01 (which adds another layer of confidence when working with an online fabric sourcing marketplace).  Book an appointment with them and get free swatches of your choice, exclusive gifts, and fabric vouchers.