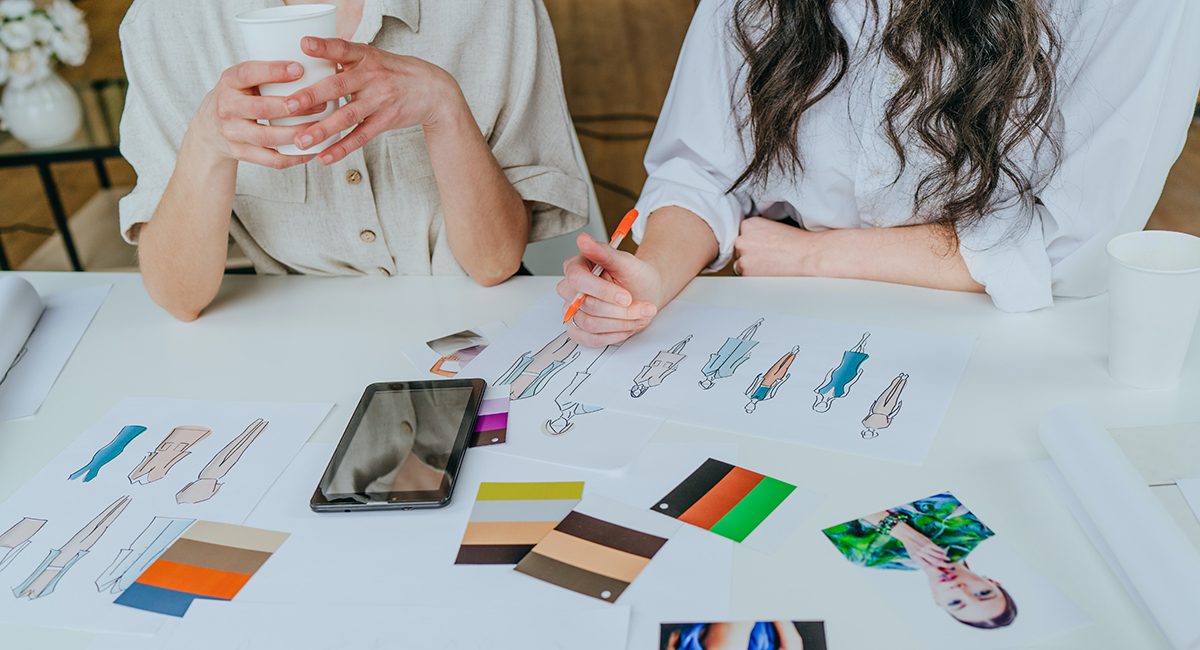 There's a lot to think about when you're working on launching your fashion business. There are decisions to make before, during, and after that all need your attention. Let's talk about three of the most important things to think about before launching your fashion business.
Create your Money Plan

When you're planning to launch a business of any kind, but especially one that is product based, it's really important to think through the finances of it all.

I know this sounds obvious, but too often I see aspiring brand owners think about the cost associated with developing the product but not think about the additional costs that are just as important.

One such cost is marketing. You cannot launch a business and do zero marketing prior to that launch. You have to budget for brand development, an email platform, a decent light to film videos, photography, and help or education for things like Instagram strategy.

Once you have a more holistic idea of where you need to spend money pre-launch, you then need to think through where you're going to get the money.

Pre-selling is a great option for funding the first production but you will still need the funds to create samples and do pre-launch marketing so the reality is, there needs to be a sum of money to get you started and a big part of the planning process is figuring out what option makes the most sense for you.

Grants and loans can be very helpful. But they aren't always easy to come by. So while it's worth exploring, it's important to have an option B.

Other ideas are using your savings or borrowing from friends and family. These two options are not possible for many people, though. So what I see most often, is aspiring brand owners using their day job to fund their dream business.

Learning the Development and Production Process

I'm a big believer that you do not need to go to fashion school to start a fashion brand.

Many of the aspiring brand owners I work with are coming from a very different background but love the creative process of designing fashion and want to build a business doing it.

That's fantastic and totally possible.

While you don't need to know how to draft a pattern or sew a sample, what you do need to know is how the development and production process works.

Taking the time to learn about sourcing, pattern making, marking, grading, and sample making will be so impactful as you work to launch your business.

You want to understand what each of these things are, what you're going to need, what questions to ask, and what decision you have to make.

Doing so will save you money, time, and so much frustration.

Plan How you Will Sell Your Products

The first step is to figure out which avenues you will pursue– wholesale and/or ecommerce.

Do you want to sell to stores? If so, you'll need to get comfortable with the idea of pitching and cold calls, and visiting boutiques to meet with buyers.

Do you want to sell on your website? If so, you'll need to spend time learning what goes into a money-making website with high conversion rates.

Once you figure out where you will sell (in stores, online) it's really beneficial to think a little about how you will market what you want to sell.

At this early stage you don't need detailed plans. You just need to understand what your main channels will be for reaching people and for driving them to a sale.  And then what is required of you to create content that will achieve these goals.

Too often I see aspiring brand owners say "oh, I'll just use Instagram" but with very little thought about the actual content creation. Meaning, if you don't like making videos and you want to reach people on Instagram, you might have a problem because Reels and video based content is what will do that.

As you can see, these are three important areas to put in some thought before you decide to launch your fashion business.

Luckily, we cover all of this and more during the Launch Your Fashion Business Summit. A free 3 day virtual event. Grab your ticket here so you can create your plan for launch!