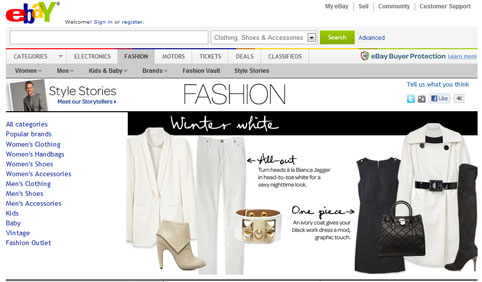 The first of my WWD Magic seminars was Fashion Ecommerce- The New Retail, a keynote by Miriam Lahage, the global head of eBay fashion brands.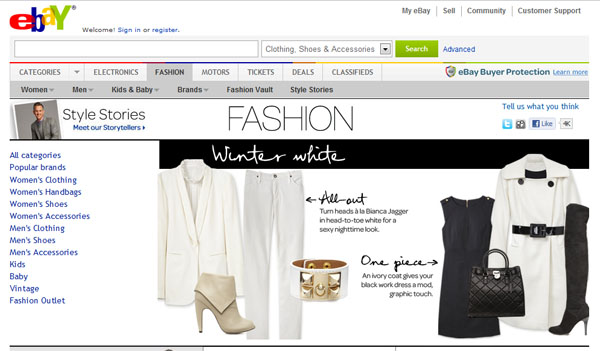 From the onset of her speech, Lahage emphasized the need for eBay to think outside the box because it is, in principle function, a rather 'outside the box' concept.  Come on, any platform that makes Justin Beiber's hair and lunch with Warren Buffett available for sale to the general public is without a doubt a unique concept and offbeat culture.
The need for eBay, which according to Lahage is the world's largest online market place, to constantly change is driven by the constantly changing retail industry.  They, like the rest of the fashion industry, need to evolve,  adapt, be creative and remain one step ahead.
One example of eBay's creative initiative was the highly successful collaboration with Derek Lam.  For this collaboration, Lam created sixteen fashion samples and invited the world to vote on their favorite. In total 120,000 individuals voted and 800 pieces of editorial coverage were created. Obviously, the crowd sourcing project was a success for eBay and Lam, making eBay yet again a forerunner in digital marketing creativity and providing Lam with an increased global audience.
Another example of the eBay marketing savvy is with their more recent collaboration with Alexander Wang.  In June there was a flash sale for which Wang had created a very limited edition of 5 styles and the only place to buy them was eBay. They sold out almost immediately.
A few years ago you wouldn't think of eBay as a major player in the fashion world, but with $10 billion worth of fashion sold last year and 10 million active fashion buyers and 25 million sellers, they are definitively in the big leagues.   With that in mind, here are some key points presented by Lahage:
Large brands drive incremental traffic and bring eyeballs to

all

eBay sellers.
It is tech innovation that impacts buying, selling, and how people shop.
Four areas to focus on: Mobile, Social, Local, and Digital
Who drives trends?  Consumers!  Listen to them.
Today is more participatory than ever before, know and embrace that.
Consumers must be given the opportunity to shop whenever they want, however they want, and where ever they are.
Consumers do not distinguish between their online and mobile shopping. They expect the same level of access and overall experience on both platforms. 
Mobile is on its way to blurring the lines between offline and online commerce.  The two are coming together.
According to Lahage, Commerce 3.0 is the intersection between technology and shopping: promotions and coupons from local businesses, the idea of the digital wallet, enabling research and buying option with a mobile device, these are all examples of Commerce 3.0.
Social commerce has been happening organically for some time.  There are now 1 billion people on social networks today.
Most shoppers will say that they don't go onto social networks with the intent to shop. However, you must remember that behavior and intent are two very different things. Research shows that 28% of purchases last year were claimed to have been influenced by social networks.
No one has cracked the code of social commerce yet, so experimentation and observation are extremely important for brands and retailers today.
Local is where mobile was two years ago.  Online retailers need to pay attention to local.  How is eBay doing it?  For large merchants, when a product isn't available online, they make it possible for consumers to learn where it's available locally.  Additionally, they make it possible for smaller merchants to easily put all their local inventory online.
Remember that competition is global and it's portable. Cross border trade is major for eBay, with 28% of its sales coming from global.
In order to deliver the kind of innovation that consumers need and want, you can't do it alone. Grow your business to embrace partnerships and collaborations.
It's a multi- channel world these days.You need to be agnostic about where and how the sale takes place.
The challenge is to figure out what is the fashion retail magic that gets consumers to fall in love with your brand?
Embrace technology as a core competency; it's as important as product assortment, as merchandizing, as marketing. Focus on a cohesive experience and don't stand still. Technology can be one of the most important levers that can help you compete in the new retail.
Remember, for the first time in history the customers are using technology to fundamentally change the way they shop. The changes are happening so fast and are so far reaching, that it requires all of us to innovate and think differently about commerce.