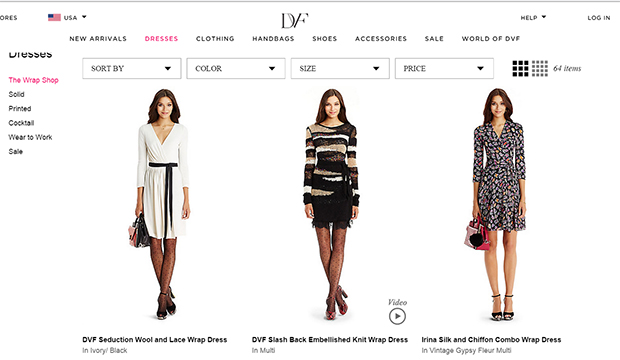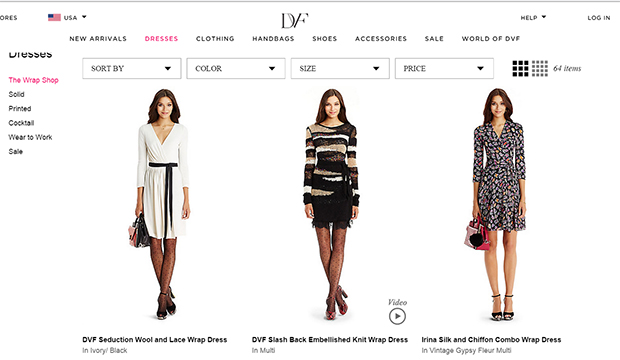 In today's contemporary world of fast fashion, it's rare that a style or silhouette will stay on trend for very long. Often, different cuts will come and go, barely lasting a season before something new comes along. For any silhouette to stand the test of time, especially in this current, impossibly fast-paced industry is quite a feat, and few come to mind. However, there are a few iconic exceptions, one of which is the timeless wrap dress.
While the wrap dress is of course synonymous with Diane Von Furstenberg and the 1970's, this particular silhouette was around for several decades prior, and continues to be a staple in women's closets even today.
So how did the wrap dress come about; and how did it manage to not only stand the test of time, but also ever-changing world of fast fashion?
The wrap dress' true origin began about four decades prior to its spike in popularity- back to the 1930's. During this time, designer Charles James was taking the fashion world by storm with garments that, at the time, were verging on obscene.
Obsessed with the body and its sensuality, James' clothing featured cuts that accentuated the figure, bustles that resembled genitalia, and plenty of embellishment. The designer created the very first iteration of the wrap dress- a clinging sheath that "spiraled" around the body, clasping at the hip or zipping across the torso. While dress took on a sophisticated air at first glance, James had something very different in mind when designing it. He christened it the "Taxi Dress," because he wanted to create a dress that "a woman could slip into-or out of- in the back of a cab."
Utilitarian sportswear continued to integrate itself into fashion as time went on, and other designers tried their own takes on the wrap dress. Elsa Schiaparelli also designed several wraps during the 1930's. By the 40's, a version by Clare McCardell "the popover dress" gained popularity. The popover was McCardell's response to the lifestyle of women during World War II- a busy one in which housewives had many responsibilities both in and outside the home. Starting as a garden cover-up, it quickly morphed into an easy and "popped" over a bathing suit, trousers, bare skin, or an entire outfit to be worn as a jacket.
Fast-forward 30 years to the early 1970's. Diane Von Furstenberg was in her 20's and had just arrived to the United States. With her, she brought a suitcase full of boldly printed jersey dresses she'd created while working at her friend Angelo Feretti's Italian mill. The simple wrap dresses were originally just an experiment- a little something she would try to sell in America. Von Furstenberg hardly considered them a fashion revelation. "I made easy little dresses…I didn't think I was actually designing them, and I didn't think of them as a fashion statement," she said of her creations, which ironically would go on to become one of the most iconic designs in recent fashion history.
While Von Furstenberg did not necessarily invent the silhouette, she certainly perfected it. Her version was a collared, long sleeved shirt-dress that wrapped around the torso in a way that it easily accentuated curves while hiding any undesirable bulge. Details such as the choice of stretch jersey that hugged the body, a v-neck, and a sash that tied at the waist rather than clips or buttons made the dress an instant sensation.
By the end of the 1970's Von Furstenberg had sold well over a million of her signature garment. Her wrap dress allowed a woman to look both "proper and seductive- practical and sexy…You can go into a boardroom and make a presentation and feel feminine, and yet not exposed." The arrival of the dress was perfectly timed, as it filled in a missing gap in fashion that was sorely needed- beautiful yet respectable attire for smart, career-oriented women. The womanly silhouette, combined with bold, bright prints became a hallmark of the 70's.
Since then, Von Furstenberg and her wrap dress have pulled off an incredible feat- staying relevant through decades of changes in fashion.
The dress not only fits the body well, it also fits perfectly into the lifestyle of the modern, working woman. It combines beauty and practicality, which is more important than ever in the current fashion world. Today, the wrap dress continues to be the pinnacle of Von Furstenberg's collections.
Other designers have noted just how flattering the wrap dress is, and have created their own versions- you can find the silhouette on every runway from J.Crew to Alexander McQueen. The wrap has become a definitive fashion staple, and will likely continue to grace the runways for a long time to come.