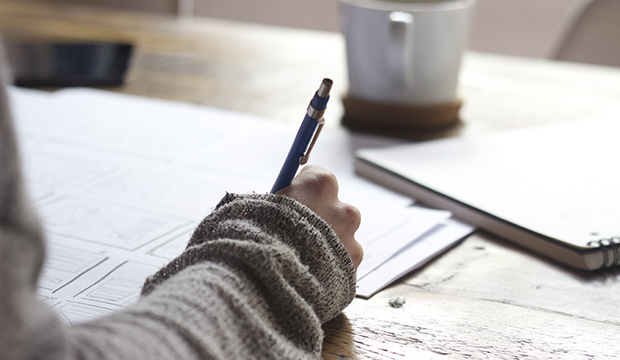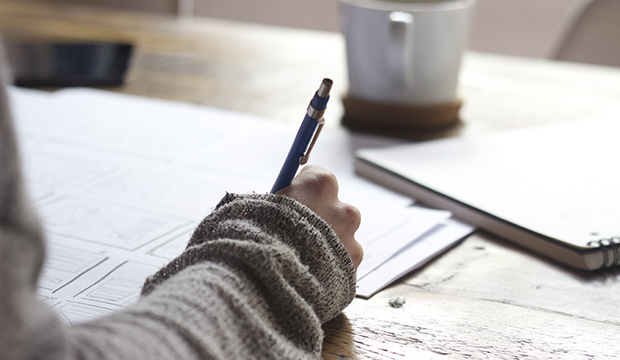 For the past few months, I have been working with a manufacturer in Brooklyn to produce my first product: an American made leather Wallet for the iPhone 6. As opposed to letting the manufacturer complete the work, I decided to apprentice for them and learn all that I could about leather accessories. Moreover, I knew I could learn the process of taking a design and bringing it to life. After all, this would give me the insight I needed to produce my own product.
Below you will find some of the lessons I have learned working on "The Atlantic Wallet," and other designers' products I have worked on.
Note: What is to follow is a summary of the experiences I have had as an apprentice so far.; here is what I learned. Keeping a positive attitude I have learned to persevere. Good luck on your journey.
Design:
A design, from what I have seen, comes from just about everywhere: frustrations with existing products, products seen in other countries, and ideas that have been sat on.
In my humble opinion, the design is the easiest part of the entire process. Anyone – including myself – can put a pen to a piece of paper and start sketching. That's not to say that every sketch is a good sketch, it takes work to find the right design.
Prototype:
Having a design on paper and building a prototype from it are entirely different processes. The former is theory and the latter is practice. A lot can change during the prototyping stages of the product. A prototype is necessary to verify that the rudimentary dimensions drawn out are correct, to ensure that the product functionality originally envisioned still holds true, and to confirm that the manufacturing of the product is still something worth pursuing.
This stage is particularly fun because it requires some creativity. Prototypes can be made from household items: cereal boxes, printer paper, milk cartons, or TV box styrofoam. Keep in mind what you are using your material for; for example, a cardboard box might not be the best material for a prototype of a scarf. I started with a cereal box.
For the later prototypes I created, I contacted leather vendors in NYC for sample materials. Local is a big theme in my products, and it was important to me to find the best leather in the prototyping stages to see which worked best for my product. Be sure to test out your materials in this stage so that you save yourself a lot of headaches, especially costly ones, in your sample.
Sample:
Once the design and the prototype are ready, a sample can be made. This is where the product really takes it shape. The sample is where the final material and ideas become the final product. Making a sample however, is not easy by any means.
Working on a few samples for my own work and assisting on samples for other designers, I noticed that the devil is truly in the details. First and foremost, not all leather is created the same. Leather differs in wax coats and thicknesses, and everything in between. Secondly, the design is really tested. You will come to see which parts are useful and which parts need to be revised. During the sample making process, you learn to ballpark how long cuts will take, how many stages of stitching are required, how much material is needed, and what equipment is necessary. All these details are necessary to determine how much an item will cost and what processes must be improved during production.
With the sample in hand, it's important to test it. Be the first to use your product, play with it, and share it with your friends for some constructive feedback. It is important to determine all the issues that your product may have, and to eliminate them, at this stage.
Costing:
Before I started working on Dekalb & Crescent, I was a project engineer in a refinery for 5 years. I got the chance to meet and become friends with contractors that, to this day, I consider honest and exceptional at the work they did and continue to do. One day after discussing project bids, a contractor hit me with a line that I won't ever forget: "some businesses want to make money, some business want to make a killing."
I mention this because prior to working on a sample and apprenticing for a manufacturer, I shopped around to get production quotes from several factories in and out of NYC. A few manufacturers said, "the pricing of production all depends on the sample wallet", others told me what I wanted to hear, and a few others gave me some quotes that were just exorbitant.
As an apprentice, I learned to determine the cost of producing a product and in turn learned to price my wallet.
The key factors for calculating the cost of production are as follows:
Cost of daily labor
Number of wallets completed in a day
Cost of a square foot of material including shipping and handling
Square footage required to complete one product (use the patterns provided with the sample)
Factor for non-usable material

In my case, I learned leather is not perfect. The cowhide comes with some marks and some cuts, which makes parts of the leather unusable.
This factor also depends on what you are making. Small accessories tend to have small factors, and big accessories, such as belts and purses, have bigger factors.

Cost of packaging
Cost of merchant services
Cost of extra material – for me it was thread and paint.
Cost of outsourcing work – I outsourced the laser cutting for parts of the wallet
Cost of shipping
Factor for future and inconsistent costs

Future costs include payroll, electricity, rent, and other overhead costs.
Inconsistent cost include one time purchases such as dyes, tools need for manufacturing, digitizing drawings, and other one-time costs.

Factor for profit
When the product becomes scalable these numbers are subject to change.
Some factories will give you a price per unit for production. Do your math for your accessories and find out if the store is making money or making a killing. But don't be foolish and think the factory will complete your production to help you, they are in it to make money just like you.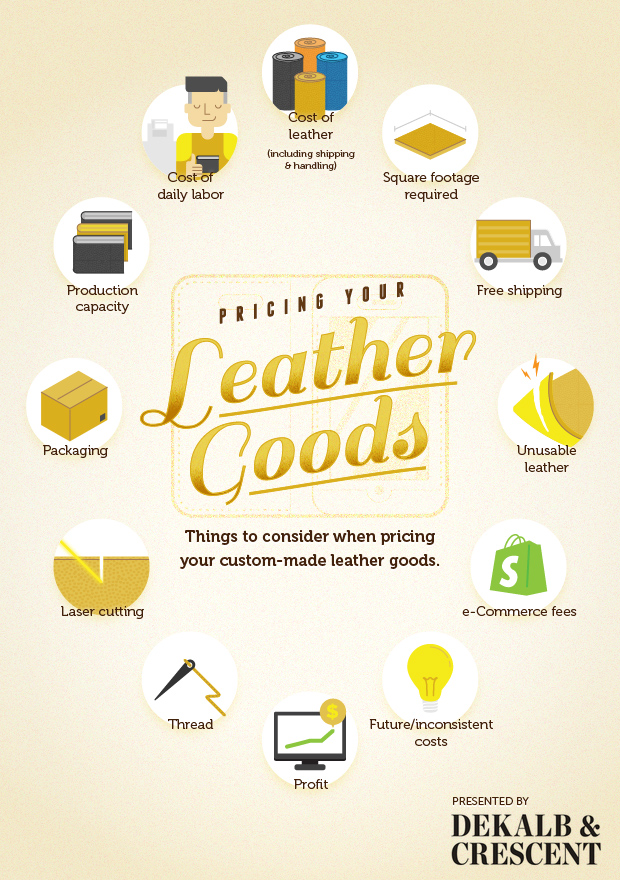 Production:
There are plenty of ways to determine production and per unit costs of your leather accessories. I encourage you to do a simple google search on "how to determine pricing of per unit costs" or "figuring out production costs" and you will find a plethora of options. My main takeaways were:
look at the market you want to go in
check out the price points available
use that information to determine how much you will spend making your product.
However, there is more than one way. So after you have completed your costing, reconfirm each line item. If your margin for profit is not high enough or if the cost of production is too expensive, you may have to switch leather material, use cheaper packaging, or replace free shipping with low cost shipping.
For the first batch of iPhone 6 Atlantic wallets, I completed a small order run to confirm and evaluate the production process. Some tasks were eliminated, the means of obtaining a great final product were finalized, and the timeline to complete the final product was shortened.
Network and Team:
Two of the best facets of working for a manufacturer is the ability to network and the access to a great team.
I have enjoyed doing things that I didn't know would result in the growth of my product. Running errands for example, I had the opportunity to visit and talk to companies and factories that helped complete a quality and beautiful product for other designers. I've been to casting companies, plating organizations, jewelers, material vendors, and hardware polishers and all have given me a wealth of information and ideas.
I have also had the opportunity to work with folks who have a combined experience of over 100 years in the accessories business – it's quite impressive. The manufacturing team I have learned from has taught me more than anyone can imagine and I look forward to learning even more.
As I learn more about the leather accessories business, I shall post more information on my blog. I am all for paying it forward and providing useful information to aspiring entrepreneurs and designers.
If you agree or disagree with any of my opinions and calculations, please feel free to let me know in the comments below. If you want to share some of your personal experiences with leather, feel free to do that too.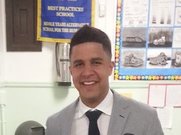 Ricardo Ospino is an engineer and an aspiring entrepreneur. He is taking his love for engineering and functionality and bringing it to the design and the manufacturing of leather accessories.