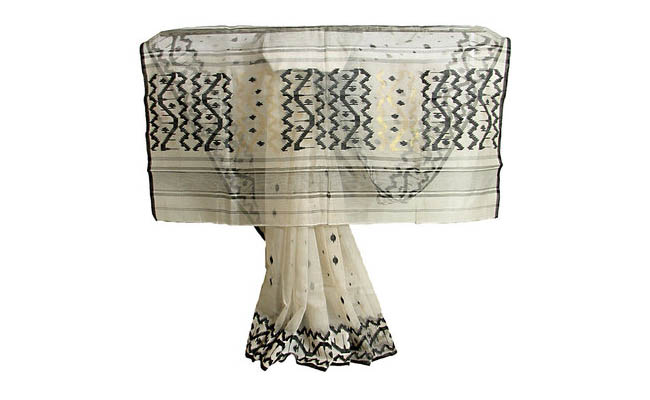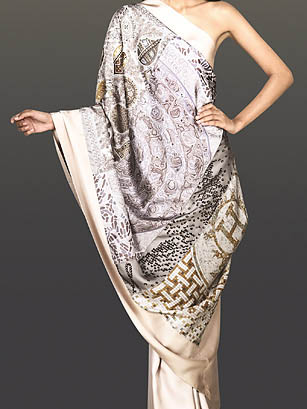 This year, Chanel showcased a collection titled "Métier d'Art". The glittering line celebrated the opulence of India, complete with bindis, flowing silhouettes, and a lavish runway set.
India's influence in fashion has definitely strengthened over the years. Designers have especially been drawing influence from the sari, the nation's distinctive garment. Hermes is even putting out a line of French-made saris marketed to Indian women.  In Indian culture, the sari is a symbol of tradition and beauty. It can be worn several different ways, each one holding a different connotation.
But what make saris so special are the fabrics from which they are made; beautiful textiles in bright colors and unique patterns. There are as many different sari fabrics as there are ways to wear them; we are sharing a few of our favorites here:
Bandhani and Ikat saris are based on techniques we have mentioned before. Both get their patterns from resist dyeing. In ikat, the threads are bound and dyed before being woven into cloth. As for Bandhani, the word literally translates to "tie and dye". Many resist "spots" are ties into the fabric, varying in size from a centimeter to a foot. The patterns are often created using two contrasting colors, usually placed around the border of the fabric.
Pathiani saris are perhaps the most time consuming to create, but of course this makes them the most luxurious. The patterns are created while the fabric is still on the loom, by weaving in the images. The fabrics come in vivid colors, including green and magenta. Gold thread is often used, giving the fabric an embossed appearance that shimmers in the light.
In the Maheshwari region, saris mainly come in brilliant greens or purples, made with a lightweight cotton or silk. One of the more unique styles of the area is a tussar block-printed sari.  This is exactly what it sounds like as the designs are created with a wooden block that is used as a stamp. The design is carved into the block and printed onto elegant tussar silk. The vibrant patterns and cool silk make it a perfect fabric for summer.