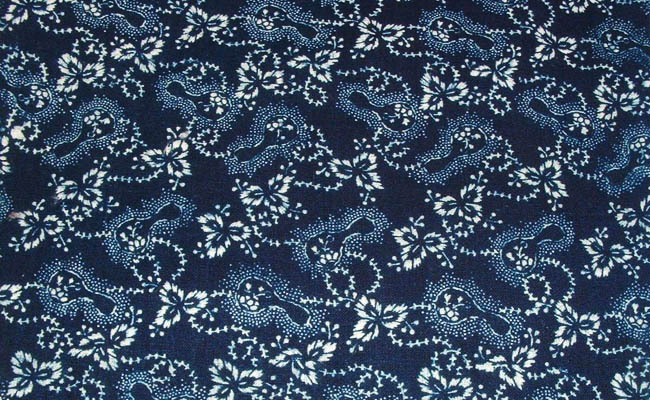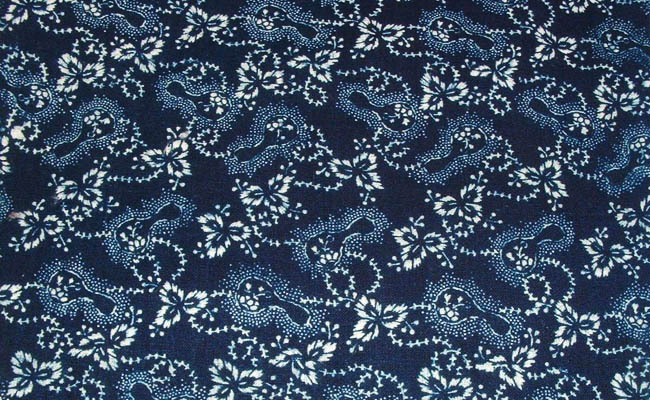 In one of our previous articles in our global textile series, we mentioned rozome, a Japanese wax resist technique used to create the beautiful images on kimonos. This week we will be talking about it's sister, katazome. Mainly used to create repeat patterns on fabric, it gained popularity in Japan as a simple, inexpensive way to mimic the look of woven brocades. Like rozome, katazome is also a method of resist dyeing, however, it uses a few different ingredients, and the process itself is what makes it distinctive.
Katazome textiles are, literally translated, "stencil-dyed" fabrics. These traditional stencils are works of art in themselves; many of them are displayed in the collections of museums around the world. The delicate process of making these stencils is called Katagame. To create a stencil, mulberry leaves are layered into a sheet, and then sealed with persimmon juice for water resistance. Elaborate designs are then cut into the sheet with a finely edged tool.
When ready to print, the fabric (usually cotton) is stretched flat, and the stencil is placed where the image will be. However, instead of applying ink or dye, such as in silkscreen, a paste made from rice flour and bran is used to print the image. The rice paste acts as a resist (no color can penetrate the area when it is dyed), much like the wax in rozome. Once the paste has dried, dye is painted onto the fabric, or the piece is put into an immersion dye bath. Once the dyeing is complete, the resist paste is washed out, leaving behind a beautiful textile pattern.
Recently, textile designers Takeshi Matsunaga and Chie Takai teamed up to create Kata Kata, a collection of fabrics that have been designed entirely using the katazome technique. Despite using such an old and traditional technique they have given it a modern twist. The dyed colors are so bright and solid they look as though they had been silkscreened or digitally printed! The adorable images cut into the stencils are much bolder and more whimsical than the usual thin, wispy florals.