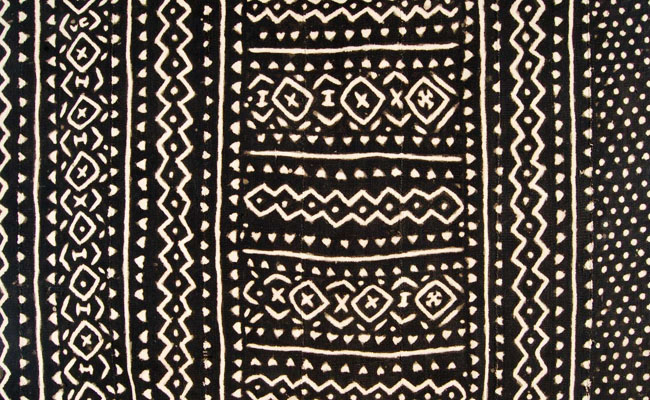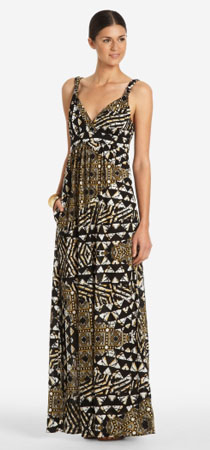 A few months ago, the Museum of Fine Arts in Boston hosted an incredible exhibit titled "Global Patterns," featuring a collection of stunning African textiles. The displays celebrated the wide variety of techniques and processes used in African fashion, from weaving, to print, to beadwork. However, one particular fabric stuck out to me the most. Not only because of its beauty (though it was a very lovely piece), but also because of the unusual way it was made.
The fabric was called mudcloth, and it is exactly what it sounds like! Mudcloth is an intricately patterned textile, and to create these striking designs, the fabric is dyed with- you guessed it- fermented mud!
Also called bògòlanfini, mudcloth is a handmade, cotton textile that originates from Mali, West Africa. Traditionally, men weave the fabric and women do the dyeing. The cloth is woven by hand into long, narrow strips, and the pieces are sewn together to create a wider canvas. The entire piece of stitched fabric is then soaked in a water and plant-based mixture, which tinges it yellow and helps to absorb the dye later.
After it has been laid out to dry, mud from the local rivers is painted onto the cloth. The patterns are applied using a caustic solution that "discharges" or removes the mud. These designs usually feature animals or other motifs found in nature. Each image has a specific meaning, and occasionally purposeful "mistakes" are made as a way of writing coded messages. The result is similar to batik: a dark background with a lighter resisted pattern. The mud yields a range of beautiful brown shades.
One of the most prominent fashion designers to work with mudcloth was Chris Seydou, a Malian designer. Seydou took the traditional elegance of mudcloth and translated it seamlessly into high fashion, creating tailored clothing that was a big change from the traditional robes that served as Malian formalwear. Though much of his designing was done in the eighties, his timeless textiles would be just as chic today.