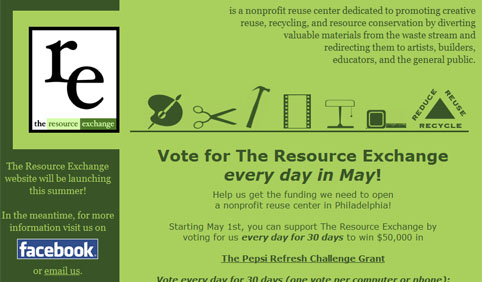 The folks behind StartUp FASHION are pretty into Ethical Design Practices, in whatever form that takes.  (organic, socially responsible, recycled, etc) We try to remain unbiased, but truth be told, we talk about it a lot.  And, you know what, we're OK with that.  So we're kind of excited to tell you about The Resource Exchange,  out of Philly that "is a nonprofit reuse center dedicated to promoting creative reuse, recycling, and resource conservation by diverting valuable materials from the waste stream and redirecting them to artists, builders, educators, and the general public. accessible and affordable."

If you're a fashion designer who utilizes recycled fabrics, trims, and notions into your work, this could be a pretty cool resource for you, right?
Here are their objectives:
• Keep valuable resources out of landfills by recovering reusable home building materials, art and educational supplies, manufacturing surplus, and other reusable donations and making them accessible to the public for reuse.
• Foster creative reuse by providing arts and cultural organizations, local artists and craftspeople, educators, and the larger Philadelphia community with affordable reuse resources.
• Increase the awareness of the environmental, artistic, and economic benefits of reuse and recycling by hosting workshops and public events, and by providing local sustainability information and resources through strategic partnerships with other organizations who share our goals.
The website is due to launch this summer however, presently they are working on getting the word out about their Pepsi Challenge Campaign. So, go on, vote!