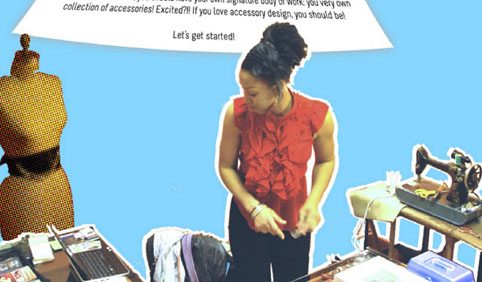 Many people have the desire to design and launch their own collection of accessories but they don't know where to start. Meca McKinney, designer and author, just released her first book, Envision: The Young Accessory Designer's Guide to Collection Development.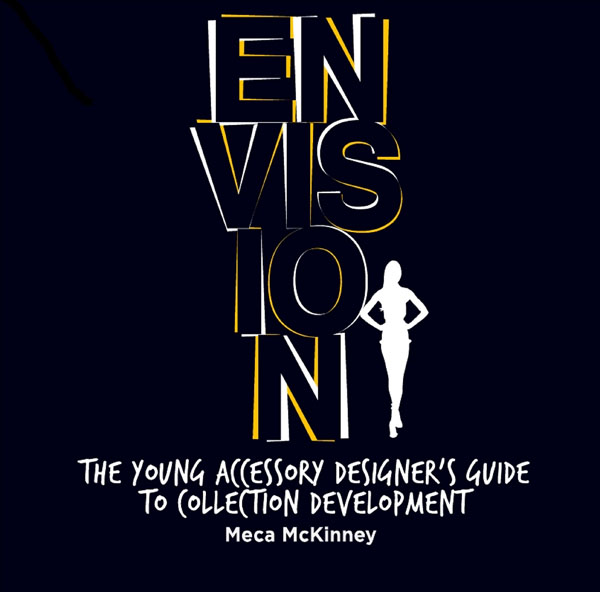 The book is meant to guide aspiring accessories designers on how to launch their own business from beginning to end. Designing a full collection of accessories is no easy feat, and there's no better way to learn about the ins and outs of this process than from an accessories designer who has been in the business for years.
We were lucky enough to get a minute of the author's time and here's what she had to say:
StUF:  Why did you decide to write a book on how to create a line of accessories from beginning to end?
MM: People who want to start their own line of clothing or accessories constantly approach me. Many think it's a fast, easy way to become rich and famous. Hilarious! I'm also approached by other emerging designers who just want a little insight. This book was made for the second group but hopefully will inform the first group on what designing a collection actually entails.
StUF: What was the process of writing the book like and how long did it take you to finish it?
MM: It took me 6 months. I have been in school full-time simultaneously and running my business, Jypsea Eclectic Handcrafted Leathergoods. I'm also a mom so originally I figured I would write when I felt inspired and had the time, but I rarely felt like I had the extra time. After a few months of barely finding time to write, I decided to simply put it in my work schedule. Once a week, I wrote until I had nothing else to say, whether it was 1 hour or 5 hrs. I started with the table of contents and built the book to answer the question of each topic in the table of contents. I reached out to my talented group of indie designer friends to find out about their design process. That was my smartest move. I think it makes a huge difference to see that the design process is consistent across the board.
StUF: Do you think that there's a niche of people who are interested in learning how to design their own accessories collection?
MM: Yes. With jobs becoming ever more scarce, people are using their creative talents to make extra money and to make ends meet. Some people are finding that they are interested in designing full-time and are not going back to a traditional job. This book is for them.
StUF: What feedback have you been getting from the readers?
MM: I've been getting such an amazing feedback from indie/emerging designers and design students thanking me for making the process crystal clear for them. One designer stated that it was comparable to taking a course at a leading design school in just a few hours.
StUF: If you could change or add anything to the book, what would it be?
MM: I would like it to be longer, strangely. However, it is my style to be very concise. I can't draw out a process unnecessarily. I am quite curt and to the point, which led to a much shorter page count than I expected. I'm proud that it reads quickly; it is a chock full of useful information.
StUF:  Do you personally mentor up-and-coming designers?
MM: Yes, but through Facebook, email, and phone to answer questions regarding techniques, suppliers or even marketing.
StUF:  How was the book tour? Did you participate in talks and/or panel discussions?
MM: The book tour began in April. I went to several schools and colleges, including Princeton University! I did participate in panel discussions, Career Day presentations, and speaking engagements.
StUF: Would you be interested in writing more books in the future?
MM: I'm considering writing a series of design books. This one was on accessories design; the next will be on apparel design. Jewelry and footwear design books may follow.
StUF: The fact that you're donating 30% of proceeds from the sales of the soft cover version of the book to the organization The Girl Effect is great. Why did you choose that specific organization to support?
MM: The Girl Effect does exactly what I believe a charity should do. It has found the core of a problem, poverty, and researched solutions that make sense. They've found that making sure the girls in impoverished communities are educated and have opportunities to flourish, a community can radically change. I understand the power of supporting young women and therefore I will always support this endeavor.
Author Note: "Envision: The Young Accessory Designer's Guide to Collection Development" is available at Jypsea.com and is on sale during the entire month of May. Take 15% off at checkout by using discount code: MAYSAVE305