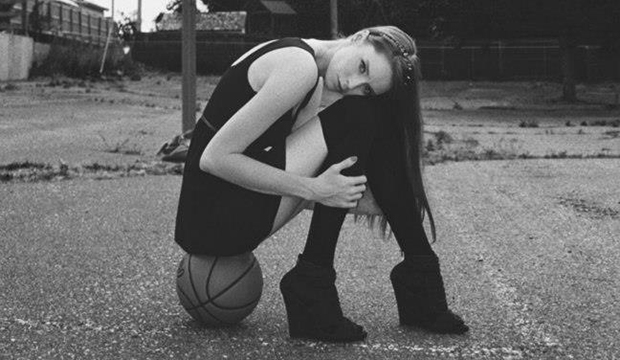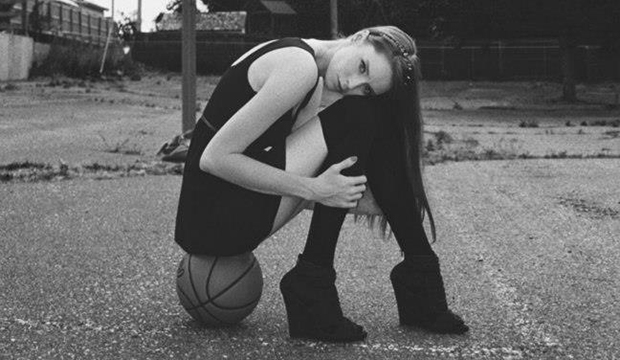 Soxxy's inventor and designer, Sarah Stabile has accomplished her goal of introducing, "high fashion and utilitarian function" to the once not-so-exciting industry of socks.
It was in 2010, when this successful innovator put some glue gun action into the rim of a pair of socks to keep them from slipping down her legs into her boots. And after about two years of sourcing and global development, the coolest non-slip socks were market ready.
Here we sit down with Sarah to learn more about her path to success.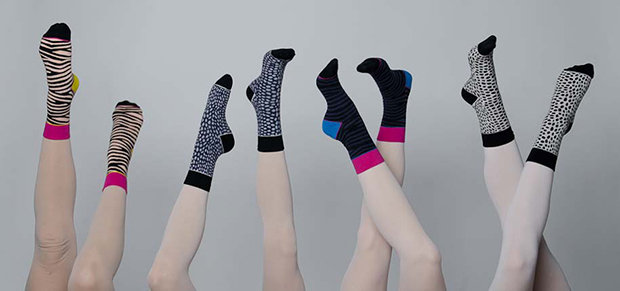 StUF:  Solving a problem for the customer is a key aspect of creating a successful business. How did you identify a problem in the marketplace?
SS:  I identified a major problem with socks that slipped and bunched. Knee socks, thigh-highs and even my ankle socks fell down towards my ankles. Surely, others suffered from the same annoyance. I asked around and female friends agreed – sagging socks are definitely a problem for 99% of the women I surveyed.
Fed up with the problem, I took matters into my own hands with hot glue gun, removed my boots and began drawing X and O marks on the inside top rim of my socks.
The result was messy with dried gluey strands everywhere. Regardless, I was pleasantly surprised when I wear-tested and realized the socks could work with the right grip. Strapless bras, bustiers, cycling shorts and anything with silicone grip were cut into pieces and stitched, stapled and glued into my prototypes.
StUF: What were the first steps you took when you decided you wanted to create a business?
SS: The first step I took in forming Soxxy was to find a technical designer. I needed someone who could sketch the product to scale and communicate with manufacturers. Fortunately, I live in Manhattan and there's a large pool of skilled designers out of Parsons and FIT.
The next steps involved sourcing and prototyping. Prototyping is extremely challenging when it comes to developing a product that doesn't exist in the marketplace. Another important step, was to file Intellectual Property in the US, EU and Asia. This was a very pricey step, but essential to try and protect myself from copycats.
StUF: What has been the best marketing outlet for Soxxy, and why do you think it has been so successful?
SS: Funny you should ask… In addition to inventing Soxxy, I also founded Hi-Impact Communications, a boutique PR and marketing agency. Over the past 16 years, we've seen the industry shift from pitching traditional media like top fashion magazine editors to focusing more on social media, blog outreach, influencer network and brand ambassador programs.
With over 5,000 fans/likes on Facebook, Soxxy has a dedicated following of young women from around the globe. Twitter is a great channel especially now with Chirpify.
However, Pinterest is my absolute fave! I lose time combing boards and pinning sock styles. Rumor is Pinterest will soon roll out an e-commerce platform and we'll be able to sell Soxxys direct from our boards. That will be huge!
Last year, we compiled a group of Soxperts (aka brand ambassadors and models) who interpreted their Soxxy style in unique photo shoots. The photos are incredibly gorgeous. You will find them plastered across Soxxy.com, our blog, FB, Pinterest… We even made a 2013 Soxpert calendar and Lookbook using the shots. Three of our Soxperts were on Project Runway (Season #10).
StUF: What challenges do you face in growing your business?
SS: The biggest challenge for Soxxy is scaling the business and increasing distribution. We're doing well online direct to consumer, but need to get in more stores like Nordstrom, Bloomingdale's, Saks, Neiman Marcus… plus the specialty stores and boutiques across the country.
StUF: What advice would you give other emerging designers?
SS: I'll echo Sara Blakely, "don't give up and never take no for an answer."
I would add – you have to really believe in yourself and your brand, otherwise you can't successfully sell it to others.  During my morning meditation, I spend time visualizing the future of Soxxy. It help keeps me sane and focused.
StUF: What are some of the goals you hope to accomplish in 2013?
SS: Personally, my 2013 new year's goal is to spend more time giving X's and O's to my boyfriend, family and friends. Professionally, I'm aiming to get Soxxy in 2 major department stores and 30 specialty stores around the country. Xoxo