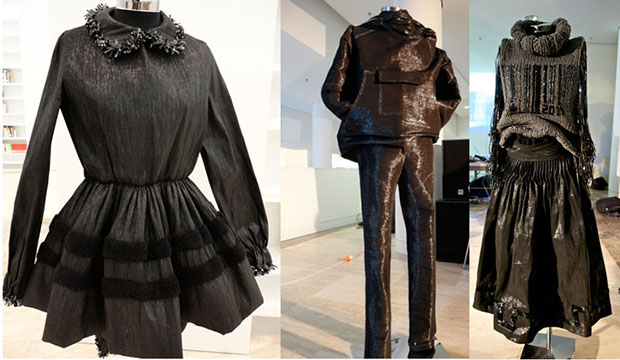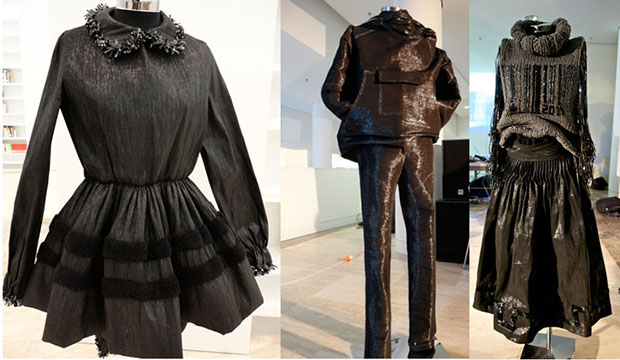 One of the main purposes of art and design is that the two engage the senses in new and unique ways- sight in particular, and in the instance of fashion specifically, touch. In the opinion of artist Alyce Santoro however, clothing and fabrics are not only to be seen and felt, they can also be heard.
Santoro's work in textiles, titled "Sonic Fabric" started off as a conceptual art piece. Inspired by Tibetan prayer flags that are often printed with imagery of sacred mantras, she set out to create a fabric in which sound could exist aurally as well as visually.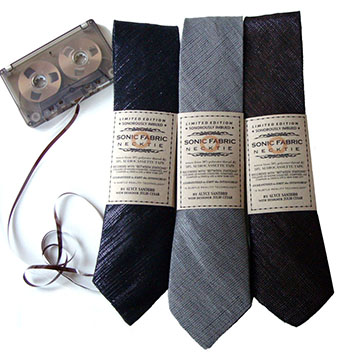 With help from a friend at RISD, Santoro designed a truly unique woven textile that encompassed both traits.
The fabric content: 50% polyester, 50% tape from music cassettes.
As a textile, the cassette tape is transformed in more ways than one. The music or sounds recorded onto the tape may not ever be the same once woven, however, the fabric still retains an audio element.
The textile contains magnetic properties due to its cassette tape weft, and when a tape head is moved over the surface, it produces a "garbled, underwater-like sound," a strangely poetic echo of the tape's former life.
Santoro has created a number of interesting pieces from the fabric over the past ten years including a custom garment that served simultaneously as a musical instrument for Phish percussionist Jon Fishman. The cloth was woven from the performer's personal music collection. Using tape head gloves to create sound, Fishman wore and "played" the garment for a concert in Las Vegas.
A more recent collaboration took place between Santoro and fashion students at the University of Vigo. The students used the fabric to create several gorgeous, avant-garde pieces that were exhibited and used in live performances at the Cidade de la Cultura in Santigo de Compostela in Spain.
Santoro currently has Sonic Fabric available for purchase as yardage, in case you're interested in incorporating it into your collection. You can see (and hear!) some videos of her sonic fabric here.
What do you think about this unique take on fabric creation?