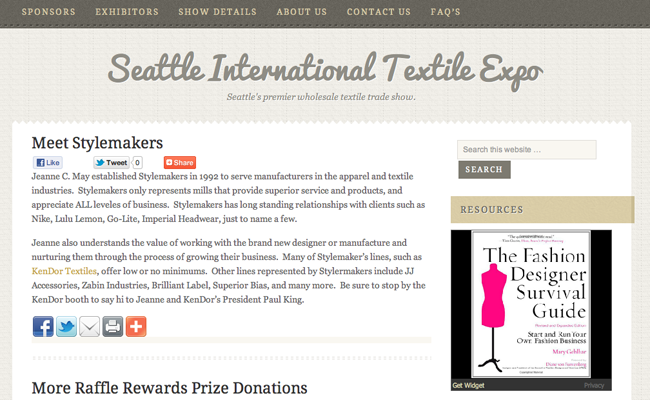 This past August, we told you about the Northwest Fabric and Trim Show and what it offers to the textile sourcing community.  Well recently we learned the the show has rebranded itself as Seattle International Textile Expo (SITE) and is re-introducing itself this March with great vendors and lots of opportunity.

In an effort to learn about where this show has been, where it's going, and what it has to offer to the textile and fashion communities, we sat down with producer Steven Matsumoto.
StUF: Do you think SITE is a show that can/should attract national attention?  If so , for what reason?  What does it have to offer that some of the others don't?
SM: While SITE is a regional show because of our close proximity to British Columbia, which does not have its own sourcing show, I believe we are worthy of national attention for attracting both exhibitors and buyers from B.C. to Seattle.  Unlike most textile sourcing events we try to differentiate ourselves by attracting exhibitors that not only serve the major design houses and fabric retailers, but will also work with smaller manufacturers and designers by offering low minimums.  Some of our exhibitors have minimums as low as $50.
StUF: Who are some of the exhibitors we can expect to see at SITE?
SM: We have a long list of textile manufacturers, distributors, and converters attending our Spring 2012 event that can be found right here.  "New Exhibitors" are defined as someone that has never shown, or not been to the show in over two years.
StUF: What was the reason behind the new direction/branding of the show? What makes it better now?
SM: We rebranded the show because the prior brand of Northwest Fabric and Notions Show had earned a reputation as just being a quilt show.  However when we evaluated the buyers that were actually coming to the show, the retail quilting shops were actually in the minority.  Most of our attendees identified themselves as either manufacturers of sewn goods, or designers. Many potential buyers also had thought the show had gone out of business after it moved south of Seattle to the city of Renton.
Potential exhibitors also told us repeatedly they thought it was just for quilters which is why they didn't participate.  A re-brand was necessary to attract suppliers back to the region, bring new energy to the event, and represent the British Columbia market.  We've also followed the example of other trade shows and added educational seminars.  We actually have registrations for our event from as far away as India and Egypt.
StUF:What are the goals of SITE?  How does it hope/plan to make an impact on the fashion and textile industries?
SM: Our mission is to serve the entire textile trade in the region.  We do not want to pigeon hole ourselves as just for fabric retailers, or designers, or sewn goods manufacturers.  We also want to serve the upholsterers, interior designers, and give organizations like Boeing, Nordstrom Product Group, Eddie Bauer, REI and Tommy Bahama an event they can attend in their back yard and save on travel expenses.  If they use textiles we want SITE to serve them.
Long term we would also like to produce similar events in other underserved markets looking for low minimum suppliers.  Several of our exhibitors have mentioned other regional shows that used to be common place, but have either disappeared due to the economy or poor management.  We've already been approached by organizations in Detroit, Denver, Phoenix and Washington D.C. about doing road shows in their areas.  If we're to rebuild our great Nation's apparel and textile trade we need to make it easier for start-ups and small businesses to have access to the raw materials they need.  That's our goal…
StUF: Thanks Steven, we're excited to hear that. We couldn't agree more. 
Show Details:
Sunday
March 11, 2012 12:00 p.m./5:00 p.m.
Monday
March 12, 2012 9:00 a.m./5:00 p.m.
Address:
Red Lion Hotel on Fifth Avenue
1415 Fifth Avenue
Seattle, WA 98101