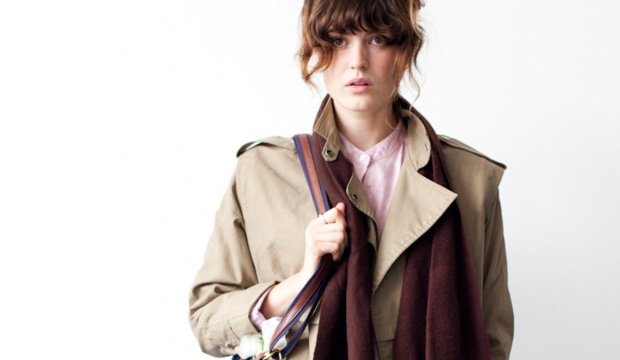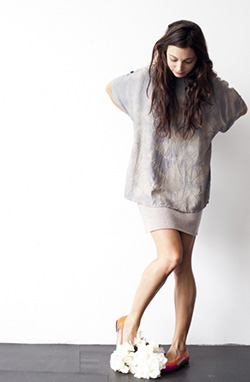 In this contemporary world of fast fashion, millions of new garments are being produced every year, many of which eventually become discarded. The sheer amount of excess is practically sinful.  However, there is actually one benefit.
The piles of secondhand textiles are prime source material for contemporary designers. Free or cheap and largely good quality, it's a mystery why more designers aren't taking advantage of this readily available material.
If you haven't considered using re-purposed textiles in your collection, perhaps the work  of designer Kaila Niles will convince you to try it.
Niles' line, appropriately titled Heaven, stands on it's own even without considering it's eco-friendly benefits. The pieces come in soft delicate hues, and the patterns are cloudy and abstract. Yet despite it's beauty, what makes the collection truly special is the personal touches from Niles herself.
Having studied at Penland School of Crafts, she realizes the beauty of the hand within one's work, and wishes to incorporate that beauty into her work.
Wanting to support local thrift stores, she chooses the garments according to her specifications: 100% natural fabrics and beautiful cuts, often vintage. Once the pieces have been selected, Niles hand dyes each one with care, resulting in gorgeous, one-of-a-kind garments.
Admittedly, repurposing is relatively new and is still struggling to become mainstream. In the fashion world, it still carries somewhat of a stigma of being "crafty" or kitschy.
Additionally, having the hand of the designer in each and every piece requires a lot of hard work, and is completely counter intuitive to meeting a large, quickly changing demand as fast fashion does. However, Heaven is proof that recycling can be chic, and that there is beauty and worth in a hand made garment.
Incorporating sustainable practices into a line is challenging, certainly. But with recycled materials becoming more readily available and role models such as Niles to look up to, it is an exciting time for contemporary designers to try something new.
What do you think of  the collection Heaven?  Would you have even recognized the fabrics as having been re-purposed if we haven't told you?