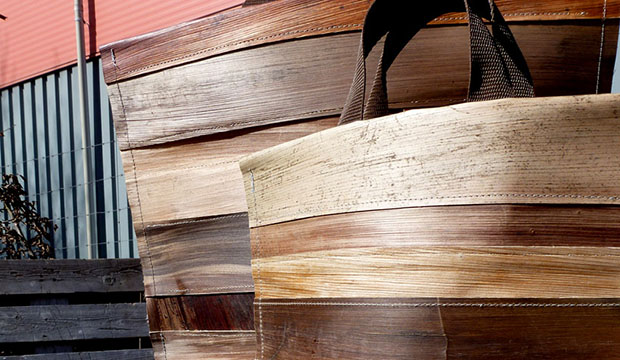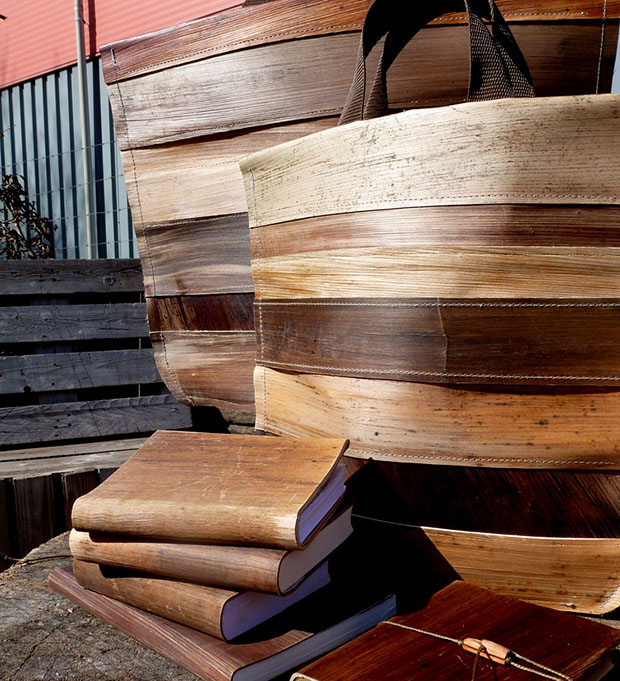 While leather is a wildly popular material, the controversy surrounding it's use is certainly understandable and something to consider when developing your line. Fortunately, there is now a relatively solid range of alternative options out there.
This includes a new material discovered and developed by Dutch designer Tjeerd Veenhoven: Palm Leather.
It is exactly what the name suggests. In India, the Areca Betel Nut Palms sheds millions of leaves in a single year. Rather than waste something that is otherwise burned or left alone to decay, Veenhoven uses the leaves to create a beautiful, sustainable material that can be used as a replacement for leather.
Not only is it veggie-friendly, it is biodegradable, and produced in a socially responsible way.
Production of the leather is kept to a small, carefully monitored team to ensure conscientious practices remain intact. The studio trains up to 30 local craftspeople (no more than that to encourage a community atmosphere), most of whom are women, for employment.
To create palm leather, the leaves are soaked in an oil formula developed by Veenhoven to moisturize the brittle leaves and soften them up.
The textile itself evokes a natural beauty, retaining the rich brown tones and "grain" from the leaves. It is a strong material that can be cut and used without needing to hem the edges like with knits and wovens.
The look works especially well for accessories such as bags and shoes.
Veenhoven's studio has created several products, including tote bags, journals, and sandals that replace the usual materials with palm leather.
One of the more interesting products is the Palmetti disposable resort sandals. These have been designed to replace the plastic disposable sandals used in spas and hotels, which are often worn only a few days or even hours before being thrown away. Palmetti sandals and palm leather not only offer a more beautiful, high-end look than plastic; they have no negative impact on the environment.