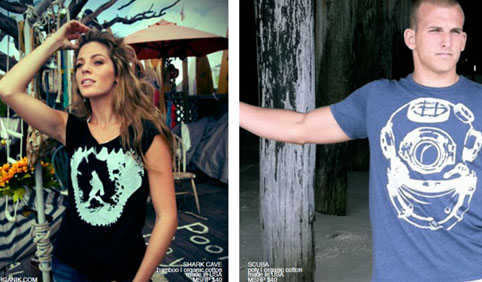 In recent years the fashion industry has taken strides towards promoting philanthropy, social good, and saving the environment. Sustainable products are becoming more popular as designers are embracing the idea of designing for a cause. Brands such as TOM's, FEED Projects, Falling Whistles, and Organik have been promoting design for a cause for a few years and are successfully expanding as they help the world.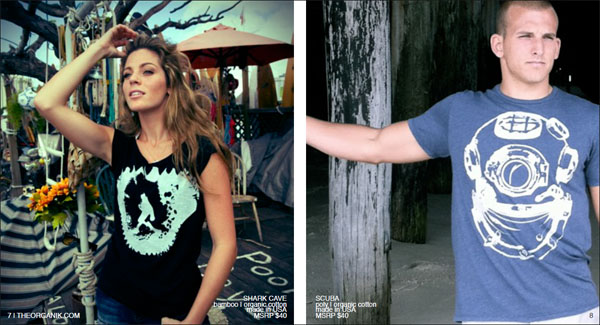 "We started [to make sustainable products] before the big rush of the companies started doing it. All of our stuff is based on that premise. We don't make any products that are not sustainable," said Ed Fernandez, co-founder of Organik, an organic clothing line based in Honolulu, Hawaii that produces clothes in America made from organic cotton, bamboo and organic cotton blend, micro modal (a material made from beech wood tress and have a sheer look and silky feel), and recycled plastic bottles.
Organik's collection consists of soft graphic shirts for men and women, a stripped nautical-inspired dress, yoga pants, bags made from jute (proceeds from the sale of this bag goes to support Tiare Lani Coffee and Kona coffee), limited-edition eco flip flops, and scarves.  "We're doing more accessories, we have a duffel bag coming out made out of sail cloth," revealed Fernandez.
Fernandez lived in New Jersey all his life until one day he decided to move to Hawaii to experience a new lifestyle. Inspired by the prominent nature, surf, Hawaiian culture and values, he started his own clothing line back in 2006 with his business partner and cousin Brian Jones. "When I moved to Hawaii it changed my outlook on how things are run and how people are more than a number," explained Fernandez and added, "The values in Hawaii are very old school. There's a lot of Asian and Japanese influences so a lot of that is based on respect and trust. If you can't do that, you're not going to be in business here."
Organik products are produced in the U.S.- a rarity in the fashion industry today due to high production costs- but Fernandez took that route because he realized that having the pieces made here were coherent to his goal of producing great products and doing social good. "The benefits to that is that you pay a little bit higher premium but you have better quality control, better product than getting it overseas," stated Fernandez.
When the recession hit it simply made him even more determined to keep making good products and making sure that his mission of helping save the environment was accomplished. Organik's motto is to preserve green and natural life. "The benefit of wearing organic clothes is that you're doing your small part to preserve the green, natural life, and our resources," said Fernandez.
Organik's summer plans include sailing from Hawaii to Rhode Island as part of their New England tour for several trunk show events at surf boutiques in the Jersey shore and then a pop-up shop at Kailani, a surf shop in Montauk, NY.
You can follow Organik @TheOrganik