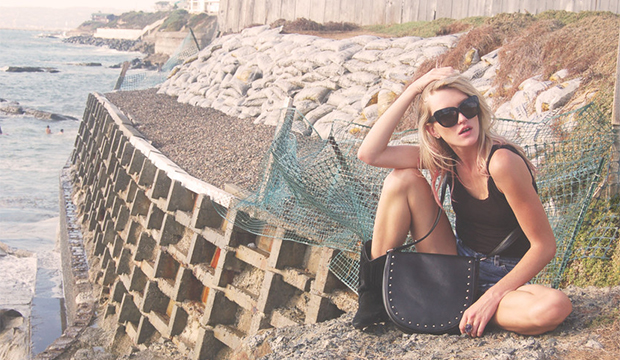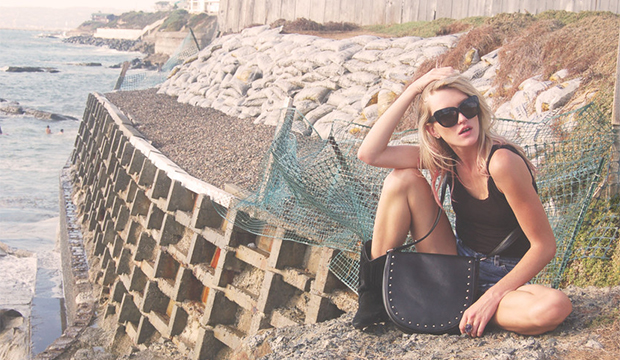 Learning from fellow emerging and independent designers about the business of fashion is always a good thing. We each enter into this industry with a certain amount of expectations, and we learn a lot in our journeys to success.  No two people have the exact same experience so it's definitely beneficial to listen to what others have to say.
With that in mind, we sat down with Lauren Letizio, co-founder of California based handbag brand Leoluca to hear about their journey as an independent label and what they learned along the way.
Tell us a bit about Leoluca.
Leoluca is a line of contemporary handbags for women of all ages.  Emma [Lezak, co-founder] and I have been friends since childhood, we grew up in the Mid-West and moved to San Diego following high school. After graduating from the Fashion Merchandising and Marketing program at FIDM, we set out to design our first collection.
We take classic shapes with supple lambskin and cow hide leathers and add just the right amount of hardware to make each style a stand-out piece without it feeling overly trendy or complicated. This design aesthetic allows us to have mass market appeal to various demographics.
Our corporate offices are based in San Diego, CA and the collection is made in the USA (NYC). The name Leoluca is derived from the Italian Saint Leoluca, as well as the Italian 1950′S mobster, Leoluca Bagarella, or in the most simplistic terms the opposition of two good and evil deities. This plays into the overall theme of our brand.
We believe women who love the Leoluca collection are feminine but also want to feel empowered at the same time and the combination of the soft leather exterior, multi- functional interior pockets and structured hardware with simplistic on-trend detailing like subtle studs and spikes gives them a functional accessory that resonates this design approach.
What made you decide at the young age of 20 to start your own label?
We really wanted to do something that we could stand behind and would enable us to put our creativity and education to good use! So many times we felt that we didn't have an outlet for it, so having our own brand allows us to focus our creative energy into something productive and hopefully relate-able to a diverse clientele.
What is the driving factor for having your designs made in the USA?
We love being one of the few handbag lines that are manufactured in the USA. We feel it sets Leoluca apart from the competition and gives us a special quality. So many products are manufactured overseas because of the lower costs of production but in our eyes being handmade in the USA adds that extra bit of uniqueness to each bag.
In addition, it also allows us to truly have creative control over our collection without any delays in the process due to travel restraints or shipping issues.  Since our production facility is in such close proximity we have a quick reorder turnaround time which is very appreciated by our buyers.  For example, when buyers sell through stock we are able to replenish styles quickly. We also have the ability to produce custom styles upon request for boutiques and major department stores.
Do you find it a challenge to source materials and production domestically?
Yes, this can absolutely be a challenge especially if you are new at the world of handbag manufacturing!  It definitely was not easy to find our current manufacturer but when we did we knew we had something good. It is a matter of trial and error, we attended some trade events, sourced and met with several production facilities until we found one that we believed to be a good fit for the brand.
Also, it can be a challenge because the cost of manufacturing in the USA vs overseas can be much more costly.
What have been some of the most challenging aspects of starting and growing your business?  How did you overcome them?
Creating brand awareness is something that is not as easy as some might think. In the handbag and accessories industry it is very competitive and is not easy to break into. Of course in the beginning you think we have a great product and it should be pretty simple to build brand awareness. However, there are so many pieces of the puzzle that need to be considered!
It isn't just about social media, or advertising, you also have to take into account other avenues like celebrity gifting, which boutiques you want your product to be sold in, and bloggers you might want associated with your brand.
This plays into sales which are the bottom line for any business, the more brand awareness you have the more sales you can generate and that is why it has been so important. Working with our great PR agency and showroom Haus of Chic has really helped us position ourselves in a way that is positive for Leoluca.
When did you know it was time to start growing your team/outsourcing help?  What was the first position you filled?
Owning your own business is something that can pull the rug out from under you and really throw surprises at you! You have to be organized and reactive without be frazzled by day to day operations which can drain creativity and productivity.
In our efforts to remain productive, the first position we hired was someone to help us with PR/Marketing side of things, as well as interns to help with the day-to-day tasks of shipping, emailing, social media, etc.
One thing you wish you'd known when you first started your business that you know now?
The importance of advertising and marketing. We always had a social media presence, PR agency and different events to help market our brand. However we never really did formal advertising. Although the PR and events can create brand awareness we have found that the advertising on particular blogs, magazines, etc has really helped boost sales.
We are currently developing our SS2014 season. We love compiling buyers, editors and consumers feedback from the previous seasons to assist us in our development process as we believe it's important to utilize your audience to help guide the brand in the right direction, within reason, as you must also stay true to your brands overall identity.