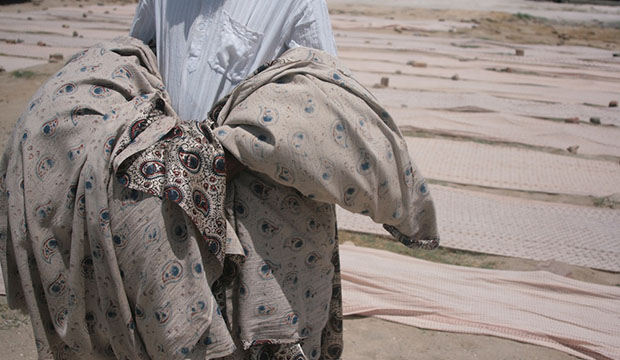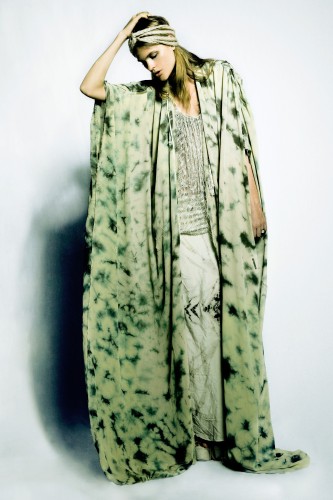 Bohemian has been a popular influence on the runways these past few seasons, but no one has it down quite like designer Laura Siegel.
Her dreamy silhouettes are light, airy and drape just so. But while her cuts scream casual beauty, it is her textiles that make her brand stand out as one that is truly special.
Having done extensive traveling and research on global design and production, she was inspired to launch a line centered on just that. Siegel's mission is "To ethically handcraft easy-to-wear, textured designer pieces while enabling artisans in third world countries to continue their uniquely creative skills."
Siegel's garments are created from beautiful fabrics adorned using global techniques.
The fabrics get their lovely, muted tones through natural dyeing.
A community of dyers outside the city of Munnar in Kerala oversee the process. These artisans remain true to their traditional techniques, while working with Siegel to produce lovely ombres and mottled patterns.
Printed fabrics for the brand are created by the India-based Khatri family, who have practiced the technique for ten generations. They use a hand-block printing technique called Ajrakh, resulting in gorgeous pieces.
Embroidery is also done in India, by the nomadic Rabari tribe. Their aesthetic is colorful, elaborate, and full of texture, which adds a special touch to Siegel's collection.
Knitwear pieces are hand-knit by a women's artisan group located in Bolivia. These skilled knitters are able to create anything from a chunky cowl to a gauzy, lace-weight scarf.
While having fabrics created in so many different places seems complex, there is a method to Siegel's madness:
Not only are these textiles being created in the traditional homeland of each technique, the artisans are empowered in their communities through ethical production employment. The result is a chic look that is truly global, as well as sustainable.