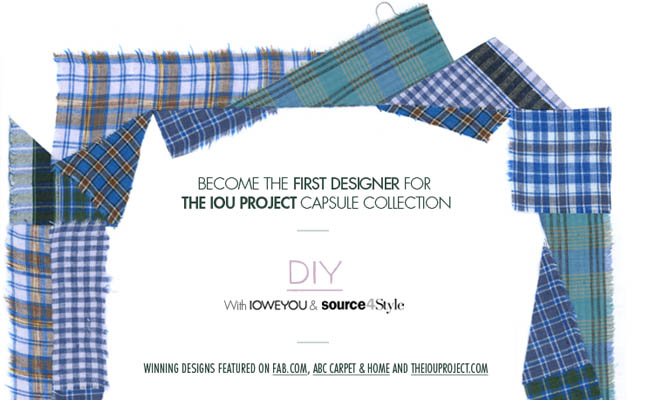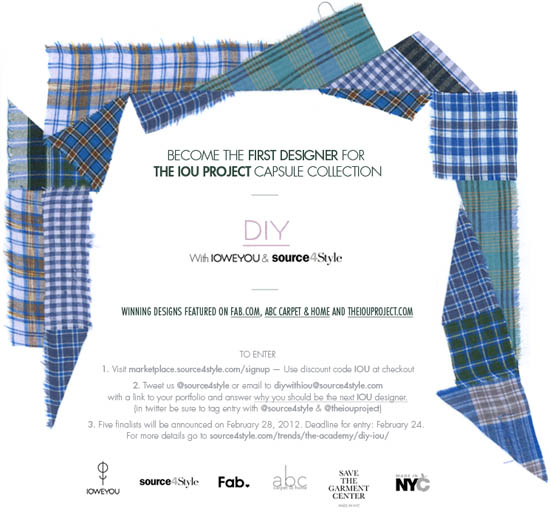 Designers, here is an incredible opportunity to get your vision out there!  Two of the most innovative contributors to sustainable fashion are joining forces to host the Global Independent Design Competition!
In the past, we introduced you to Source4Style, a fantastic online sourcing marketplace. They have partnered with the IOU Project, an amazing (relatively) new ethical fashion line that focuses on a completely transparent supply chain process.
The idea behind IOU is simple: give credit where credit is due by providing customers with the story of each garment. This includes who designed it, who wove the fabric, where it was made, etc. Every contributor to the design and production process is employed and paid fairly, ensuring a high-quality product. Sound good? How would you like to design for them?
Source4Style and IOU want to see YOUR portfolio! Designers of all levels, anywhere in the world can enter. The competition runs from February 1st through 24th, 2012. You even get a little something just for entering.
The entry fee is $100, and includes an annual Premium Level Membership at Source4Style (normally $350!) Sign up at Source4Style and use the discount code IOU when checking out. Once registered, designers can submit their portfolio via twitter (tweet @source4style) or email (diywithiou@source4style.com).
Five finalists will be chosen on February 28th, 2012. These finalists will receive 8 meters of IOU's distinctive madras cotton fabric to create their own product for their line. It can be a garment or accessory, for women, men or unisex for Spring/Summer 2013.
The winning design (announced March 29th, 2012) will be included in the IOU project's "Made in NYC" Capsule Collection! In addition to being produced, the design will be showcased at a trunk show hosted by ABC Carpet & Home and sold on Fab.com.
And in true IOU style, profits from the sale of the design will be shared with the winner.
This is an amazing chance to break into the world of sustainable fashion! What are you waiting for?