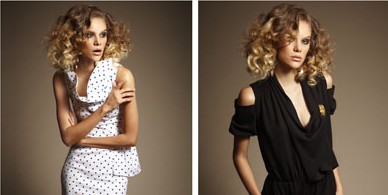 It's time for another BreakThrough DESIGNER feature!  We are so excited to introduce you to Misile, a gorgeous womenswear label based in Brooklyn, New York.  The line is chic, sophisticated, edgy, and Made in the U.S.A!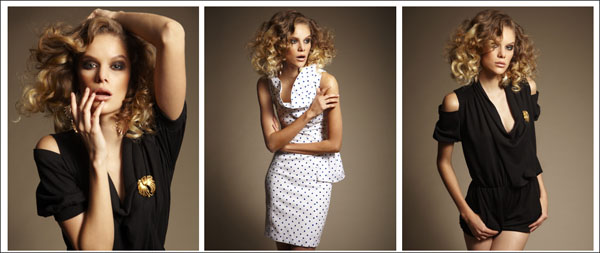 StUF: What is your design background?
M: My studies in college were a focus on art and design but I spent the first 5 years of my career in men's luxury apparel. This definitely wasn't what I was aspiring to do but it turned out to be very influential on my current work. I started in C.A.D. and spent the last 4-1/2 years as assistant designer at Hickey Freeman. I was lucky that all of their manufacturing was still being done in house. Their most luxe suits retailed for an upwards of 10,000 and featured hand finished detail. I also handled manufacturing for both Burberry and Lagerfeld suits at that time. It was a great opportunity to learn the ins and outs of manufacturing a luxury garment from senior designers and tailors from Italy.
Although Misile's style is definitely a reflection of my own personal taste, my unique approach on manufacturing the line was largely affected by my passion to keep American Luxury Labels production domestic.
StUF: Tell us about Shop Misile's aesthetic and mission.
M: Misile's focus is to produce a high end, consumer conscious, contemporary line. What we offer that's most unique is that this is not a mass produced line that's outsourced to China. All of the styles are made in our studio with a strong focus on quality and fit. We have customers that stay loyal to the brand because they know they can always count on a consistent, high quality garment. These garments are viewed by us as wearable pieces of art rather than in dollars. Our profit per unit is much lower than other luxury brands that manufacture overseas. But I feel what we do is honorable and more rewarding. I still have a feeling of accomplishment after sewing a dress from start to finish and hanging it up on the rack. When I get a thank you email from a customer it means so much more to me to know that it was made here. It's 100% Misile. It would be really hard to give that up for a higher profit margin.
StUF: Where do you currently sell your work?
M: Right now, mostly small, higher end boutiques in the U.S. We've also had wholesale orders come in from the U.K. and Australia. But last month we were signed onto Spring UP, an international showroom in Milan. They are a multi line showroom but Misile is their first American label. I'm hoping this will be a much needed boost for the label and will generate more sales in Europe. They will start our S/S 2012 sales campaign September 9th.
Online we are carried onlione at USTrendy, Smashing Darling, Indie Shopper, and our site ShopMisile.com will also be adding e-commerce over the next few months. Right now we have only been accepting our Haute Couture orders by phone or e mail.
StUF: Have you participated in any trade shows?  If so which and what was your experience like?
M: When I first started the label I did a few trade shows in Los Angeles to get more exposure on the west coast. In all honesty, I thought they were all a flop for me. We made sales, but not anything like I had projected. The price point is harder to sell to clients that haven't had much exposure to the brand. Our best orders come from the east coast where they know the brand. I'm hoping to gain more exposure over the next few years though, so we are going to start doing more shows again, but mostly in New York, Misile's stomping grounds.
StUF: Can you tell us about your day to day?
M: I'll start by saying my work week is generally Monday through Sunday. I haven't seen a 2 day weekend or a real vacation in about 4 years. When you are manufacturing in house for a small label that's the price you pay. My first order of business involves me checking emails on my phone before my feet even touch the floor. I always need to know what my day's going to be like before I get out of bed. Some days I'm oddly excited to not see many online orders so I can get caught up on existing orders, building up stock on our RTW line, or working on next season's samples. I try to have some orders cut out from the night before waiting for me in the a.m. I like to start the day at my Juki,  sewing and sipping espresso.
I try to spend the day getting online orders filled and packaged so I can have them shipped out later that afternoon. I periodically need to return phone calls and e mails. I get questions ranging from measurement inquiries, photo shoot or event planning, to style advice, and everything in between. I can spend over an hour answering emails and returning calls.
Lunch time! That's usually coffee and crackers and more work. True story. Wholesale orders are a main focus. I do my best to stay caught up. Since we manufacture in house and hand finish certain styles it can be pretty time consuming. But I'm determined to have great lead time so I make sure orders go out timely. This is primarily the reason I'm always at work.
I'll occasionally need to step out to grab some supplies that I can't wait on. I remember a time when the designer used to send me out for an odd color zipper or something random and I was so excited to get outside. I'd take my sweet time and it felt great to be out of the office. That's no longer the case. When it's your own business you tend to be like a lunatic at every stop because you're losing time. You don't even care what people think about you running through the fabric store. You just hope you don't know anyone.
No matter where I go I always come back with more coffee. I try to spend the last 2-3 hours of the day working on my patterns for next season. I am not always allowed this luxury, but when I am it's a good day. I shut everything down anywhere between 8:30pm to 2:00am. I'm a night person so I tend to have my best ideas late at night. My down time after work usually consists of logging into the online sites we sell on, and entering tracking information, emailing out look books and line sheets to potential buyers, researching new boutiques and answering emails again. It's usually a long day but I've found that it's not possible to 'relax' while you have a long list of things to be done. So I wait until I get to a good place and take a little time for myself. People always want to tell me that I need to take more time off, but when you honestly love what you do it doesn't all feel like work.
StUF: How are you using digital marketing and social media to expand your brand?
M: I love using ShopMisile.com and our Facebook page to keep customers in the loop with what we are up to. I really think without the internet small, independent companies without a ton of capital would have a really hard time surviving. The internet allows us the ability to reach to the far end of the world.
StUF: What do you find to be the most difficult part of being an emerging designer?
M: The hardest part for me was getting buyers to take a chance on a new label. Most emerging designers don't have the funds for advertising and building up a name for their brand. I lost so much money the first few years. I've taken on second jobs during rough patches just to put all of the money back into the business. You really need to be prepared to give it everything you've got to succeed.
StUF: With that said, what is the most rewarding part?
M: There are so many rewarding parts of a job if you really play a huge role in all aspects of the company. I send out photo shoot sneak peaks and magazine press like other people email out photos of their children. I also really love when customers go out their way to tell me how much they loved their order or send me pictures of them out with one of our pieces. I love attending our trunk shows and meet & greets with customers. I am aware that it's only clothes we're making but I feel we put so much effort in making a consumer conscious product, made here in New York, not mass produced, and with so much thought into fit and design that it is more of an art form to me. It's really rewarding when I get to meet customers and they feel the same about my work.  The sense of pride and ownership of hanging a dress up that you spent all day working on I can't imagine ever getting old.
StUF: What are your favorite brands and why?
M: I'm obsessed with Marc Jacobs. His style is so distinct and every day wearable. As far as accessory designers right now definitely Coco and Breezy. Their style is very early 90s and absolutely gorgeous!
StUF: What's next for Shop Misile?
M: This season A/W 2011 we started to offer a Haute Couture line along with our standard RTW line. Many years ago I did actual couture garments for galas and other events. It was amazing and I loved it! I started focusing on Ready to Wear and slowly phased out Couture. I've recently seen more requests come in to get back into it so I decided to introduce a small haute couture collection where all the garments are 'made to measure'. I felt like that was somewhere on middle grounds and the prices would remain reasonable considering these are custom fit garments. Price point varies from 385.00 for palazzo pants to 2,400.00 for a silk and feather gown. Clients contact me directly with their specs and I make the garment to order. I didn't think with our industry's economy being in the state it's in, that this would go over too well. But we've had a great response so far so we will definitely continue to offer both a RTW and Haute Couture Collection.
Since we also started our first sales campaign in Europe this September,  I think the possibilities are endless. I'm very optimistic about Misile's future. At some point all these long hours will need to pay off. At that point I will take that much needed vacation!