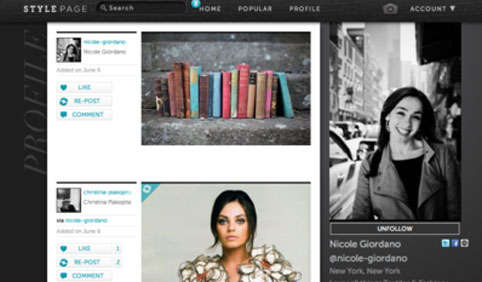 Have you heard of StylePage, yet?  Until recently, I hadn't either.  But for the last few months, I have had the pleasure of acting as an early adopter of this new social sharing tool for the fashion industry and I'm really starting to get into it.  Like any social platform, it takes time create a community and build engagement but I think StylePage has got real potential.
A few days ago, StylePage asked to interview me about why I created StartUp FASHION and I thought you might enjoy reading it:
Nicole Giordano Tells Us Why She Started StartUp FASHION
by Julia French for StylePage
We love StartUp FASHION, so when Nicole Giordano the founder agreed to chat with us, we were overjoyed! I love what she has done and the impact that her site has had. We also love of course the fact that she has been an avid user of StylePage!
Why did you create Start Up Fashion?
My background and education is in textiles. I was working in the field, sourcing for designers and, while helping them choose fabrics for their collections, I realized how hungry they were to learn more about textiles; properties, hand feel, end use, etc. They wanted an education.  I initially created StartUp FASHION as an editorial-driven blog where I wrote about my experience in the field and shared my knowledge of the science behind textiles.
The blog has since evolved (as so many blogs do!) and really become a much more comprehensive resource for young, emerging designers to learn about different aspects of starting a fashion label.  While it's still mainly editorial, we are working hard to implement a resource aspect to the site; introducing designers to manufacturing resources, important events, fabric sources, boutiques that buy from independent labels, etc. It's a work in progress.
What resources do you think designers need the most access to?
All of them!  Some of the topics we cover on StUF are textile sourcing, manufacturing, marketing and PR tips, digital media and social networking strategies, designer experiences….. the list goes on. Emerging labels, especially those started by designers who have not previously worked in the industry, are like sponges soaking up every last tid-bit.
One of the things we love to do is interviews with emerging labels that are finding success and truly building a sustainable business model.  We ask them questions about their experience and for any advice they can offer. We think our readers really appreciate this. True business acumen is just as important as design talent…fantastic design will get people's attention, business smarts with allow you to capitalize on that attention
What are the things that are really at the top of your mind right now in regards to fashion?
Conscious Design, i.e. Ethical fashion is a major topic.  I'm not just talking about being environmentally friendly or going "organic".  Those things are important but I believe that labels today need to have meaning behind them, they need to stand for something.  Consumers are quickly shifting from frivolous, fast fashion purchases and are becoming more of the mindset of wanting to feel good about what they buy. Emerging labels today have a leg up on the more established labels in that they can implement better practices right from the start and make them a stand out characteristic on their brand.
We write about it on StartUp FASHION a lot but my passion for the topic has also led to the creation of my personal blog,NicoleGiordano.com/blog where I cover all kinds of topics in ethical living, with an emphasis on fashion and style. So it's definitely at the "top of my mind"!
Oh, another topic that really interests me is the state of the fashion industry today when it comes to textiles and manufacturing. The industry is in a major shift, everything from China's role to the price of raw materials…it's so exciting to watch and report on all that's happening. I cover it a lot in my work as features editor on FashionablyMarketing.me
What are some things we can do to support the health and wealth of the fashion industry?
Support the emerging labels, they are the next generation of fashion and have the ability to make real change in the industry. Purchasing from them is one way to support but so is sharing your love for them with your friends and networks. Utilize all of the amazing social and digital tools we are lucky enough to have at our fingertips. Spread the word on all your platforms and become an influencer- there really is no better way to help create the success of an emerging label.
What unique qualities do you bring to your work that you wish you saw more of in the industry overall?
Well, I think my most valuable quality is my diverse background.  While always involved in the fashion industry, my focus has shifted over my decade-long career. I have a true understanding of the science behind the creation of textiles, I've started and run my own textile and accessory company as well as my own (with a partner) boutique public relations firm. I currently am a digital marketing and social networking consultant for various companies in the industry…. I've really delved in from all angles in order to have a true understanding of the industry. I think my clients and readers appreciate that. As for what I wish I saw more of, that's a good question. I guess I wish I saw more big brands implementing better business practices, more consumers finding value in conscious fashion, more emerging designers succeeding in what they love….all the things that drove me to create StartUp FASHION.