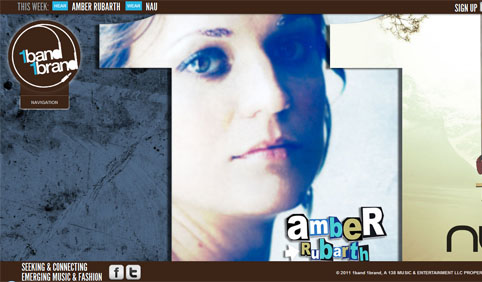 Music and fashion go hand-in-hand, not only because they're two forms of art and self-expression but musicians are turning to fashion as a way to expand their business. A lot of singers have launched clothing lines or collaborated with designers on limited edition collections. For instance, Avril Lavigne recently showcased her new Abbey Dawn line at MAGIC Trade Show and at New York Fashion Week, and Brandon Boyd from Incubus launched a limited edition t-shirt collection in collaboration with Hurley.
However, most musicians don't want to tap into designing clothes but they want to be connected to fashion somehow and that's where 1 band 1 brand comes in. This music web site introduces a song by a new band while at the same time promoting a fashion brand.  The concept is simple and anyone can sign up for their free newsletter and enjoy their weekly offers.  StartUp FASHION had a chance to interview one of the founders of 1 band 1 brand and find out more about what inspired him to start this start-up.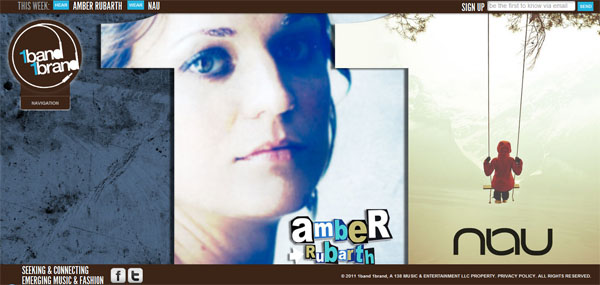 1. When did you launch 1band 1brand? 
We launched 1band 1brand this past March at SXSW in Austin.
2. How did you come up with the concept of uniting fashion and music in one place?
The inspiration came from a variety of different places. First and foremost, we're fans of great music and fashion. Yet, as much as we like to discover new artists and designers, we don't always have the time to seek them out. In some ways, the growing number of online resources actually makes it more difficult to cut through the clutter and find what you're looking for.
We launched 1band 1brand to make the discovery more efficient, the experience more entertaining, and the content easier to share.
3. Why did you think there was a need in the market for your type of company?
Music and fashion have always gone hand in hand, but we saw a new opportunity to cross-promote emerging bands and brands by leveraging the direct relationship with consumers that technology now enables.
In the past, most brands were only interested in bands with mainstream success, but that's completely changing. Today if a band has 20,000 "Likes" on Facebook, they have direct access to a valuable audience. Not to mention the interactions and transactions happening on the road when a band is actively touring.
Fortunately, these collaborations work both ways. Brands now have similar relationships with their "fans" and various distribution channels they can tap into. Additionally, most have creative design, marketing, and financial resources that can be deployed to help a band. It's truly a win-win proposition.
4. Who's the founder and how big is your team?
I have three other co-founders and two part-time resources that help coordinate various aspects of the business.
5. Where are you based?
We have a virtual team that's spread out across multiple states, but I'm based about an hour north of Boston in 'Live Free or Die' New Hampshire.
6. How did you get involved with the music industry?
I dabbled in the business for years, mostly helping artists package and position themselves from a marketing perspective. Collectively our team has experience managing bands, booking shows, coordinating sponsorships and more.
7. How do you meet the bands that you feature?
Initially we spent a lot of time researching bands and listening to a ton of music. Eventually we narrowed down the first few bands we hoped to feature and then reached out to introduce the concept.
Now that the site has been live for a few months and gaining buzz, we regularly receive emails from bands, labels and managers that are interested in a feature.
Just like in any industry, networking is important, too. Once you make a few key connections, you're never more than one or two degrees away from someone else you might want to work with.
 8. How do you choose which bands to pair with the specific brands?
Most artists/bands have established a distinct style for themselves, so we work to align them with brands that complement their existing look. It's definitely a collaborative process and we work closely with the bands and brands to make sure it's a good fit.
9. Favorite song and band of the moment?
That's a tough one! Right now I can't get enough of Barton Hollow by The Civil Wars. This song is on the 1band 1brand Mixtape that we're offering on our site right now. It's free for anyone who answers a few questions about their taste in music and fashion.
10. How often do you attend concerts?
Personally, I try to catch at least few each month, but as a team I'd guess we collectively hit about ten.
11. What's your favorite brand?
I really dig Imogene + Willie from Nashville. The brand is owned and managed by a husband-and-wife team with family roots in the denim business. They are based in an old gas station that now serves as a combination design studio and retail boutique.  On their site you can find a video overview of almost every individual product, along with commentary on the inspiration for the brand and more. Last but not least, they regularly host musicians for in-store events, which is the kind of thing we love to see from the brands we work with.
12. How does working with the bands differ from working with the brands?
In some cases the bands have more content for us to leverage and they are a bit more active when it comes to interacting online. However, the smart brands are creating their own content, utilizing a combination of different "owned" marketing channels and working hard to nurture a fan base in their own right.
13. What do you wish to accomplish in the future for 1band 1brand?
First and foremost, we want to continue building the community by signing up as many new people as we can and delivering the best bands and brands that are out there.
We're also beginning to facilitate band and brand collaborations that will result in exclusive products, live events, video content and more. A number of retailers and publishers have expressed interest in partnering as well, so we'll continue to explore new and different ways to deliver the content.
It's an exciting time to be working in these industries because everyone is being forced to think beyond traditional sales channels. I believe we've only scratched the surface of what we can do by creatively aligning emerging bands and brands.
For more about 1 band 1 brand visit http://1band1brand.