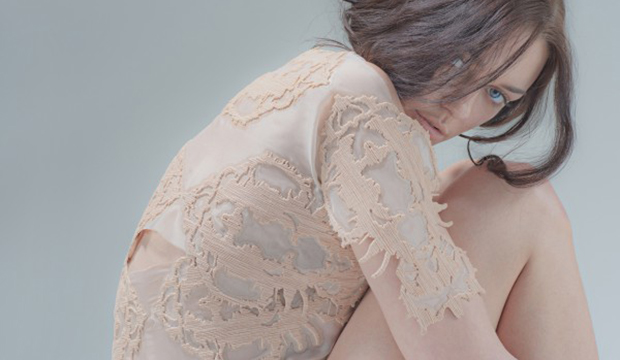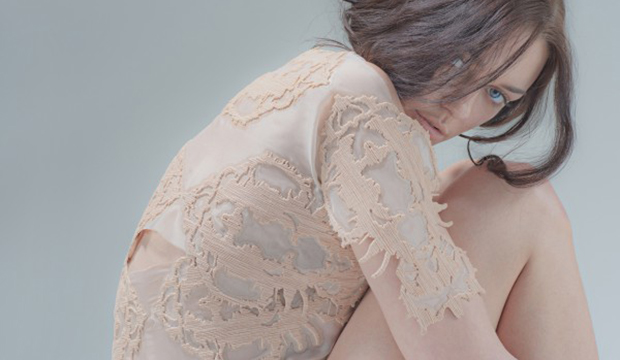 The saying goes that beauty is skin-deep, and between makeup, tattoos and clothing, this is a pretty accurate statement. The eerie, yet striking work of London-based textile designer Andreea Mandrescu plays with that statement, adding a whole new dimension to flesh itself.
As fashion designers, we always consider the backdrop of our garments- the human body.  Mandrescu takes it a step further however by integrating her designs to blend seamlessly with the body.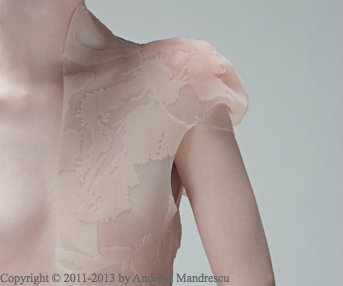 Her textile collection, titled "Inlaid Skin," is exactly what it sounds like. Inspired by marquetry and inlay crafts, she sought to create a "fabric" that would have a similar effect.
What makes the effect so successful is the material. While the collection includes uses silks and furs that are typically seen on high fashion runways, the bulk of the work is made from rubber.
While a rubber garment typically implies a tight, shiny dress, in this instance, the material is transformed.
In a process developed by Mandrescu specifically tailored to the substance, the rubber is carefully cut, carved and applied to a surface (occasionally accented with wood veneer).
While the cutouts are occasionally backed with silk or lace, the primary surface is skin itself, using body glue for the application.
The result is a flesh that appears to have multiple dimensions and layers. It is visceral, yet too beautiful to look away from. Described as "lace for the 21st century," it has a definite futuristic quality, despite the fact that it draws inspiration from a historical process, and mimics a natural human element.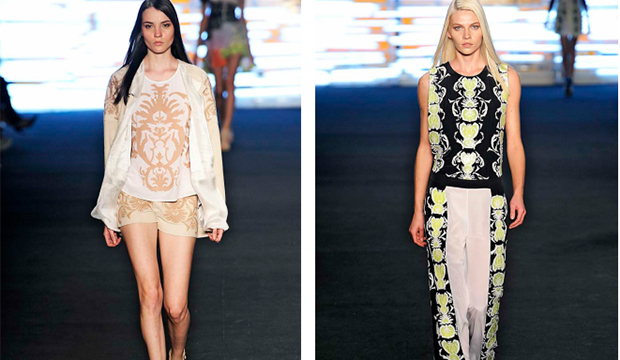 These rubber textiles are versatile, and can be worn many different ways. Because it is made from rubber, no sewing is required. The pieces are mainly cut to fit, and then either draped or glued on the body.
Besides their own "inlaid skin" collection, the studio "can transform any two dimensional pattern into a three dimensional rubber application in any color on a wide variety of fabric bases, for fashion, accessories, and interior design", as demonstrated in the above image.
So, we're curious. What do you think of these rubber textiles?