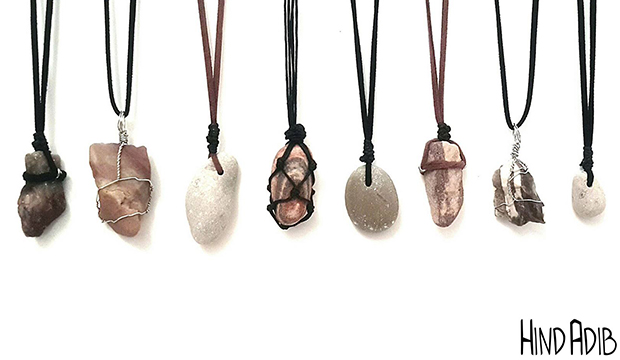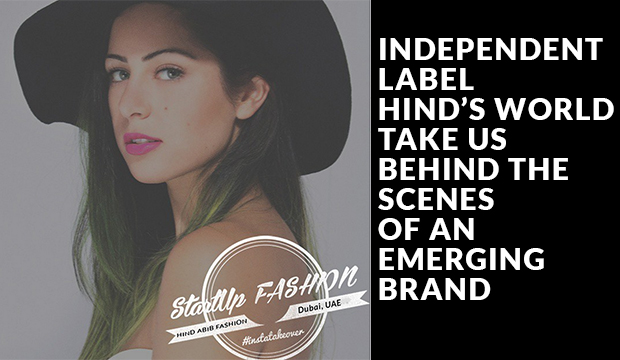 Our latest Instagram takeover was with independent designer  Hind Abib, founder of Hind's World, as she gave us a peek into her studio and her process.
Hind designers jewelry and fashion, is a photographer, and is a member of the StartUp FASHION community. She's based in Dubai.
Below is our interview with Hind, where she takes us behind the scenes of an emerging brand and shares a look into what it's like to create handmade jewelry in an inspiring space.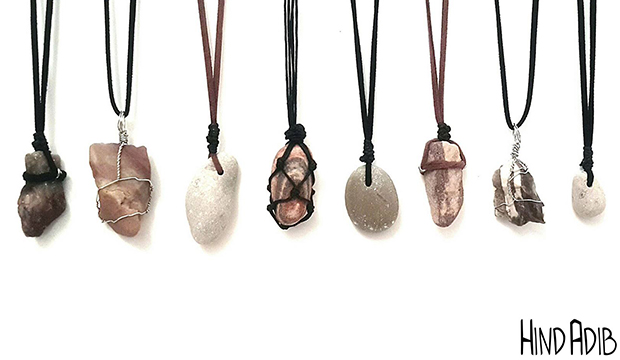 THERE IS A SAYING "YOU LEARN SOMETHING NEW EVERY DAY." THE DAY OF YOUR TAKEOVER, WHAT DID YOU LEARN ABOUT BUSINESS IN FASHION?
It's true, you do learn something new everyday. In my takeover day, I learned that some days you can multi-task and do many different things during the day (creatively) and sometimes you really cannot, and that's okay.
Sometimes I force myself to create accessories for the first half of the day, then sketch some clothes in the other half, but it doesn't end up working out. You can't force your mind to be inspired and creative whenever you want it to be.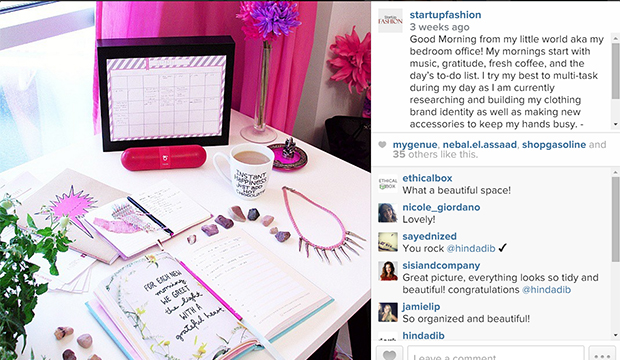 Sometimes I get inspired doing the most random things, like driving or taking a walk. Ideas happen at any time.
And I've learned that sometimes it's okay if you don't tick all of your tasks off your to-do-list. Do what you feel like in the moment and whenever it comes to you. That's the beauty of having your own business.
You can work at 3am, it doesn't matter. As long as your creative juices are flowing, that's all that matters.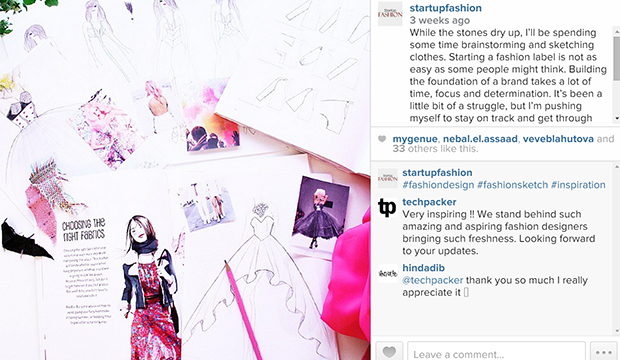 WHAT IS YOUR FAVORITE PHOTO YOU TOOK? WHY?
My favourite photo is my workshop photo. It is my escape and my therapy.
Without it I wouldn't know how to keep my mind fresh and creative with other things. I love working with my hands, it takes me to another world. And I love seeing the necklaces when they're finally done and ready to go to a loving home, that is my ultimate happiness.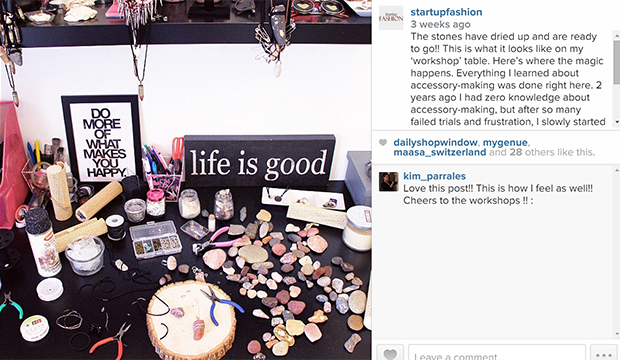 WHAT IS THE MOST VALUABLE THING YOU DID THE DAY OF YOUR TAKEOVER?
My morning routine is the most valuable time of my day. Without positivity and a fresh start, the day wouldn't be the same. I love creating my own little happy world in my workspace. That is where I spend most of my time, and it's so important to keep the environment motivating and positive when you're working alone.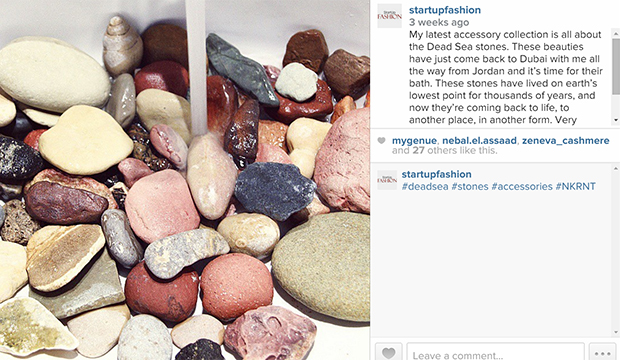 HOW WOULD YOU DESCRIBE YOUR DAY IN THREE WORDS?
Productive, happy, and therapeutic.
WHAT ROLE HAS STARTUP FASHION TAKEN IN YOUR EVERYDAY BUSINESS LIFE?
It has taught me a lot of things I never knew existed. I am currently reading a lot of the articles on the website as well as the business forms and guides. StartUp FASHION is really helping me shape my brand and I'm so grateful for the amazing community.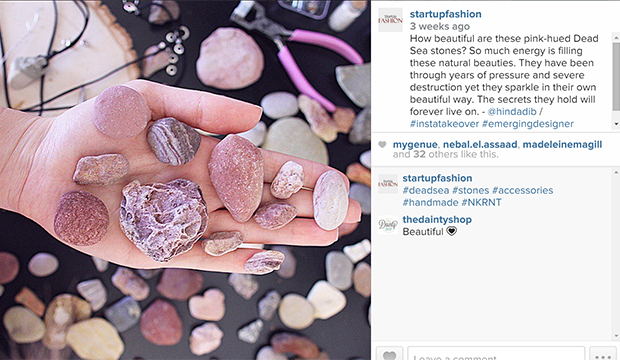 WHAT DID YOU ACCOMPLISH THE DAY OF YOUR INSTA-TAKEOVER?
I managed to get some things that were on hold done. And there is no greater satisfaction than drawing that tick next to a "urgent to-do" task!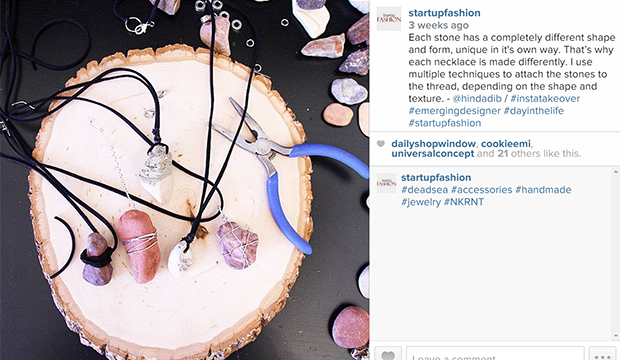 IF YOU COULD GIVE ONE PIECE OF ADVICE TO FELLOW EMERGING DESIGNERS, WHAT WOULD IT BE?
Sometimes it can be tough. It will be very tough. But you are much stronger than you think you are. Don't ever give up. Wether you're just starting up, or you've already started.
When things are looking down, look up. Look up to your dreams and chase them. Some days you might just want to stay in bed all day and do nothing at all, and that's OKAY. Do that, but get back on your feet the next day and keep going. You can do this. Don't be afraid of failure. Failure can be fun, you learn so much when you fail, you grow and you build your empire as long as you keep trying. Your dreams are there for a reason. Believe in them. Believe in you. Always.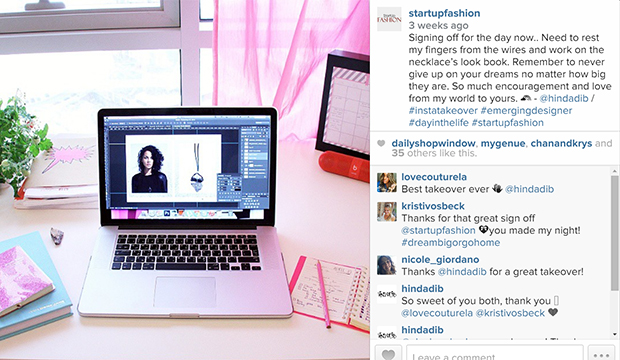 Follow us  on Instagram as we feature more amazingly talented StartUp FASHION members with Insta-takeovers and blog spotlights!