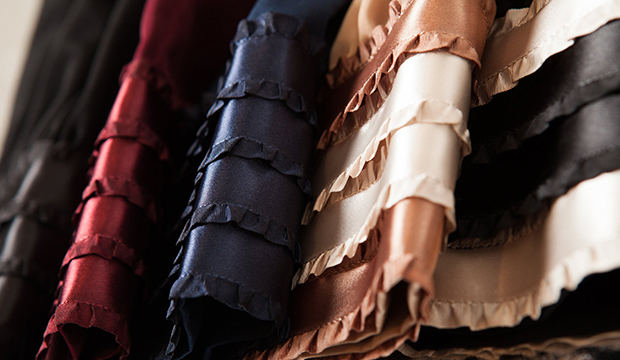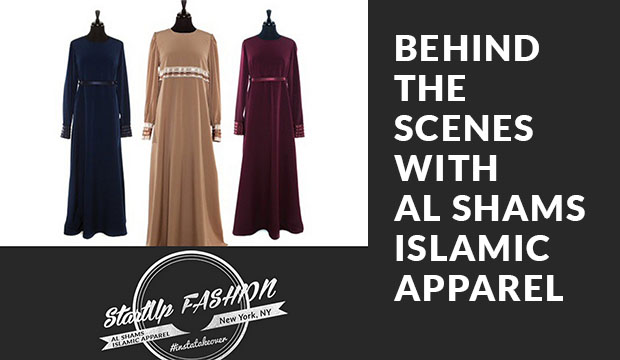 Our latest Instagram takeover was with independent designer Kim Shamsiddin, founder of Al Shamswear Exceptional Islamic Apparel, as she took us along to an event where she showcased her work.
Kim is an attorney, U.S. Army veteran, former undercover NYPD officer, and a member of the StartUp FASHION community based in New Jersey. Her line is designed for the Muslimah community; created for women who are looking for ways to cover up elegantly.
Below is our interview with Kim, where she takes us behind the scenes of an emerging brand and shares a look into an evening of selling and showcasing her work, as well as meeting and getting to know her customers!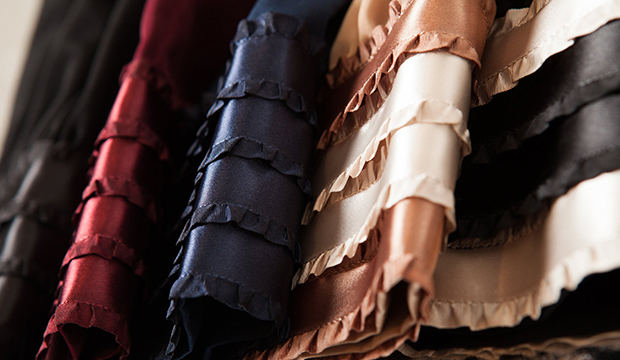 THERE IS A SAYING "YOU LEARN SOMETHING NEW EVERY DAY." THE DAY OF YOUR TAKEOVER, WHAT DID YOU LEARN ABOUT BUSINESS IN FASHION?
I learned that selling in a retail environment takes tremendous patience. People will have all kinds of wants, desires, preferences, favors, and requests, and you have to be willing to accommodate, within reason of course. In sum, people are very demanding as they well should be since they are spending their hard earned money with you.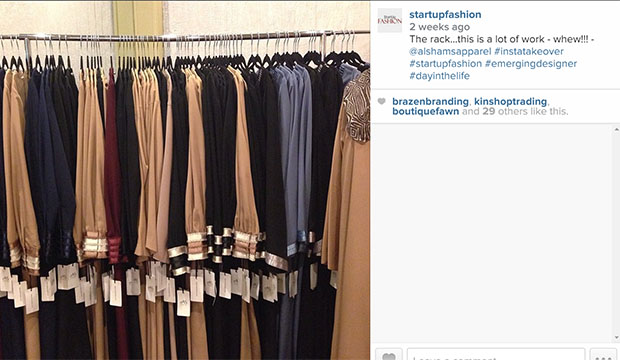 WHAT IS YOUR FAVORITE PHOTO YOU TOOK? WHY?
My favorite photo is of the "Rack." To see the dresses there and to know all the time, effort and energy it takes to bring a collection from sketch to finished garment was quite exhilarating. The "Rack" also gave people the impression we had a brick and mortar location and we were asked several times about the location of our store…LOL We don't have one yet but that is definitely part of our 5 year strategy.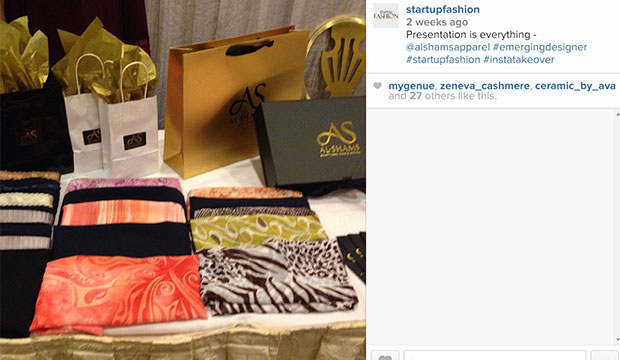 WHAT IS THE MOST VALUABLE THING YOU DID THE DAY OF YOUR TAKEOVER?
I think the most valuable thing we did was to convey the brand persona.
While the web certainly offers some insights into who we are as a company, we wanted to ensure the brand message was clear across all touch points with our consumers, so everything from the prep to the presentation of the table helped to ensure that that brand message was appropriately communicated.
We got so many compliments on the presentation of the clothing, the collateral materials, even the vase where we collected info for our mailing list…people thought it was for sale…LOL.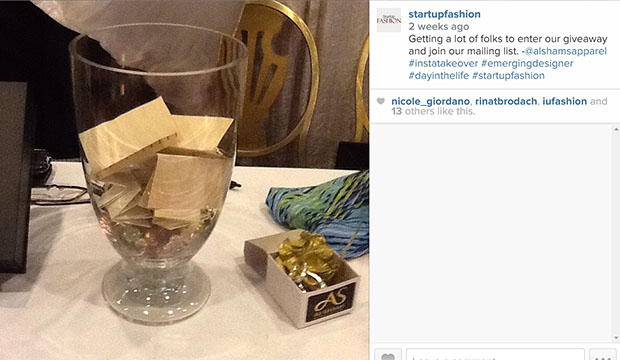 We prepared two weeks in advance and were extremely organized. To prepare we used an event planning sheet and worked through it diligently up until the day before the event. We even did a mock set up of the table and photographed it so on the day of the event we simply whipped out our phones and referenced the photos so we knew the exact placement of each item on our table. There is tremendous value in being organized and ensuring your brand message is communicated consistently. 
HOW WOULD YOU DESCRIBE YOUR DAY IN THREE WORDS?
Exciting, informative and insightful.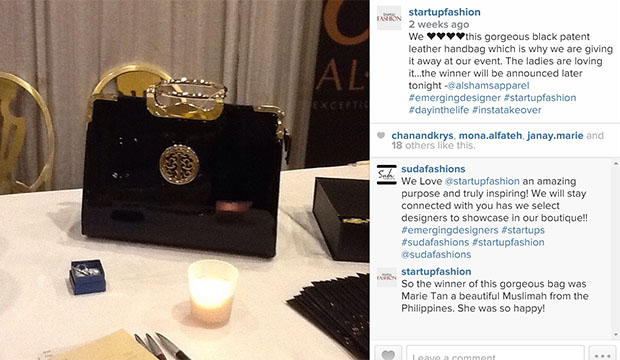 WHAT ROLE HAS STARTUP FASHION TAKEN IN YOUR EVERYDAY BUSINESS LIFE?
StartUp FASHION has been a tremendous platform for Al Shams. We have made so many valuable connections with other designers and industry influencers and have access to a plethora of resources. We are very grateful to be a part of the StartUp FASHION community.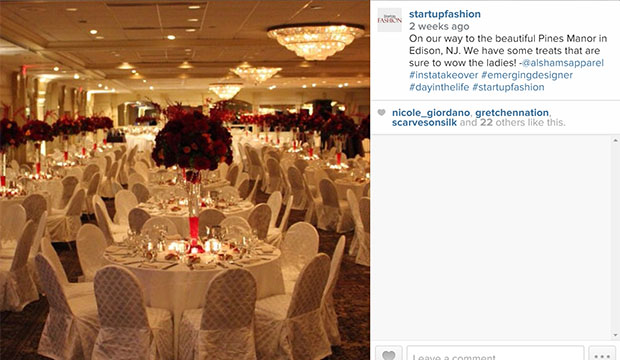 WHAT DID YOU ACCOMPLISH THE DAY OF YOUR INSTATAKEOVER?
We gained a lot of exposure on a local level which is what we were aiming to do. We have a lot of international exposure but we want local Muslimahs to know about us as well and we feel like we accomplished that so we are happy.
IF YOU COULD GIVE ONE PIECE OF ADVICE TO FELLOW EMERGING DESIGNERS, WHAT WOULD IT BE?
Try not to be wedded to a particular methodology or concept because the fashion consumer's tastes and preferences are ever evolving and you have to be able to pivot quickly to keep up. Adaptability should be a core part of your strategy in order to survive in an industry where consumers are sometimes very fickle.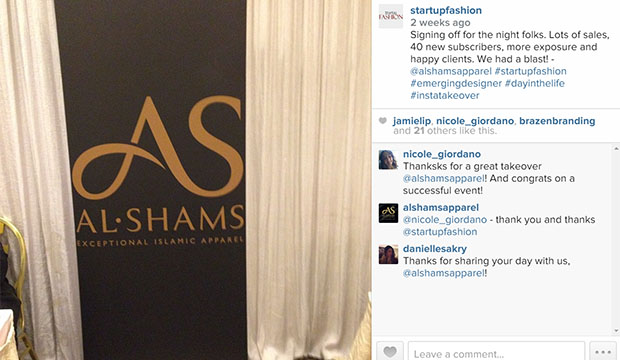 Follow us  on Instagram as we feature more amazingly talented StartUp FASHION members with Insta-takeovers and blog spotlights!