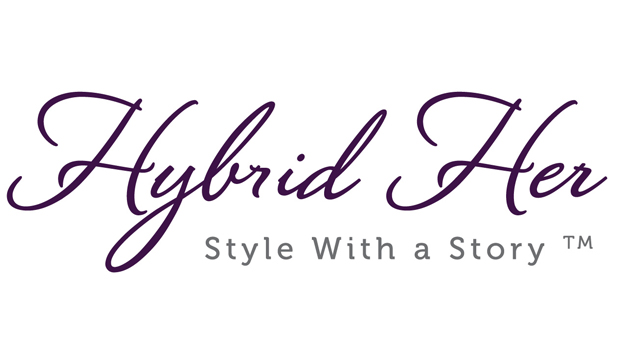 Beth Smith and Stacey Duffy are co-founders of Hybrid Her and business owners whose passion and enthusiasm you can feel all the way here in Eastern Canada.
I was delighted when they agreed to chat with me about the unique direct selling model they use to develop relationships with independent women designers and the "mavens" who sell their merchandise through non-traditional means.
With a focus on empowering women as both independent designers and business people, we're sure there's great things in store for Hybrid Her and are excited to follow along with their journey as it connects cutting edge marketplace technology with style seekers across the country.
It's long one, but I promise it's worth it!
Tell us about Hybrid Her. What is the overall concept and how has it evolved over time?
Hybrid Her's core mission is two-fold.
First, we empower women who appreciate fashion and style to become entrepreneurs by giving them the tools, technology and access to start their own businesses and connect with other like-minded women as they pursue their entrepreneurial ambitions.
Second, we empower emerging female designers by providing them with a new alternative channel to promote, sell and market their products to an important and influential female demographic.
Women who work with Hybrid Her, we call them "Mavens," curate their own product lines from numerous emerging female designers that Hybrid Her has developed relationships with. They then sell those product lines at in-person or virtual trunk shows.
Each Hybrid Her product has a story behind it and has been personally vetted by our team. We believe our Mavens are trusted experts in their social networks. When Mavens share their knowledge with others and the story behind our designers and their products it takes the transaction to a new level and makes it more meaningful.
The Hybrid Her platform benefits our two major constituencies by providing them the ability to generate income with little cost.
For our Mavens, there are no upfront fees and only minimal initial inventory buy-ins. As such, our platform is low risk with significant potential upside. On the flip side, our designers sell more products and increase market awareness of their companies at virtually no cost by tapping into the Hybrid Her platform and our Mavens' influential social networks.
Finally, on the back end, we've created a unique, cutting-edge marketplace to support our Mavens and designers.  Our marketplace technology allows our Mavens to automate the more detailed aspects of the sales process and manage inventory.
In addition, it enables both Mavens and designers to solicit feedback from the broader Hybrid Her network allowing them to tweak their product lines and maximize sell-through. As a result, Hybrid Her offers the backend support and scale most small business owners would have trouble replicating on their own.
What makes this model of direct selling unique from other companies out there? What makes Hybrid Her so successful?
Our primary focus is on products as opposed to recruiting. To us, it's all about having a fresh, unique product mix that spans a broad variety of categories across clothing and accessories.
As a result, we provide the ability for our Mavens to curate their own "boutique" of products. Mavens then have the ability to sell across a range of categories and do not have to focus on any one particular niche in their sales efforts.
Our broader product focus enables our Mavens to curate fresh, unique trunk shows … more often … and have a better probability of sales conversions. Our Mavens tend to make more money and, as a result, be committed longer.
By comparison, other direct sales companies tend to focus on one particular product category (i.e., jewelry) and also have a heavy emphasis on recruiting new sales representatives into their networks to address attrition and continue to stoke the engines. That's a BIG difference.
While Hybrid Her embraces the concept of leveraging connections and encouraging a Maven to sell to her personal network, we do not employ a multilevel sales or pyramid-type structure like many other direct sales companies.
Since we are not a model based on constantly recruiting leads, we tend to have less local market saturation than other direct selling companies.
We love that you refer to yourselves as "Social Entrepreneurs." How do you define "Social Selling"?  How big of a role has Social Media played in the Hybrid Her business model?
Thanks for the shout out on our business model and approach! Traditionally, "Social Selling" has referred to the use of social media (e.g., Facebook, Twitter) for establishing and building relationships with potential customers and then leveraging those online relationships to generate and execute sales.
We have a slightly different take on "Social Selling" – one that combines both online and offline – and that we think is truly "Social" and also viral. Our approach allows our Mavens not only to engage people online – via our marketplace technology – but also offline via in-person trunk shows.
As a result, our Mavens can leverage their personal, real world relationships and networks in the sales process. Our objective is to meld both online and in-person sales. This "hybrid" approach (hence the name Hybrid Her) is by definition more flexible, enhances the credibility of our story, and increases the probability of making a sale.
Social Selling to us is now about selling to all of your networks interchangeably. There is something very unique, and frankly fun, about hanging out with your girlfriends (perhaps drinking some wine) and checking out some really fabulous, distinctive products that a Maven has curated just for that trunk show.
Unlike a boutique or straight online sales, where products can get buried, at Hybrid Her you learn the story of the designer and what the product is really about – thus our tag line "Style with a Story".
For us, "Social Selling" means our customers can have a personal connection with the product both through understanding the story behind the product itself and also through their personal connection to the Maven.
As far as the role social media plays in our business model – it is huge for us as it is for every other company that is trying to engage and sell the consumer and build a broader following. We have a large, growing network due to our use of social media sites.
Social media has also played a central role in attracting potential mavens to the Hybrid Her platform. For example, in the last month we've attracted over 50 new potential mavens solely from social media. Clearly, it's an important tool for us to leverage as we build our business.
How do you find the designers that you choose to showcase within Hybrid Her? What are some of the requirements of them working with you?
We really look for a wide variety of designers and embrace lots of different styles and types of products.
It's up to our Mavens to curate their own product selection from our community of designers. As a Maven selects her own product portfolio, she typically focuses on what products will work within her own particular market and what she believes reflects the tastes of the women in her personal network.
So at Hybrid Her we really see ourselves as a platform and gatekeepers – focusing on the ability of a designer or company to provide quality products, fulfill orders and scale with increased demand.
While we don't necessarily personally pick every product according to our own individual tastes – I can say I really do love everything we offer and am proud of the wide variety of products in our portfolio.
What is the benefit for the designers of working with Hybrid Her?
There are many. Let me talk about a few notable ones.
First, by tapping into the Hybrid Her platform and our Mavens influential social networks, our designers are able to sell more products and increase market awareness at virtually no cost.
Second, our designers enjoy the benefits or scale and national reach. By working with Hybrid Her, designers only have to manage one relationship, but they can still enjoy the benefits associated with multiple distribution points and national reach. We are an entrepreneurial company, but have the scale of a much larger organization give our Mavens' networks.
Third, designers who work with us enjoy the benefits of being a part of a well-edited product selection and the focused, personalized promotion we put behind their products through our Mavens. Each product in our portfolio is special to us and we work hard to tell the story behind each product and make sure that product doesn't get lost in the mix. Designers love that.
Finally, we have a hands-on community and both we and our Mavens constantly work to provide feedback to our designers whether it be through arranging personal appearances at trunks shows or arranging opportunities for them to solicit customer feedback. With larger organizations getting meaningful feedback from influential style mavens is much more difficult.
Hybrid Her gives 1% back to women who support social ventures and enterprises. Tell us a little bit about that. 
Giving back and helping others is just about who we are. We believe businesses can only succeed with the help of others – so we try to give back to support other emerging companies and independent designers.
While some may see that as an unnecessary cost, we believe it ultimately benefits us by supporting our women-centric business model. In addition, we also wanted to be proud of the business we created – so to us giving back is a way to do that.
If someone was interested in becoming a Maven or a Designer, what's the best way for them to get in touch?
We make it really easy…. www.hybridher.com and sign up!  We are excited to share your style and story!