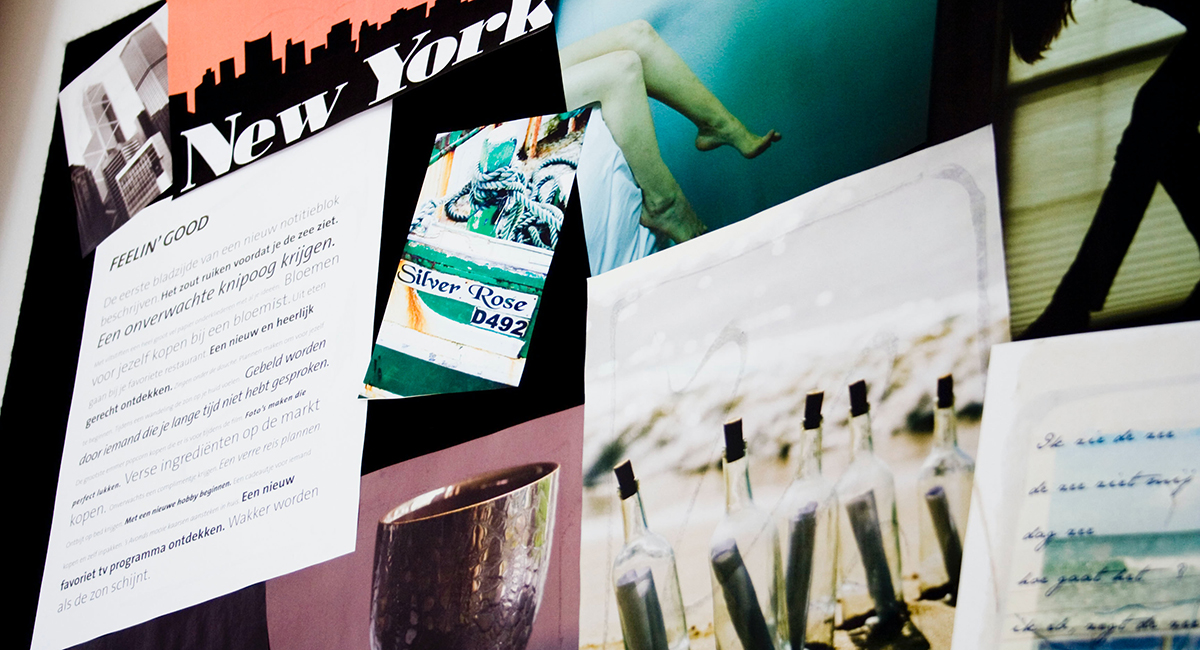 As you craft your designs and grow your brand, your inspiration may come from a variety of locations: specific fabrics and color schemes; images or locations; specific seasons and the clothing associated with them; and more. Often, however, as you continue designing, you may find yourself losing track of that initial inspiration or of the threads that tie a specific line together. With a fashion mood board, however, you can better express and communicate your vision even before the design process begins.
What is a Fashion Mood Board?
A fashion mood board is a collage that offers a look at the inspiration and concept of a specific brand or collection. It helps you lay out the ideas in your mind and keep them consistent as you start developing a specific line or as your brand grows. Often, a fashion mood board is a growing thing: something that grows along with your brand.
Some fashion mood boards are done physically, on a wall, bulletin board, or poster that allows you to touch and engage with the materials. Others may be done digitally.
How a Fashion Mood Board Can Help
Creating a fashion mood board can help in a variety of ways as you continue to grow your brand or work to establish a specific line.
1. A fashion mood board can help keep you on track as your brand or line continues to develop.
Over time, it's easy to get lost in the details of your designs. You may start to stray from your initial vision–the one that attracted customers to you in the first place–or have trouble sticking to the concepts that inspired you to create a line in the first place. A fashion mood board keeps that inspiration in front of you, where you can continue to draw on it to develop your designs.
2. A fashion mood board can help keep multiple designers on the same page.
Sometimes, you may want to bring in someone to help with your designs. You may collaborate with another designer or brand, or you may have someone within your company who helps you with your designs. With a fashion mood board, you can keep all members of the design team on the same page about the overall look and feel of your designs: the colors, flow, fabrics, and inspiration you want most to use, for example.
3. Your mood board can help you brief others, including website designers, branding designers, and more on your vision.
A mood board is a highly visual representation of your plans for a specific line. By creating a mood board, you make it easier to show that vision to others who represent your brand or who may need to make purchasing decisions based on those early visions.
4. A fashion mood board helps keep your brand values at the forefront.
You will be able to keep your inspiration and the things that are most important to you clearly visible as you put together new designs. As a result, you'll have your brand values in mind with every design.
How to Create a Fashion Mood Board
Ready to get started? Start with a large foam board or cork board and plenty of pins. Ideally, you want a way to attach items that you can later rearrange if needed. Follow these steps to create the fashion mood board you need to share and focus on your inspiration.
Step One: Do your research.
It's time to start looking for inspiration. Where do you go when you're ready to start creating? You might listen to certain types of music, do online research that will let you look at specific types of styles and designs, or even browse museums and galleries. You might go to a favorite location and take a look at what people are actually wearing and how trends are changing. Take photos of the things that inspire you and reflect your brand. Print out online content. Include photos that express what your brand or line is about: what you want people to feel, what colors and styles you want to use, and more.
While you can include elements of competitors' designs that you may want to include–a specific type of waistline or trim, for example–make sure that you don't copy competitors' designs outright. Try to use only pieces of their outfits or designs as part of your fashion mood board.
Step Two: Take a look at your existing creative.
You may already have sketches or photos that reflect a specific mood or theme. Sometimes, an initial sketch that didn't fit one line can become the inspiration for an entire line all its own. Other times, you may find that you've been dreaming of this particular line for some time before you were ready to make it reality. Look through your existing creative to determine whether you have something that you can reuse for your mood board or for this purpose.
Step Three: Consider material, trims, and other things that add to your inspiration.
As you start to explore color, fabric, and trim, include samples of those items on your mood board. You can also include specific colors or color families that most fit the designs you're trying to create.
Step Four: Edit.
Take a look at your fashion mood board as you have begun to collect and create. Is there anything on the board that doesn't seem to fit the rest of the image you're trying to create? As your vision grows, does the mood board still reflect it, or is there content that no longer reflects your plans and ideas? Remove any items that do not fit your vision and rearrange them as needed.
Step Five: Note the "why."
Why are specific items included on your fashion mood board? Make notes that will remind you of what feeling you're trying to create or why you liked certain items so that you can refer back to them later. Post-it notes or notes with pins through them will fit with your removable, easy-to-rearrange design.
Working on launching your fashion business? Register for our free class to learn how!