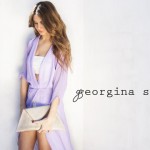 Beginning her studies in fashion at the age of 18, handbag designer Georgina Skalidi knew that her career path belonged in fashion design and styling. After graduating from an arts school in Paris, Skalidi went on to work as a fashion editor for OZON Magazine, as well as a stylist for top-notch magazines like Marie Claire and Gynaiki. Through these experiences, she says she learned
all about clothes and combining looks; something very important, as I always imagine a bag combined with an outfit.
It wasn't long before Skalidi made the decision to begin crafting her own handmade clutch line, derived from her inner desire to express creativity through her work. Thanks to her internship experiences working with fashion and leather accessories, she was equipped with all the right knowledge to create a successful handbag label.
Skalidi says that her inspiration is experiential. She further states that she gathers inspiration from the different phases of her life. Her choice to stay clear of conventional methods of designing allows her to look at each bag as a unique sculpture.
Skalidi runs two stores in Greece. The label has also collaborated with artists on collections, become part of Boticca's USA designers community, and was even featured in Vogue Italy.
Interview with Designer Georgina Skalidi
What inspired you to deconstruct the classic clutch?
GS: I decided to design clutch bags the moment I realized that I actually own a huge collection of them from all over the world. Every trip I've made has left me with a different vintage clutch. Since clutch handbags are a big trend abroad and I hadn't seen anything quite like them in Greece, I decided to specialize in these types of handbags. I needed to express myself, do something new and give my own personal suggestions.
That's how I established my signature technique of molding leather into clutch bags.  Together, the excellence of materials and the handmade production process offer a fresh, chic ,almost postmodern vintage sense.
With a key reference to vintage and contemporary style, I deconstruct the classic style of the clutch, leaving its essence. This results in something completely new – always with an emphasis on geometry.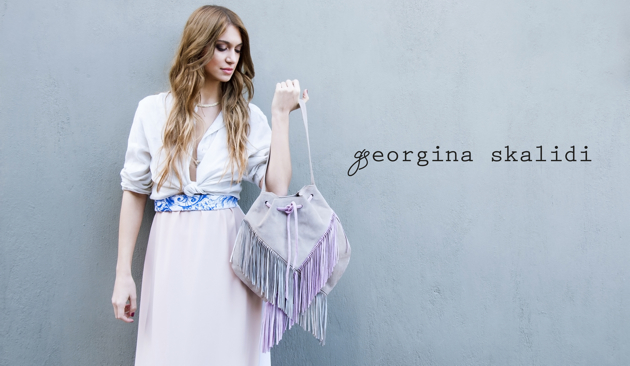 You mention that you worked as a fashion stylist for major women's magazines. What was this experience like and what did you take away from it?
GS: Styling and fashion editing was a valuable experience for me. It was the beginning of my current career. It's a part of the styling puzzle.
You currently run two stores in Greece. What has been the biggest learning experience from operating a storefront?
GS: The biggest learning experience and most positive experience from my stores has been the contact with people. This has helped me learn their preferences. I have managed to understand what customers want, so I try to do my best to improve my designs and keep my customers satisfied.
When starting a label, problems are inevitable. What are some of the challenges you faced early on and how did you overcome them?
GS: The basic challenge I had to face was the economic crisis, which occurred at the same time as the launch of my label and the creation of my store in Athens.
The truth is that living and creating in Greece at this time is as hard as it can be. The economic crisis has caused some issues with production. The first materials are the same through every season, but many factories and industries have shut down.
The only thing that I have in my mind is my work. I can overcome the challenges with patience and by focusing on the development of my work. I want only to evolve and look forward. For me, that means setting new goals all of the time.

Maintaining a unique brand identity can be difficult. How do you keep your label unique?
GS: My inspiration is experiential. My label is based on the way I decide to live each phase of my life. Inspiration follows. Holding the leather in my hands, I am able to express the emotions of my reality by literally shaping it into my designs. I choose not to create through the conventional method because a bag is a type of sculpture to me.
My ultimate goal is to keep developing my designs without losing my style and character.
What's on the horizon for Georgina Skalidi?
GS: Last year, I succeeded in having my bags in Harvey Nichols Hong Kong, among other boutiques in Italy, France, Panama and Australia. Vogue Italy included me in its New Talents edition, and I saw my bags featured in great magazines all over the world.
For the future, I intend to expand the brand abroad. For starters, I will be taking part in some exhibitions, so I will put all my focus on that.