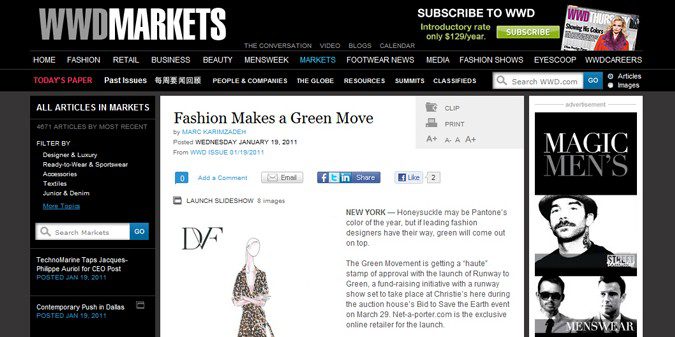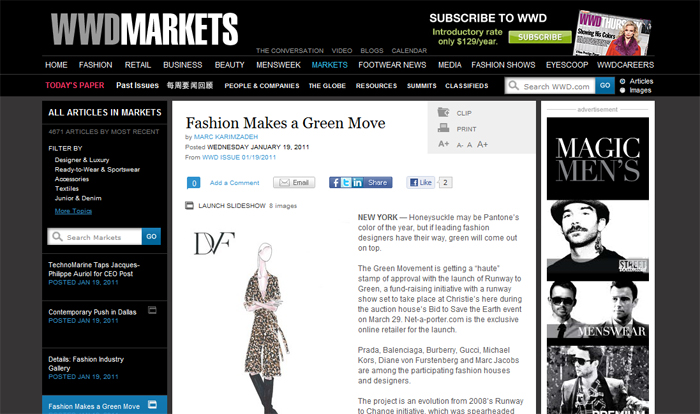 I'm a huge fan of ethical design.  Which is good 'cause a big part of my career is based on it.   So you can imagine how excited I was to see an article in Women's Wear Daily titled "Fashion Makes A Green Move". I read the article. I'm sorry to say I wasn't impressed.
Now, I will admit that I don't know everything about this initiative and perhaps, upon clarification, I will be put in my place or at the very least enlightened.  However, as is stands, this article has sadly left me asking questions, wanting to know more, and ultimately feeling disappointed.
WWD: "We thought it was time to change the status quo — that idea that organic and green somehow mean lesser value, with cheap-looking organic cottons that are less glamorous."
Me: OK, I'm the first to admit that there are some (a decent amount) of green designs out there that are more granola than glamor. But cheap? Do people really have the perception of "green" as cheap?   I don't agree with that.  As unfortunate as it is, designing with eco-respectful raw materials and utilizing ethical manufacturing processes is almost (if not absolutely) always more expensive.
WWD: "The designers were asked to create a fashion piece as part of their fall 2011 collections, which didn't necessarily have to be green. The pieces will be identified by a special hangtag and wholesaled alongside the designers' fall collections. A portion of every wholesale sale will benefit Runway to Green, which, in turn, is earmarking those funds for several environmental organizations, including the Natural Resources Defense Council, the Alliance for Climate Protection and the United Nations Environment Programme's Billion Tree Campaign."
Me: Why only one garment? While it's commendable that the profits of this garment are donated to charity, I thought it was meant to show the world that design is headed in the right direction.  It's a nice thought but after this media rich event are these fashion industry leaders and trend setters continuing to apply ethical design to their collections?
WWD: "The designer firms…are committing to participate in the Council's Clean by Design educational program to learn more about integrating greener practices into their companies."
Me: I'm curious.  Who is participating in this program?  Decision makers or summer interns?
And then there's the irony of an extremely affluent community of professionals coming together in a philanthropic effort by throwing themselves a lavish party.  I mean really, is it just me?