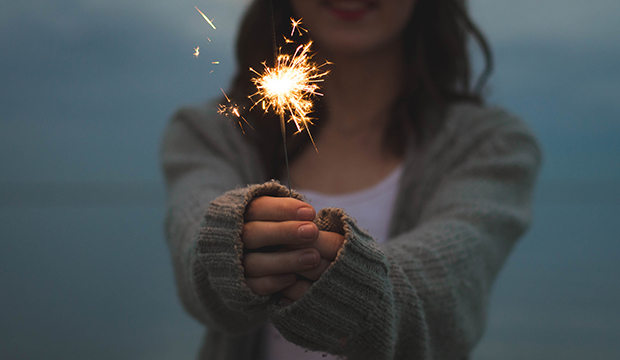 I used to think that once I "made it" I'd stop second-guessing my own abilities. Well,  I do have a successful fashion business that pulls in a profit, I get to travel around the world because my business is run online, and feel pretty good about the life I'm leading. Yet, I still have days in my work when I wonder if I'm good enough.
I have self-doubt.
I know I'm not really "supposed to" say this. I'm giving other people advice about building businesses and here I am sharing with you that I sometimes wonder if I'm good enough, smart enough, whatever enough to do the work I do.
Some days I'm all over the place– from excitement to worry, confidence to fear, security to anxiety. And I know, without a doubt, that most of you are too.
The excitement, confidence, and security are the easy ones, right? Profits, growth, these things are magical. They manage to give us a natural high, they remind us of how great it feels to accomplish something we've worked so hard for, and they are the fuel that keeps us going when all we want to do is hide under the covers.
But the worry, fear, and anxiety . . . those are tough. I bet you're saying things like: How can I keep going without making more money? Why aren't things moving faster? What is going to happen if it all falls apart?
These feelings feed the self-doubt monster and can be so extreme that you ultimately decide to stop what you're doing, to stop building your dream.
From experience, I know these feelings get better over time.
As we grow and accomplish and learn, these feelings get easier to overcome.
But guess what? I don't think they ever fully disappear.
Because in order to grow in your fashion business, you need to step into roles you've never held before. You need to try things you've never tried before.
And when that happens, you will have doubt.
"Can I do this? What was I thinking?"
And you know what? That's OK.
Self-doubt is natural.
Acknowledge that you're experiencing self-doubt and then decide how you're going to overcome it.
You can build and lead the life that you want. You're smart. You're capable.
When these self-doubt feelings hit, remember that they are temporary. That whatever triggered them in the moment will pass. That before you know it, something good will happen that will flip that switch and you'll suddenly feel excitement again.
You know that excitement I'm talking about? Not "I'm going on vacation" excitement.  I mean that excitement that is so intense it's practically nervousness. The buzz in your belly and the racing mind full of ideas and direction and plans and goals.
You know what I'm talking about.
When you're working on something that you really believe in, that feeling will always return.
So when the self-doubt is there, and the tears of frustration are streaming, remember that feeling of excitement. Remember why you're doing this (freedom, control, happiness) and zero in on it. Tap into that feeling as best as you can and use it to help you get past the doubt.
Lots of love and encouragement,