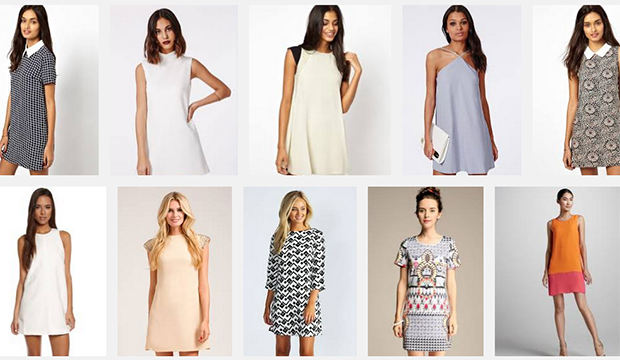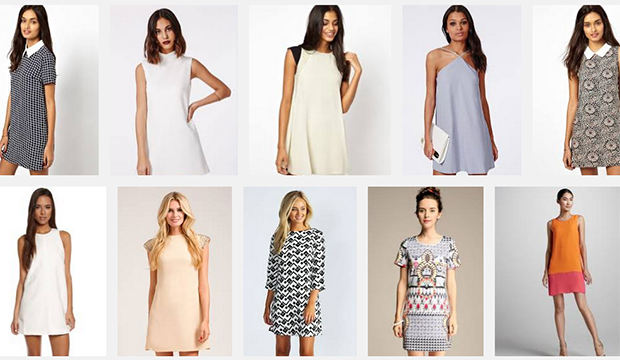 The shift dress is such a simple, classic look. It is flattering, easy to move in, and can be styled in a variety of ways, which is probably why it has remained on trend for as long as it has. But this particular dress is about more than just style- the shift dress was a reflection of significant cultural change during its peak years of popularity.
Remember, much of the history of women's wear involved clothing that was restrictive- both physically and psychologically. The shift is the antithesis of these ideas- it is not only beautiful, it is representative of a free and youthful lifestyle.
So when did the shift dress first come about?
In the 1920's, "flapper" style shift dresses were the first stark contrast to the corseted, nipped-in waists and large skirts that were so pervasive in previous decades. This dress featured a short hemline and dropped waist, skimming the body rather than sucking it in. In general, sportswear, clothing that was much easier to wear and move around in, was coming into fashion. Many designers, including Chanel and Schiaparelli were making garments in this way. These simpler styles began to make their way into mainstream culture, catching on because they fit into a certain lifestyle, that of a more modern woman.
By the mid-1920's, flapper dresses had become wildly popular. The "Roaring 20's" were in full swing- wealth was abundant, allowing women to have more spending power, and fashion trends began to spread much more quickly.
Despite Prohibition laws, women began to socialize and drink in public (albeit at secret Speakeasies.) Fashions changed to reflect this party culture- flapper dresses were revealing and freeing, perfect for this kind of nightlife.
The shift became a symbol of independence. Additionally, the loose, androgynous cut prioritized, for the first time, women's comfort over their looks.
The shift dress trend backpedaled a bit through the subsequent decades; the Great Depression put a damper on the frivolity of fashion, and by the 1940's and 50's, figure-hugging silhouettes that accentuated the waist were back in vogue. Christian Dior's "New Look," which was characterized by a cinched middle and wide, calf-length skirts.
Incidentally, along with this traditionally feminine style came "traditionally feminine" values- "New Look" women were housewives, living in an era where home and family duties took precedence over independence and freedom.
Nonetheless, the shift dress made a strong comeback by the 1960's. This version was influenced more by the sack dress of the late 1950's than flapper dresses. Though the shapeless sack was relatively unsuccessful, the more tailored shift caught on with many women of the era. As with the flapper shift, it allowed young women more freedom and versatility in both their wardrobes and lifestyles. This particular 60's version was darted at the bust, going straight into a straight or a-line skirt with no shaping of the waist.
In addition to the shift dress being a chic and modern lifestyle choice (hence it being labeled as the "mod" fashion of London youth) there were a variety of factors that contributed to its massive popularity and subsequent staying power. Designers Christobal Balenciaga and Hubert de Givenchy are both considered innovators of the shift dress as it is known today.
Givenchy in particular made a few contributions to the shift's legacy. He designed Audrey Hepburn's iconic black dress in Breakfast at Tiffany's. Additionally, former First Lady Jacqueline Kennedy frequently wore shifts, some designed by Givenchy, others created by her good friend and designer Lily Pulitzer.
Lily Pulitzer's story and brand are based entirely around the shift dress. In the 1950's, the socialite eloped with Peter Pulitzer and moved from New York to Palm Beach, Florida. The family owned fruit groves, which she used to start up a popular juice bar. Wanting something chic that she could wear to work, Pulitzer commissioned several shift dresses. The shape was both pretty and easy to work in, and the brightly patterned fabrics she chose hid the juice stains that would inevitably mar her clothing. Customers began asking to buy Pulitzer's dresses, so she began selling them at her stand as well. However, she soon began selling more dresses than juice, and started her iconic brand, which is still popular today.
Today, shifts come in a variety of different styles, and many designers have done their own take on the iconic silhouette. The shift remains a go-to easy way to put together a chic outfit.