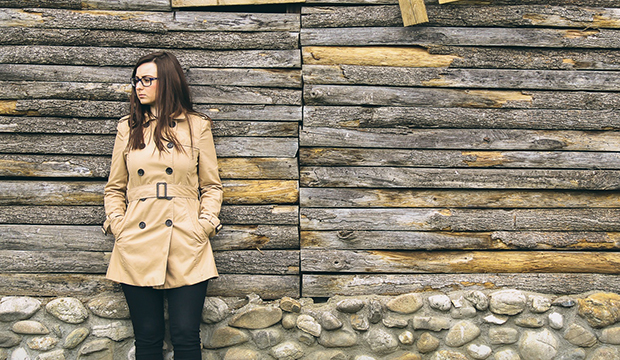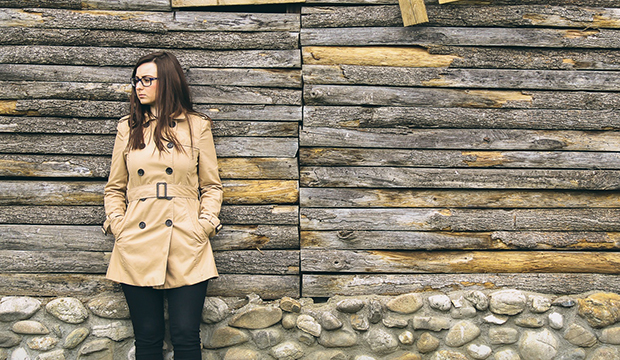 The trench coat is the little black dress of outerwear- classic, subtle, and appropriate for a variety of occasions. It has been a go-to item for both women and men for decades, and continues to make the job of getting out the door an easy one even today. Unlike most raincoats, the trench coat is a lifesaver on rainy days, when no piece of weather-appropriate clothing seems to look good. Simply throw a trench over your outfit, and you are ready to take on inclement weather while still looking good.
Function Over Form
Despite the trench coat's aesthetic prowess however, it was of course initially created with function rather than form in mind. Like many classic pieces in the modern wardrobe, the trench was first designed for use in the military- during World War I to be exact. Prior to the war, rain jackets and waterproof fabric existed, but both were in need of major improvement.
Around the 1820's, rubberized cotton became a widely used material in water and weatherproof outerwear for both civilians and the military. These garments were called "macks," so named for their inventor Charles Macintosh. Macks actually did their job of repelling rain very well. The problem, however, was that the barrier worked almost too well- rain could not get in, but sweat could not get out. As a result these garments smelled terrible, and were not especially hygienic. Additionally, the rubber would frequently melt if accidentally left out in the sun.
An Idea Was Born
The trench coat was born from the need to create a more breathable, wearable raincoat. There are two conflicting stories, as both Aquascutum and Burberry claim to have invented the trench. However, it was ultimately John Emery of Mayfair (later to be renamed Aquascutum) that first created a much-improved version of waterproof fabric. In fact, he changed the company name in order to emphasize the clothier's focus on wet-weather gear. His garments were nicknamed "Wrappers," were functional, comfortable and stylish.
Twenty six years later, in 1879, Thomas Burberry tried his hand at rain wear after establishing his namesake menswear company. In order to create his innovative version of a waterproof textile, Burberry drew inspiration from lanolin-coated waterproof smocks worn by shepherds. This fabric, now known as "gabardine," was created by putting a waterproof coating on individual yarns prior to being woven, rather than coating the entire fabric. This allowed for a watertight, yet still breathable material. Like Aquascutum's garments, Burberry's gabardine outerwear was popular with athletes, explorers and adventurers. In fact, Sir Ernest Shackleton's crew was outfitted with Burberry coats and pitched tents all cut from gabardine.
With all of this new fabric knowledge, and talented designers looking to improve their products, the stage was set for the trench coat as we know it to emerge. As previously mentioned, World War I was the instigating market for the modern trench. During this time, it became apparent that military outerwear was in need of a major overhaul. With opposing forces facing each other on the battlefield, the bright colors that previously featured in military dress became impractical, as it was essentially a target for the enemy. Additionally, the standard-issue heavy wool coats were terrible for trench warfare- water and mud would weigh the garment down, and soldiers would frequently slash the bottoms of their jackets off with bayonets for better ease of movement.
The Introduction Of Weather-Proof Outerwear
Both Burberry and Aquascutum produced new designs of weather-proof outerwear to be worn in the trenches- which, as you might have guessed, became the "trench" coat's namesake. Each company's design has its benefits. Burberry for example, created the "Tielocken," a coat cut from khaki colored gabardine to better camouflage soldiers. This version was quite close to what we recognize as a trench today. The jacket featured a belted waist and broad lapels, and was knee-length to allow for greater range of movement.  Aquascutum also produced trench coats that garnered a lot of fan mail from soldiers serving on the front lines (which were prominently featured in the company's advertising.) These blue and grey gabardine jackets were made in different lengths (although typically on the shorter side) and featured epaulets, D-rings, and a checked lining.
Post-War Popularity
Post-war, the trench's popularity only grew. Not only did soldiers wear them off-duty, the British army had a huge surplus of them made, and distributed them to civilians in the 1920's. The coat was featured in many films, such as on Humphrey Bogart in Casablanca. The combination of form, function, and star-power turned it into a popular and lasting trend. Today, there are so many different versions, from the familiar tailored classic, to a more modern over-sized Scandinavian silhouette. Incidentally, no matter the cut, the trench never fails to make someone look great.