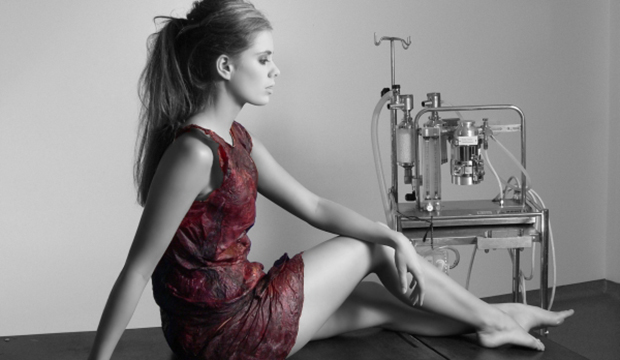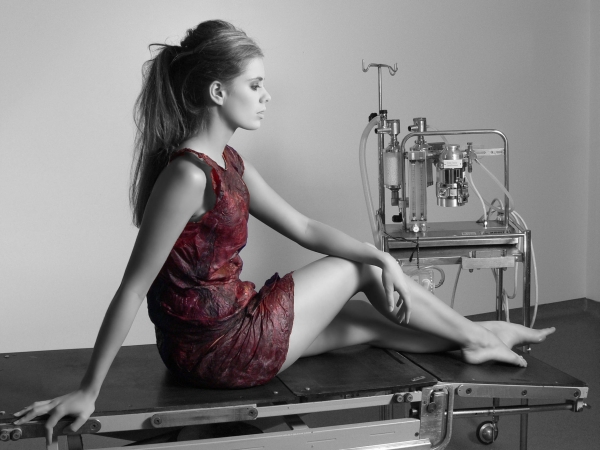 We've all heard that a glass of wine each day is good for your health (in body and mind!) Could this drink bring equally positive benefits to the fashion world?
Thanks to researchers at Bioalloy, wine could potentially be stepping up in the fashion industry from refreshment served at runway shows to something seen on the runway.
Artist Donna Franklin and scientist Gary Cass have collaborated on an incredible project in which they created a seamless textile using fermented wine.
The fabric made from wine is an interesting marriage of science and design.
Wine is carefully fermented for several days, at the end of which a "skin" formation is produced. In this state, the substance takes on characteristics one would expect from something made from old wine: it has a strong smell and feels slimy. However, once the material is allowed to dry, the delicate cellulose material feels very similar to cotton.
While the project seems to be simply a fun science experiment, the textile has potential to have a positive impact on the world of sustainable fashion.
For starters it's biodegradable. The all-natural material can break down easily once it's been discarded, leaving no trace.
It is much less toxic to produce than other synthetic materials.
Due to the fabric's streamlined production process, it is cheap and easy to manufacture.The low cost gives a broader range of designers another organic material option.
It also cuts out much of the labor typically needed for textile production. Instead of being woven or knit, the fabric is simply grown.
Additionally, material can be engineered on a form, eliminating the need for sewing, and creating seamless garments.
The fabric itself has a textured, mottled look to it, and can range from opaque to translucent. Depending on the type of wine used, different colors can be created, with red wine creating ruby hues, and white wine or beer turning clear.
What do you think of using fabric made from wine in your collections?