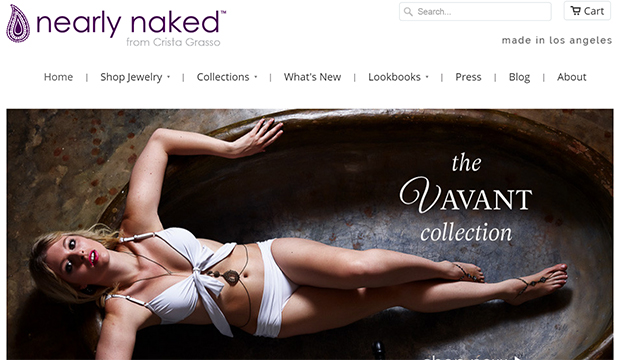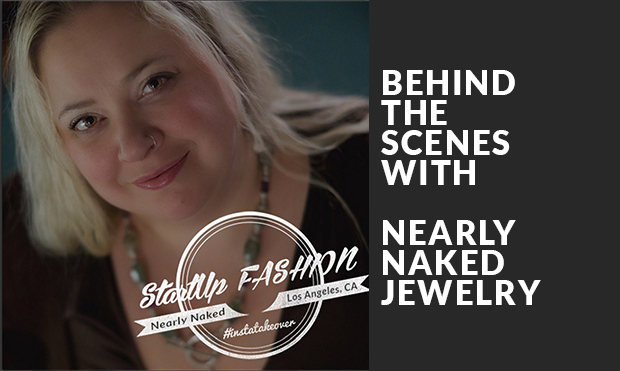 Our latest Instagram takeover was with independent designer Crista Grasso, founder of Nearly Naked Jewelry, as she took us along for her first experience exhibiting at the WWD Magic Tradeshow.
Crista is a talented designer and a member of the StartUp FASHION community. Her creates fashion jewelry that is particular great in the swim and boudoir niche markets.
Below is our interview with Crista, where she takes us behind the scenes of an emerging brand and shares a look into a long an interesting day of showcasing at one of the largest trade shows in the industry!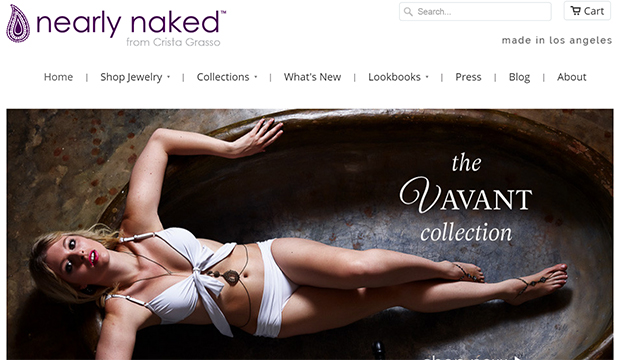 There is a saying "you learn something new every day." The day of your takeover, what did you learn about business in fashion?
Walking on to the show floor at WWDMagic for the first time was difficult to describe. Not only was it the culmination of years of work but it was also eye opening in terms of what is still to come!
There's another saying – "You don't know what you don't know." Setting up our booth and walking the floor behind the scenes at the largest fashion trade show in the world we began to see some of the things that we didn't even know we didn't know!
Operational details like how much less efficient we were at booth setup than we thought to marketing details like how cohesive a presentation some brands present to future-state definitions of success like having enough cash flow to hire teams to do a lot of the initial grunt work of setting up!
Attending the Maker's Row mixer we also learned about how excited so many brands and factories are to be connecting and producing in the US. We made the decision originally to do so because it made sense for our business plan and we've always been proud of that decision.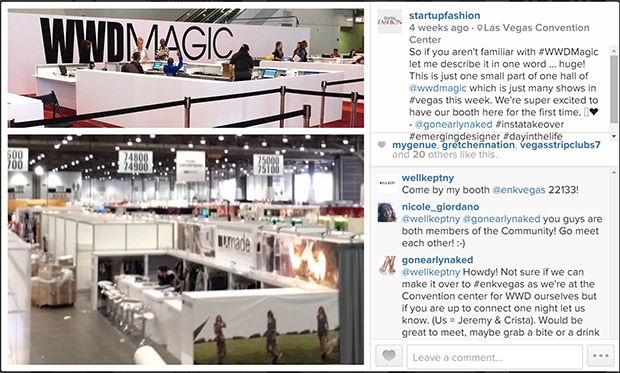 What is your favorite photo you took? Why?
Definitely the photo of our completed booth after we finished setting up! Having a booth at MAGIC was a goal from day one for our brand, in fact from well before. And to work for years towards a goal and have it come to fruition is always going to be a pretty special moment.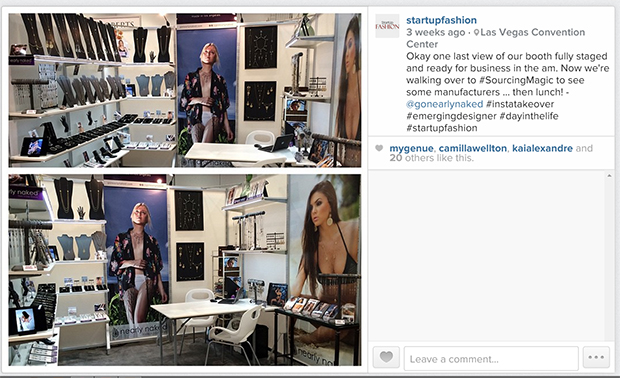 What is the most valuable thing you did the day of your takeover?
We got out and met people! Going to a mixer like the Maker's Row event was in many ways outside of our comfort zone but we wanted to force ourselves to get out there. Just like selling, which is also often hard for designers and creatives! But we approached it with excitement and ended up having a great time, met some fantastic other designers and US factories, and had some great conversations. Not to mention had an amazing Manhattan. 🙂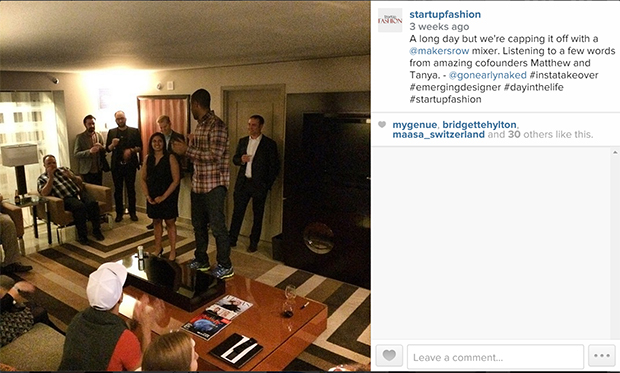 How would you describe your day in three words?
Exciting.
Exhausting.
Exhilarating.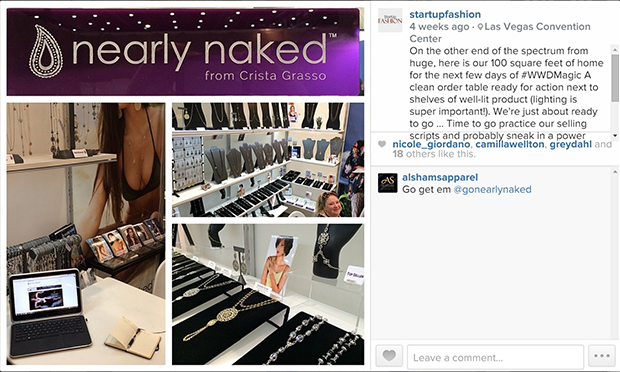 What role has StartUp FASHION taken in your everyday business life?
We joined the StartUp FASHION community late last year after finding so many of the blog posts and other resources to be incredibly valuable over a period of time. For example, the trade show overview posts every season give such a fantastic insight for a brand just starting out. Now I end up checking out the message boards and chatting with fellow designers every couple of days, having some great discussions and q/a sessions around a variety of fashion business topics. And watching others' success and growth is always so inspiring.
What did you accomplish the day of your instatakeover?
Only achieving our long-term goal of showing at the MAGIC tradeshow.
😉 And getting out and meeting others in the industry, making some connections and starting some great relationships. Really it was just another day of working hard to move the ball forward!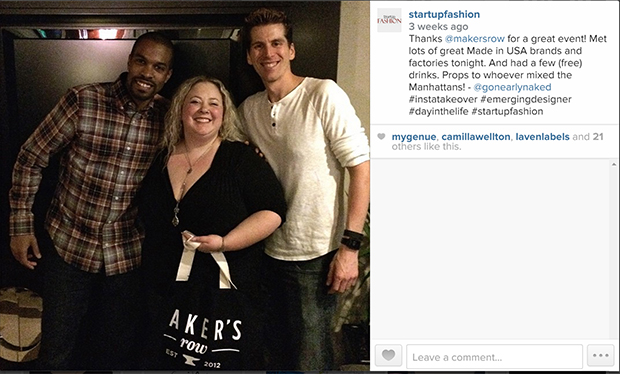 If you could give one piece of advice to fellow emerging designers, what would it be?
The single best piece of advice we have been given about getting your business off the ground? DO THE WORK. Sounds simple but in the end, the work that has to be done and won't do itself.
Everyone always says the designing is only 10% of the business and as much as you don't want to believe it, it is true. But that doesn't mean that the other 90% can't be fun and interesting as well. It does mean, though, that you do have to work hard, learn every day, make your mistakes (but don't make them twice), and always celebrate your successes!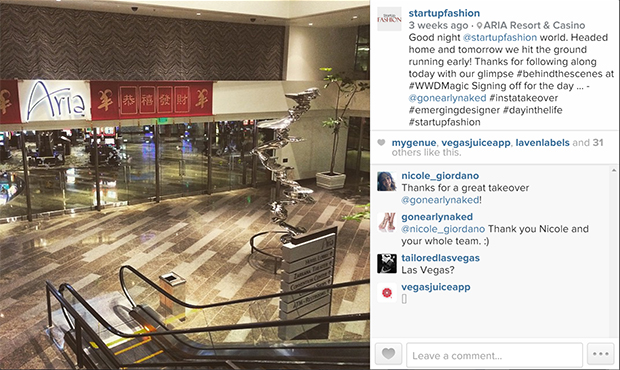 Follow us  on Instagram as we feature more amazingly talented StartUp FASHION members with Insta-takeovers and blog spotlights!