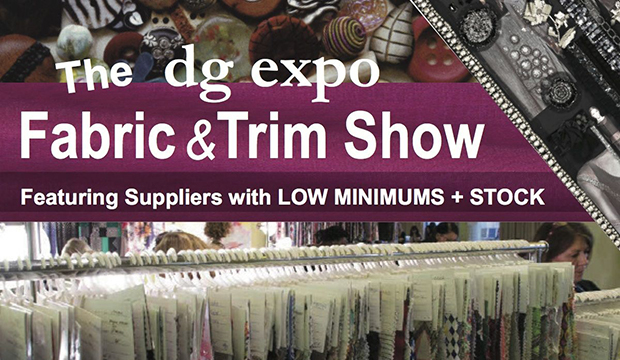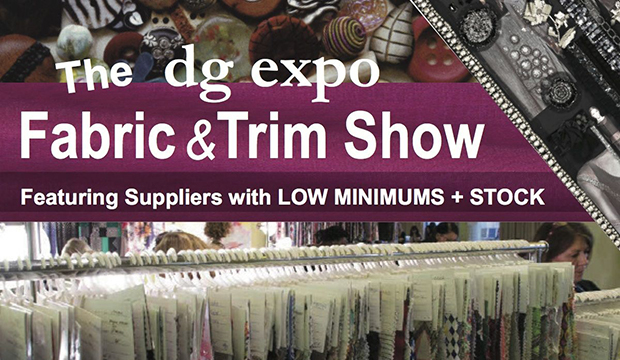 Getting a collection made is one of the most difficult components of starting a fashion label. The ability to connect with suppliers who understand the plight of the emerging brand and are still interested in working with them, is a process that a lot of up and coming designers underestimate.
Well, the founder of dg expo heard that plight and created a sourcing trade show and expert-led seminar series in order to do something about it.
[box type="shadow" align="aligncenter" width="560px" ]The next dg expo will take place in Miami, bringing together over sixty suppliers of fabrics and trims with low minimums and stock! [/box]
When you arrive at the show, you'll find a variety of fabrics and trims including knits and wovens, technical and stretch fabrics, eco-friendly and organic options, beaded and embroidered novelties, leathers and faux furs, jacquards and yarn dyes, prints, zippers and buttons. 
The thing about the process of sourcing is that it really needs to come with an element of education. It's incredibly important that you, as an emerging brand, are asking the right questions of the suppliers, using the industry language, and learning what are realistic expectations (both on the part of the designer and the supplier).
dg expo complements its trade show with a series of seminars and workshops created with the emerging designer in mind. Some of them include:
Tips for Working with Manufacturers
Get Smart About Textiles
Steps to Production
In addition to sourcing and production focused seminars, dg is offering several business related seminars, which is awesome of course, including:
Effective Social Media for Your Fashion Business  – I'll be teaching this one!
Fashion Law – Building Your Brand
Costing for Profit
We talk a lot about the importance of creating your business and product the right way, the benefit of getting to know the people who make up our industry, and the need for constant education. dg expo is offering you all of this in one place. 
dg expo
777 Northwest 72nd Avenue
Miami, FL 33126
Sunday, September 14, 2014- SEMINARS ONLY
Monday, September 15, 2014- 9:30am to 6pm
Tuesday, September 16, 2014 9:30am- 6pm
Looking forward to meeting some of you at the show!