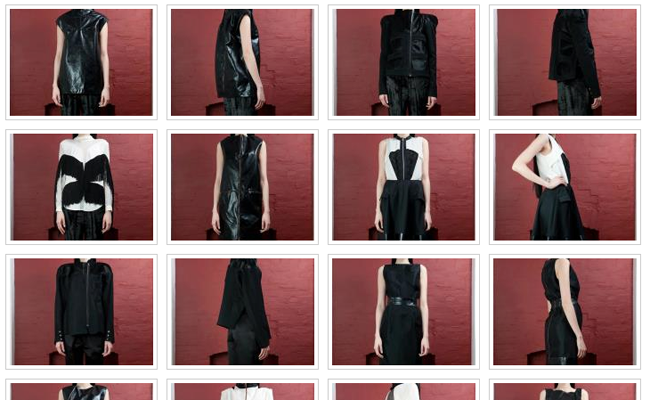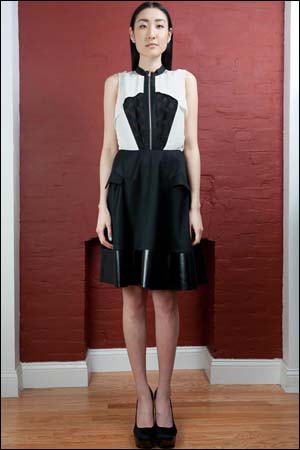 Frank Tropiano, a born and raised Cleveland, Ohio native and designer of his self-named  clothing label, is absolutely a breath of fresh air in the fashion industry. While starting his womenswear collection in 2011, Tropiano is still in the process of learning all of the ins and outs of being a successful fashion designer.
While Tropiano started to study finance and political science, it's clear that his mindset was far from being a womenswear designer. However, he quickly learned that fashion was his true interest, pushing him to further his education at the prestigious New York City school, Parsons School of Design. As Frank worked for a variety of mass-market companies, he was able to gain the knowledge of keeping a label above water and knowing how to create pieces and collections that would cater to different customers.
In the Frank Tropiano Fall 2012 collection, Tropiano shows off many of his textural techniques. The collection uses materials that are 100% Virgin Wool, leather and silk georgette clip dots, which are mixed together to create a sophisticated textural effect. Creating silhouettes that hover the body and create a form of shift dress help Frank J Tropiano cater to his special cliental. When adding new elements of feel and sophisticated elements of shape, Frank is able to stay unique in such a large array of talented designers.
Taking his own advice into consideration, Tropiano has and is always staying true to his own design aesthetic, because in the end, providing his customers with a beautiful, sophisticated, and charming garment is one of the key elements to maintaining his goal.
I sat down with Frank  to learn more about his collection and success. Here's what he had to say:
StUF: What truly inspired the launch of your clothing label?
F.T. – I've always had a desire to have my own collection, and ever since entering design school, that was the plan.  To be honest, I can't say there was some grand moment of divine intervention, were the skies parted, a light shown down on my face and the heavens spoke to me.  I just felt that I was ready to present my ideas on dressing to a certain audience.  I figured it was time to give my own collection a serious effort.
StUF: In starting this label, what were some of the steps you took to build your client base?
F.T. – Prior to the economic down-turn, a few close friends had approached me about making them wedding dresses.  Luckily, the dress turned out really well, and a nice private client business was established.  Pretty quickly, friends of friends of friends had starting ordering pieces and I was building up a pretty solid client base.  Unfortunately, when the economy went south, the private client work dried up.  But last year, when things started to get a little better, some of the clients started to come back, and I was able to save up some money to launch a collection.
StUF: Was there anyone in particular who inspired you to go for it or help you get to where you are now?
F.T. – I've been fortunate enough to have extremely supportive friends and family around me.  Also, my best friend from high school is my business partner.  To say he has been helpful and supportive is quite the understatement, and he is definitely owed a lot of credit as our company achieves success.
StUF: What has been the most memorable part about designing and starting your Frank Tropiano Fall 2012 Collection?
F.T. – My favorite part was definitely making each toile for each piece, and then working with the seamstresses to create the final garment.  Everything that comes after is nice and fine, but does even come close to comparing with the happiness I feel when I am working on each toile and then working with the seamstress.
StUF: Which social media platforms does Frank Tropiano use to better their brand and which platforms have had the best outcome?
F.T. – Actually, LinkedIn has been a great tool.  I've connected with a ton of buyers, press contacts, and editors.
StUF: What have been some of the biggest challenges while being an emerging designer and how have you overcome them?
F.T. –  I think the uncertainty of the economy is still the biggest challenge out there right now.  Buyers are still a little hesitant to commit to new designers.  But things are definitely getting better.  And as each day passes, more and more buyers are coming around.
StUF: Is there anything a designer should know before starting his or her own label, if so what would that be?
F.T. – As cheesy as this is going to sound, you need to be true to your design aesthetic, and have a true understanding of what that aesthetic is.  It is definitely worth taking the time and developing your own vocabulary.
StUF: What advice would you give to other emerging designers?
F.T. – Be persistent, and stay positive (again, I know it's cheesy).  But you will face a million obstacles…whether it has to do with money, factories, buyers, press, or any number of other issues…things go wrong.  But it's not the end of the world.  All you need to do is take a deep breathe, figure out how to attack the problem, and solve it.