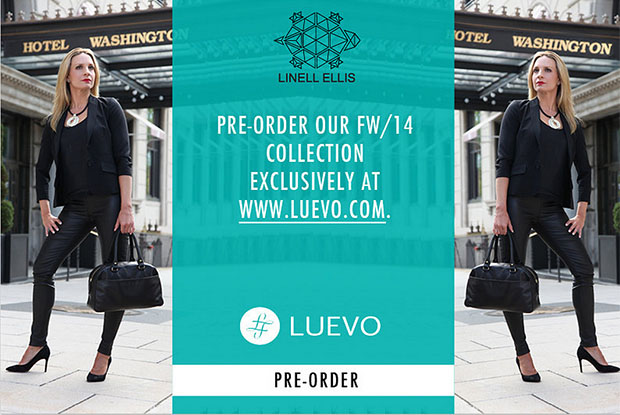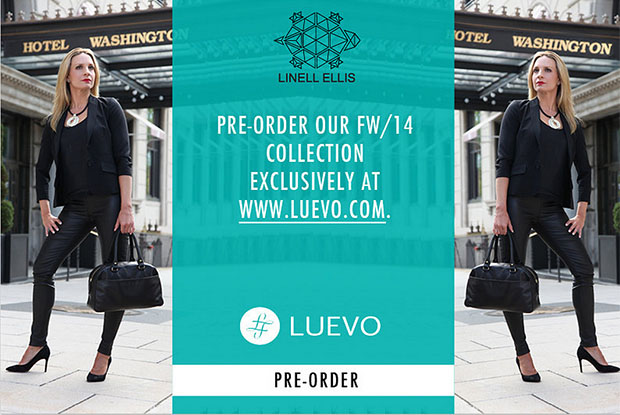 When it comes to financing your line, there aren't a ton of options. If you don't have startup capital you need to get creative about how you're going to find the money. One way that gets a lot of buzz is crowdfunding for business.
While there are pros and cons of crowdfunding, for sure, we thought it would be great to speak to a designer who is currently in the thick of it to get her perspective on what it's like.
Linell Jackson, founder of accessory label Linell Ellis, recently launched a campaign with Luevo,  a platform that helps independent fashion brands fund their collections; she was kind enough to take some time to share with us her experience thus far as well as some surprising discoveries.
Tell us a bit about your brand.
Linell Ellis is an "accessible luxury" handbag and accessory brand. All of our handbags are designed and manufactured in the USA. The bags are known for the creative use of color, prints and luxurious leather.  I design each handbag with attention to the subtle details. I would say they are classic and timeless pieces that focus on quality and can stand the test of time.
The Linell Ellis Girl is a stylish go-getter. She's out and about and loves to be active, whether that involves her career, community, or raising her family. She loves experiences. She loves to travel, go places and make memories. But as for accessories, she really looks for quality and she will pay for that. She is connected to technology, she shops online a lot and keeps up with fashion trends. She's a very savvy, smart woman, who knows what she wants and how she's going to get it.
What made you decide to explore crowdfunding as an option for your line?
Our business model is centered on bringing our collection to our customer as directly as possible. We strive for direct interaction. Building and keeping a relationship with our customer through conversation and feedback is very important.
Crowdfunding is the perfect way to do that because you involve the customer in the production process.
What platforms did you consider and why did you ultimately go with Luevo?
Given my background in technology I am always looking for innovative ways to mix technology and fashion. I did a lot of research on crowdfunding and how to successfully launch a campaign.
I considered traditional platforms like Kickstarter, but I ultimately decided to go with Luevo because they are the first fashion focused crowdfunding platform and I believe the concept is on the leading edge for fashion.
The concept of funding a specific collection is appealing to me because the customer knows exactly what they are funding. The fact that the customer receives the product for his or her support is a win-win for everyone.
I am also a big advocate of "fashion disruption" and I think the Luevo platform is a fresh innovative way to bring fashion to the customer. Love that!!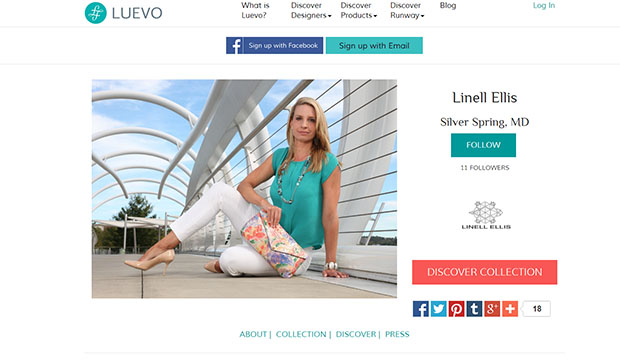 Can you tell us a bit about the prep process?
Overall I would say it takes about 4 weeks to prepare and 4 weeks for the campaign.
Preparation is key when doing any type of crowdfunding campaign. A fashion-focused campaign should also include planning time for samples, photos and costing (so you know exactly what type of incentive you want to offer. I offered 20% off of retail)
In addition, the PR around the campaign requires a lot of planning.  The campaign lasts 4 weeks so being prepared to share the campaign over that period of time is critical. I took several approaches with PR.
I began building momentum that the campaign was starting about 2 weeks prior to kickoff.
I reached out to all bloggers, media and fashion supporters locally and nationally and asked for their support.
I sent (loaned) bloggers bags to review and blog about during the campaign
I created a social media calendar and scheduled all of my posts and newsletters.
I sent a personal email to all of our friends and family and asked them to support the campaign by sharing with their friends and following us on Luevo.
You're about half way through the campaign now, how has it been going? What has the workload been like?
Overall, I feel it is going well.  It kind of feels like planning a wedding.  We spent all of this time planning and now the time is going by very quickly.
The workload has been busy. Keeping up with all of the re-tweets, Facebook and Instagram likes and thanking people for supporting me takes a lot of time.  I don't want to leave anyone out.
As well, working with the bloggers who have agreed to do blog posts. It is important to me to build lasting relationships with them long after the campaign is over. I would say this is one of the biggest benefits of the campaign. Meeting so many new people who are willing to write about the bags and support us in other ways has been incredible. It has also allowed me to be able to support other people with their goals too.  I like that!
Scheduling the social media posts took a lot of pressure off, but I do find myself changing the schedule and adding things, which takes a little time.
Has there been anything surprising about the process, either good or bad? And how has it impacted your campaign?
The amount of people that are willing to support emerging designers is amazing.
I would also say I was surprised at how the transparency made me feel. Knowing that I (and everyone else) can see how many bags have been reserved (or not) is a little uncomfortable. However, I have tried to focus on other benefits in addition to just how many bags are purchased.
The exposure I have received from this campaign has been awesome.  That alone is worth it!
How will you spend your time for the second half of the campaign?
The remainder of the campaign will be spent working with bloggers, sending out additional email newsletters, and crossing my fingers.  I will also use the momentum to pitch the fall collection to media.
What are your goals with your line after the campaign?
Our goals include using the momentum to drive more sales through our website www.LinellEllis.com, increase the number of eCommerce and boutiques stores, gain some additional press and continue solidifying our brand story.
We are also focusing on several collaboration projects with other designers and bloggers. Lastly, we are working on adding Men's Accessories for holiday.  That should be exciting.