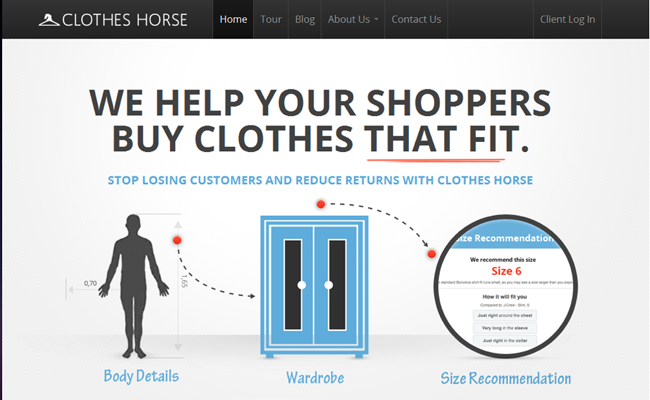 On StartUp FASHION it is our goal to bring you information and resources on every aspect of the fashion industry; from sourcing and manufacturing to marketing and retail. In light of this, when we hear about a promising new designer or an impressive new technology, we share it with you in hopes that it will inspire, educate, and motivate.   Today, the technology we would like to share is Clothes Horse, a tool that helps to solve the problem of buying clothes online only to find they don't quite fit. What a pain.

Using sophisticated algorithms and a trove of human and brand-garment measurements, Clothes Horse's focus is on making a product that can be used by online retailers (e-tailers) that is easy to use.
How does it work?
Shoppers simply answer a few brief questions about themselves and their favorite garments (only takes about 30 seconds, and no measuring tapes involved so don't get all worked up!), and can then experience accurate recommendations at any Clothes Horse enabled retailer on the web.
We're intrigued. Can this really work?  Well, today Clothes Horse has released a case study with a leading menswear brand, Bonobos, that demonstrates how they brought about a 13% sales increase as well as created a more engaging customer experience.
"We're very encouraged with the initial results we've seen from Clothes Horse. The team has been an incredibly responsive and open partner throughout the whole process," said Craig Elbert, Bonobos VP of Finance + Analytics.
We think this a pretty smart innovation.  Think about it.  As more and more retailers start opening their sites and business to a global audience, this is an extremely valuable tool.
Who Can Benefit:
Designers: Emerging designers, as you work to get your product into the hands and websites of various retailers, understanding the functionality and value of a tool like this is imperative.  While it may seem like right now you would do just about anything to get a buyer to pay attention, it won't always be like that. As you start to succeed in this industry you will understand the need to be selective about who carries your product. You will have a true brand and a desire to maintain your brand identity.  Recognizing what a tool like Clothes Horse can do for your product helps to define your retailer decision making process.
Online Retailers: Well, we pretty much made the case for you guys in the above paragraphs. Definitely check out that case study we mentioned.
Shoppers: As a (way too often for my own good) shopper of fashion, this tool just makes sense. The idea that I can create my specs and build my buying habits based on them, makes me worry a bit about my bank account.  But in all seriousness, I look forward to Clothes Horse becoming a widespread tool. I think it's said best by Vik Venkatraman, Co-Founder of Clothes Horse : "We strike the perfect combination of rock-solid data, easy shopper experience, and focus on the retailer — our pricing is built around their ROI. It's a no-brainer."  We couldn't agree more.