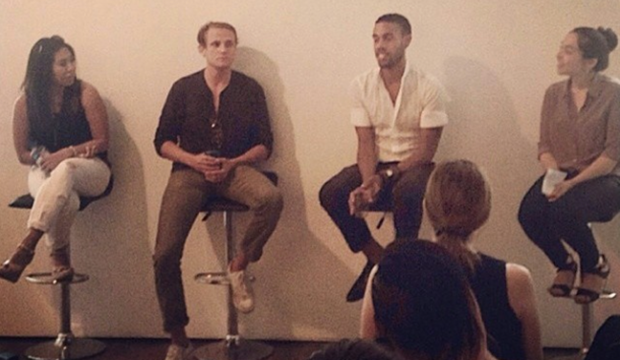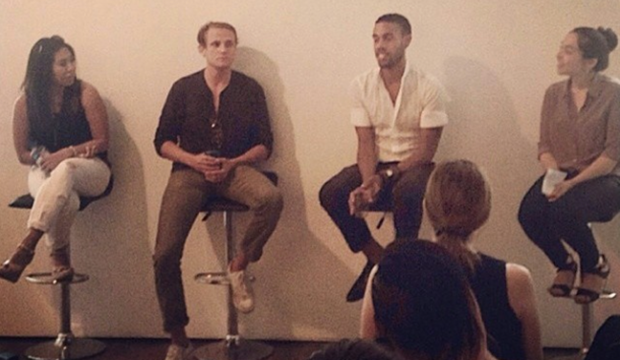 At the core, StartUp Fashion is on a mission to help designers make a living doing what they love to do. Last week, we partnered with RePopRoom, an incredible co-working/showroom/popup space for creative professionals, to host "Designer Discussions."
We created an open environment for designers to ask questions to emerging brands that are seeing some great success about how they run their business.  Essentially, we hosted a night where designers can network and find support with those who get it, get you, and are doing it too. They were once right in your exact position.
Successful Fashion Brands Sharing Their Stories and Business Advice
Denise Lee, Founder of Alala

Alala is a luxury women's activewear brand; "Sportswear with a downtown attitude"
Now in 27 Equinox locations and other Fashion + Fitness boutiques
Featured in 

WWD, Vogue.com, Marie Claire, US Weekly, and on the cover of June's Fitness Magazine 
Charles Harbison, Founder of HARBISON

HARBISON is a high fashion womenswear brand that serves the woman who sees beauty through the lens of modernity and luxury.
Since its launch in 2013, HARBISON has appeared in domestic and international publications such as Vogue, Elle, WWD, Daily Front Row, Ebony, Harper's Bazaar Latin America, and The New York Times.
Named Vogue's number one in "The Future of Fashion: The 11 Designers You Need to Know Now"
Matt Scanlan, Co-Founder and CEO of Naadam Cashmere

Naadam is a mission-driven luxury fashion label committed to responsibly sourcing and producing cashmere knitwear
"Farm-to-Table" approach to fashion to respond to the demand of transparency in the supply chain of clothing manufacturing
In 40 stores across America after its launch in 2013
Key Inspirational and Inforamtive Takeaways
You need know both the design and business side of your company (Formal education not necessary)
Whether it's through hiring professionals or taking the time out to educate yourself through books and research, you need to understand both the design and business part of your brand in order to find success.
Designers are also entrepreneurs; don't forget that.
Running a business is not a charity, do what you can to turn every one cent into two cents.
Manufacturing is damn hard! Can I get an Amen?
It's hard to get factories to pay attention to emerging designers but you have to sell them your dream.
Alala found a factory and presented their vision and their dream as a means of convincing the factory to take on a small, new brand. It worked.
You will get a lot of "No's" but you have to push through it.
"Fake it until you make it"
If you believe you have the best brand then everyone else will believe it too.
Present yourself and your brand as if it is already what it will be in the future, not what you are now.
"Do what you do exceptionally well"  – Charles Harbison. It's okay to re-evaluate what you are doing if you don't feel confident enough doing it.
Do not underestimate preparation—It could make or break you
Planning and developing strategy is never a waste of time, it will help you in the long run.
When tackling financing, make sure you understanding what you will do with the money, before pursuing investors or loans.
You will never be fully prepared for the ups and downs of starting your own brand but don't let that stop you from starting.
Understand that you will be on an emotional rollercoaster when starting your own fashion business.
Do your work beforehand—take your time before any meeting to make sure your research and business plan is professionally put together (P.S. you don't need a professional.)
Sharing is caring
Fashion is a relationship-based industry, making sharing information vital.
If you need help financially, go through friends and family first. Collateralizing stock portfolios is always an option. After that, look towards angel investors and bank loans.
Find and share resources for every business sector, it will help with brand building and with creating your network.
Work your own network
Develop relationships within the industry.
Surround yourself with people who are doing interesting things and doing them well.
Create your network around people who believe in what you're doing.
Hello E-Commerce, come in and get comfortable…
The future of fashion is heavily weighted online.
You should make a brand presence online with social media long before launching.
Make sure you know the "why" behind your business.
You can use images and design from other brands as inspiration for communicating your own brand identity before you've created it.
It was a great night. Most importantly it became really clear how crucial it is to have a support system and a network of designers to connect with and learn from.
Our featured designers provided some real advice. It was open, honest, and realistic.
We believe everyone walked away feeling refreshed and motivated to continue working on their fashion business.