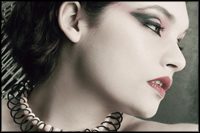 Meet BreakThrough DESIGNER Zivile Pupinyte of Zivile Art. Listen, Learn, Connect.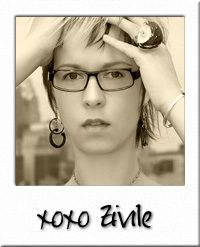 1. What is your brand's mission? How has it evolved since you started your business?
Zivile Art is a company that was created in 2004 and specializes in one of a kind custom jewelry designs. 'Jewelry for Daring Woman' – that is what Zivile Art brand is known for.

Zivile Art started as a very small company with small goals – to be a part of art shows and grow the brand to be recognized in Philadelphia. After 3 years of being a part of various shows in Philadelphia, NYC and Washington DC, selling in many retail spaces, lots of exposure was built, lots of client relations were established and lots of press have been received. Zivile Art grew to be recognized for its original, organic, daring designs. 2007 was a breaking year where company goals were re-evaluated and came the realization that Zivile Art brand is not fitting for art and craft shows. It is more geared towards special showings and a very specific clientele.  The goal to produce two full collections a year was established as well as presenting these collections in the proper setting with the full production of a high fashion event.  We now include guest performers and special model appearances in all of our showings. Since 2008 Zivile Art has been producing two full collections a year and presenting them through inspiring, high fashion, self-produced events.  We proudly attract roughly 200 people per event and create quite a buzz around the city.
Recently Zivile Art has branched out and now is offering curatorial services. We work to help creative fashion and art individuals get exposure as well as help Philadelphia small businesses through art installations and presentations in connecting fashion, retail and art together.
2. How would you describe your brand's aesthetic?
Zivile Art – organic but not crunchy, sculptural but not weighty, asymmetrical but balanced.
I believe in a 'no rule' rule while creating but strive for perfection  in every project I take on, whether it is my own work or a company project.
3. What's the most difficult aspect of running your business? What do you do to combat that?
The most difficult I find is to be constantly active and to not disappear from the 'radar'. It is very easy to be forgotten however, building strong relations with clients and other businesses and not losing interest in local happenings is the way that can be avoided.
Coherent aesthetics online and in person, is the other difficulty that all fashion and accessory designers have to deal with daily. Luckily with the help of amazing photographers, graphic designers and clear style vision it is not that difficult to succeed.
4. Do you sell wholesale or primarily through your own website/retail location? What steps do you take to attain brand recognition, whether to wholesale buyers or retail consumers?
I do sell primarily retail at the two yearly events and through my showroom (997 N. Marshal St., Philadelphia, PA 19123) as well as to private clients. I participate in select yearly events that help retail – like Philadelphia Fashion Week. There are few retail locations in the city of Philadelphia to which I sell wholesale.
Fashion styling is my other strength and I do get involved in many concept photo shoots where not only I can show my abilities as a stylist but also use some of my jewelry designs or design pieces for a specific concept. I have been extremely lucky to work with professionals like Francesca Rivetti, Peggy Woolsey, Elizabeth Jacobs, Michael Persico, Tiffany Torrence-Ford and many more. This is one of many ways that keeps my work being seen and recognized.
5. What social media platforms do you find most integral to your brand's marketing? How do you utilize them to connect with your customers?
Yahoo, Google, Facebook, Twitter, Youtube, Linkedin, inLiquid – updates, event postings, image postings with links to the website.
6. Can you describe in a few sentences your day to day?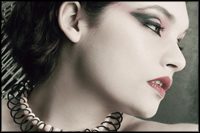 🙂  Yes – it is not only sitting at my studio and creating new exciting designs, sketching and making them a reality.
Here is a regular day to day at Zivile Art studio – checking emails and returning business emails and phone calls, doing research on whatever project I am working on at the moment, writing press releases, proof reading, placing material orders, organizing photo shoots, searching for models, photographers, sponsors, etc. A lot of time spent in front of the computer screen in deed, a lot of running around the city, endless meetings etc.
7. What are three of YOUR favorite brands? What do you admire most about them?

Well it is so hard to pick just three since there so many that I admire and follow. A few I would like to mention are:
BANDIT – a local limited addition or one of a kind clothing brand. I love the exclusiveness of it- a limited edition concept and a simple yet smart patterns.
LILLITH – French clothing brand that I have been following for years. I love their coherent representation all over the world and the web. Needless to say – their flawless designs, choice of materials and clean work have been very inspiring.
TRIPPEN – German shoe brand. Not only that I love their designs and believe that they got the comfort+style down, they represent their brand in a very attractive way. Each shoe design has a name and a story behind it. Smart European design and branding.
A few other favorites – LIMI Feu, Complexgeametries, All Saints, Vivienne Westwood….
8. One piece of advice you can offer the fresh faces of fashion?
Be loud, talk about your brand, make it visible. Creating a buzz and questions – that is how your brand will have a 'name'. Or contact me and I will help you get there 😉
9. What exciting things are in store for you in 2011?!
Of course a new collection and its presentation in even more exciting venue than the last one.
A curatorial project that will involve – 1 artist, 3 businesses in 3 different Philadelphia locations and a public art installation all having a very close connection to fashion and especially VOGUE and W, a three month long installation. More info upon request!
Connect with Zivile Art
@Website
@Etsy
@YouTube
@inLiquid
Thanks Zivile for a fantastic interview!