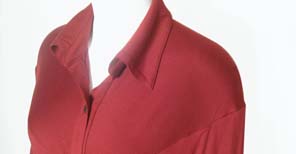 Meet BreakThrough DESIGNER Nikki DeMoneris.  Listen, Learn, Connect.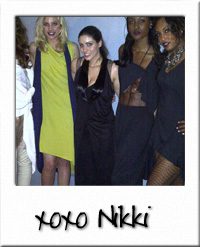 1. What is your brand's mission? How has it evolved since you started your business?
KLEONIKH's mission is to bring women comfortable clothing that requires minimal effort to look gorgeous and feel confident. Since I started the label in 2009, I can now relate to my customers and understand what they need for their day to day life. It's always a learning process.
2. How would you describe your brand's aesthetic?
KLEONIKH is comfortable, cool, casual for the everyday urban woman who has a busy life, and an exceptional social life.
3. What's the most difficult aspect of running your business? What do  you do to combat that?
The most difficult aspect of running your own business in fashion is  balancing your time. Between designing, constructing, merchandising,  marketing, and selling it takes a lot of effort to build a brand,  maintain it, and keep it afloat in this economy. To keep my company  running I have a day job, without it I would be unable to afford  creating collection after collection, although it gets overwhelming.  I take off one day a week to be able to focus on KLEONIKH and I always try to have Sunday off.
4. Do you sell wholesale or primarily through your own website/retail  location? What steps do you take to attain brand recognition, whether to  wholesale buyers or retail consumers?
We are selling wholesale by appointments, and are slowly building our brand with online retail. We enjoy hosting events at the boutiques  selling our line. This helps us recognize, and directly communicate with our customers, while building great relationships with the stores that represent our brand.
5. What social media platforms do you find most integral to your  brand's marketing? How do you utilize them to connect with your  customers?
We enjoy marketing on Facebook most because it becomes personal. Those  that would like to find me personally can, and those that would like to only be posted on KLEONIKH's updates have that option. I think Facebook  has allowed designers to have direct communication with their customers and fans. When people reach out to me as the designer on Facebook, they  know I will be the only one responding to them. We also communicate  through Twitter and LinkedIn.
6. Can you describe in a few sentences your day to day?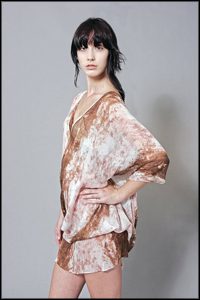 My day to day is never repetitive. If I have time to sit at a desk and sketch it's a blessing. My day begins at 8am and ends at 1am. I begin by getting up and taking time to gather my thoughts over a cup of coffee,  most likely in a car, or subway ride. One day might consist of  presenting my collection to editors, stylists, buyers, and  photographers, then running to gather fabric research and get back to my  studio to start draping ideas for the next season. All the while having my mobile phone as my access to emails, appointments, and networking. By  8pm I'll grab a bite and spend time with my husband. Soon after I'm on  my computer around 10pm to manage invoices, bills, orders, or create  proto packs, look books, or line sheets.
7. What are three of YOUR favorite brands? What do you admire most  about them?
Apple, because their creative team has changed the world's perspective  on technology. It's become a lifestyle everyone wants to be a part of.
As for fashion, I admire so many labels. I especially respect the  designers that have/had the opportunity to express themselves freely,  and not only set a standard in the industry, but influence young  designers and have an impact on the public. Amongst these are, Vivian  Westwood, Alexander McQueen, Gianfranco Ferre, Chanel, Karl Lagerfield,  Louis Vuitton, Marc Jacobs, Dries Von Noten, Betsey Johnson, Martin  Margiela, Ennio Capasa, Missoni, to name a few.
8. One piece of advice you can offer the fresh faces of fashion?
Keep your eye on the prize. Since I AM a fresh face in fashion I might  have better advice in a couple of years, for now this is the advice I  can relate to.
9. What exciting things are in store for you in 2011?!
A couple of exciting things are in store for KLEONIKH this season.  We collaborated with rock band ZO2 at the Rock Asylum fashion event which helped raise money for their Free Concert Series bringing  music to NY Public Schools. I am also looking forward  to being a part of  other charity events, one in progress is helping support bringing art to  the classrooms. I hope to be a healthy role model for young women.
We are also planning Trunk Shows in NY, and NJ. We'll keep you posted!
Connect with KLEONIKH
@Website
@Facebook
@Blog
@Twitter
Thanks Nikki for a great interview!